Kanye West Raps About "Smashing" His Sisters-in-Law on Surprise New Single "XTCY"
"You got sick thoughts? I got more of 'em." Indeed.
---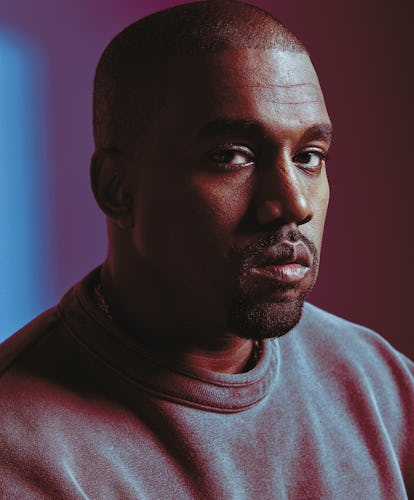 Mario Sorrenti
In 2014, in an interview with Interview magazine, the director Steve McQueen asked rapper Kanye West how he manages to stay so honest in his lyrics. "I just close my eyes and act like I'm a three-year-old," West said, laughing. "I try to get as close to a childlike level as possible because we were all artists back then."
Well, the rapper has really reached new levels of honesty with his latest single, "XTCY," which was released by DJ Clark Kent on Instagram early Saturday morning. "KANYE Told Me to Drop His New Song… So… New KANYE WEST • "XTCY" • Link In Bio. (You're welcome.)," he captioned the post. (On Twitter, West retweeted it.) His bio link leads to a WeTransfer download, like a Tumblr teen in the year 2007, of the surprise release—which seems like more of a demo than a completed work, but then again, West is no stranger to reworking his material in the public eye.
It's just that, uhh, there's honesty, and then there's "XTCY." The track opens with 30 seconds of a an echoey guitar riff and a voice singing, "I want you too; come to me; ecstasy," followed by the pitch-shifted sound of a woman's ecstatic moans. Then, West really gets into it: "You got sick thoughts? I got more of 'em," he raps, before going on to prove his case. "You got a sister-in-law you would smash? I got four of 'em." (These are not three-year-old thoughts.)
"Damn, you need to be locked up, nah, we need a bigger hot tub," he continues on the single. The line is perhaps not surprising, coming from the same rapper who once wrote, "I feel like me and Taylor might still have sex; Why? I made that bitch famous." (Khloe, Kourtney, Kendall, and Kylie would also likely want to be excluded from this narrative.)
The cover art is a photo Kylie posted to her Instagram the morning after her 21st birthday party, which took over the Los Angeles nightclub Delilah on Thursday evening—that is, until it was, sadly, shut down by the cops for going past curfew. It's a photo of said four sisters-in-law, in addition to West's wife, Kim Kardashian, who wore a Barbie-pink minidress by West's label, Yeezy, to the party. West has had a pretty big week: In addition to the single release and the birthday party, he also appeared on Jimmy Kimmel's show, where the late-night host prodded him about his support for the president.
"XTCY" is self-aware as ever, referencing the recent responses to West's pro-Trump remarks, for example—the critics who have proposed that the rapper might be mentally ill—and to incorporate the much-maligned "poopity-scoop" ad lib from "Lift Yourself," but not so self-aware to avoid, you know, sharing some choice thoughts about his own family. Listen for yourself, below.