Kanye West Seriously Wondered If Kim Kardashian Would Leave Him After His TMZ Meltdown
"I called different family members and was asking, you know, 'Was Kim thinking about leaving me?'"
---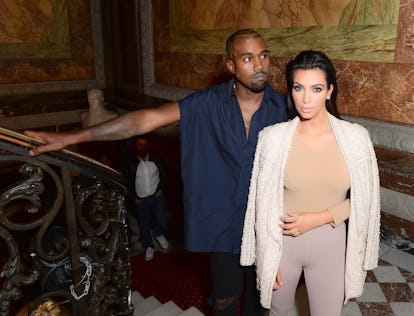 Kanye West's ye is his Wyoming album. For months before its release late on May 31, there was talk of him recording in Jackson Hole, Kim Kardashian's visits to the resort town, and his album listening party on a ranch that brought everyone from Chris Rock to Jonah Hill to Wyoming and caused such a scene that it led to the venue actually adopting a "no more rappers" policy. (W has a report from inside the event here.) On Monday morning, the New York Times published a lengthy story giving an in-depth look into, well, life out west with West.
Having returned to being something of an open book as of late, West didn't reveal anything too groundbreaking to the Times's Jon Caramanica, though he gave further details and insight into the stories behind all the recent headlines, from his diagnosis with bipolar disorder to—despite his father making the trek out to Wyoming to convince him otherwise—his support of Donald Trump.
Chief among those is, of course, the infamous, outrage-inducing comment he made about slavery to TMZ. While he elaborated on it to the Times close to two months after the fact, prefacing his thoughts by saying they're more complex than a "one-liner or a headline," he largely brushes it off on ye—or at least, anyway, on a macro level. Setting its broader political and societal ramifications aside, West instead honed in on the micro, devoting an entire song on ye to how the interview affected—and nearly ended—his relationship with Kim Kardashian.
Its title, "Wouldn't Leave," is a direct reference to the line "Told her she could leave me now, but she wouldn't leave." That may seem like a rather evergreen line for someone married to Kanye West, but its context here is unambiguous, as it comes after the line: "I said, 'Slavery a choice'—they said, 'How, Ye?'/ Just imagine if they caught me on a wild day/ Now I'm on 50 blogs gettin' 50 calls/ My wife callin', screamin', say we 'bout to lose it all/ Had to calm her down 'cause she couldn't breathe."
As West explains in the interview, even eight days before its release, he still hadn't written any of the lyrics for ye, instead spending his time (twice) seeing Deadpool 2. He also unabashedly discusses handing over his notes on his feelings to other writers to parse out, and then directly taking lines from rappers like CyHi the Prince, Malik Yusef, and even Drake to make up significant portions of the album. Whether described by himself or someone else, though, according to West, the struggle at the center of "Wouldn't Leave" was just as real and dramatic as it came across in the lyrics—to the point that he asked outsiders to weigh in on the state of his marriage.
"There was a moment where I felt like after TMZ, maybe a week after that, I felt like the energy levels were low, and I called different family members and was asking, you know, 'Was Kim thinking about leaving me after TMZ?'" he said, in a rather rare sign that he understood at least some of the gravity of his comments. "So that was a real conversation."
That conversation would have taken place after he had the same one with Kardashian, which apparently left him uneasy and insecure enough to keep on pursuing it. Evidently, though, things worked themselves out; by the end of the month, for example, they celebrated their fourth anniversary, which Kardashian even bleached her hair for. Still, just to be safe, here's hoping they've kept in touch with Tony Robbins, who Kardashian tapped to, as the Times put it, "stage something like an intervention" in early 2017—or that she has another life coach up her sleeve.
Related: Kanye West Once Made Kim Kardashian Cry By Throwing Out 250 Pairs of Her Shoes
41 Photos That Document Kanye West's Journey to Becoming a 41-Year-Old Fashion Plate
Kanye West backstage at the Truth Tour, in Baltimore, August 2004.

Frank Micelotta/Getty Images
Kanye West performing at WGCI FM's annual Big Jam concert, in Chicago, December 2004.

Matt Carmichael/Getty Images
Kanye West at the 32nd annual American Music Awards, in Los Angeles, November 2004.

Jon Kopaloff/Getty Images
Kanye West on a visit to MTV's TRL with Raven-Symoné, February 2004.

Theo Wargo/Getty Images
Kanye West at the 2004 Clive Davis pre–Grammy Awards party, in Beverly Hills, February 2004.

L. Busacca/Getty Images
Kanye West at Lifebeat's Hearts and Voices concert, in New York, March 2004.

Johnny Nunez/Getty Images
Kanye West with Rosario Dawson at Hip-Hop Theater Festival's first Hip-Hop Unity Concert, June 2003.

Johnny Nunez/Getty Images
Kanye West on MTV's TRL, in New York, March 2004.

Getty Images
Kanye West at the Paradiso Amsterdam, May 2004.

Johnny Nunez/Getty Images
Britney Spears and Kanye West backstage at the 2004 Billboard Awards, December 2004.

KMazur
Kanye West on The Tonight Show With Jay Leno, April 2004.

NBC/Getty Images
Kanye West at Twista's performance at S.O.B.s, in New York, January 2004.

Johnny Nunez/Getty Images
Kanye West at the 2004 BET Awards, June 2004.

Getty Images
Kanye West, Kevin Liles of Def Jam, and Juelz Santana at the Philadelphia Hip-Hop Summit, in Philadelphia, August 2003.

Johnny Nunez/Getty Images
Kanye West at the video shoot for College Dropout, January 2004.

Johnny Nunez/Getty Images
Kanye West at his album preview party, July 2003.

Johnny Nunez/Getty Images
Kanye West at the 2004 BET Awards, June 2004.

Getty Images
Kanye West at the 2004 Governors Membership Awards luncheon, in Beverly Hills, June 2004.

Amanda Edwards/Getty Images
Kanye West performing with Usher on his Truth Tour, in Los Angeles, September 2004.

Frank Micelotta/Getty Images
Kanye West performing on the first stop of Usher's Truth Tour, in Hampton, Virginia, August 2004.

Frank Micelotta/Getty Images
Kanye West at GQ's Fresh Dressed Awards, October 2004.

Ben Rose/Getty Images
Kanye West at GQ's event honoring Bulgari, in New York, October 2004.

Fernando Leon/Getty Images
Kanye West at the MTV Europe Music Awards, in Rome, November 2004.

Evan Agostini/Getty Images
Kanye West rehearsing for the 32nd-annual American Music Awards, in Los Angeles, November 2004.

Ron Wolfson/Getty Images
Kanye West performing at Madison Square Garden, in New York, November 2004.

Frank Micelotta/Getty Images
Kanye West at the fourth-annual BET Awards, June 2004.

SGranitz/Getty Images
Kanye West at the premiere of Jay-Z's Fade to Black, in New York, November 2004.

Jamie McCarthy/Getty Images
Kanye West backstage at an EA Games party, in Tokyo, December 2004.

Jun Sato/Getty Images
Kanye West after receiving 10 Grammy nominations at the 47th annual Grammy Awards, in Hollywood, December 2004.

Carlo Allegri/Getty Images
Kanye West at an Artist Empowerment Coalition pre-Grammys brunch, in Beverly Hills, February 2005.

Frank Micelotta/Getty Images