A Wild Ride Into Kanye West's America: Inside the Ye Listening Party in Wyoming
Slouching towards—and grappling with—Kanye's America.
---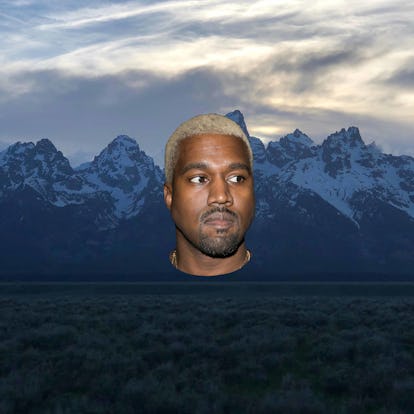 "Ye, come to the booth," a voice said over the speakers in a field at the Diamond Cross Ranch in Jackson Hole, Wyoming late Thursday night. It was one of the first mass announcements given for what at that point had become a one-foot-in-front-of-the-other excursion to get the first listen of Kanye West's newest album. "Come drop the album."
Finally.
Kanye West doesn't just release an album. He makes it multimedia cultural experience; he makes it a happening. Back in 2016 he took over Madison Square Garden for a blockbuster fashion show and album listening party for The Life of Pablo. With Yeezus in 2013, he debuted new songs by projecting videos onto buildings in the cultural capitals of America. He even used the format for his Yeezy Season 4 show when he took the fashion industry on a long, winding ride to Four Freedoms Park on Roosevelt Island. Ye, his eighth studio album, meant it was time for the music industry—along with the likes of Chris Rock and Jonah Hill—to take their ride.
For Ye, the ride into the Wyoming mountains started in December 2016: a visit to Trump tower to genuflect for the reality star turned elected president. That visit raised eyebrows that would only go higher as the road wound on. A Make America Great Again signed hat posted on social media surrounded by a series of Trump-loving tweets would make an appearance. Love for the way that conservative personality Candace Owens thinks (she too made the trip to Wyoming) surfaced. And, there was that whole slavery for 400 years "sounds like a choice" comment. It's already been a wild ride, particularly at a time where the public sentiment has been to consider the artist and the art as one, and "canceling" the art when the artist goes astray. But many among us are struggling with that very idea because of Kanye West. All this, though, was a prelude to an equally disorienting journey to Wyoming, where a new seven-track album waited, prefaced by Chris Rock, who asked the assembled to "listen without prejudice."
For many, the journey officially began at 1:30 a.m. EST early Thursday morning, when an email went out from West's team with final details about a 10 a.m. meeting time on a private plane from JFK airport in New York. Details were sparse but by 10 o'clock, about 75 people from New York, and some from Boston and Miami, were crowded into the terminal.
"How many people are you over?" someone from airline security asked as the crowd began to board the 68-seat jet. Someone responded that we were over capacity by about 20 heads. There was jostling amongst the group composed of journalists, radio station staff, as well as musicians like the 070 crew out of Jersey and social media notables like 40 Oz Vanz in line. People worried that they might not make the flight.
"I'm sure we're all going to get there," someone said, boarding a shuttle bus to the jet, where all 68 seats were laid out in first-class configuration. "If Kanye wants us all there, we're all going to be there." Therein lay the power of Kanye: to cause a rumoured 400 people to drop their plans and come from wherever they are (there were accompanying flights out of L.A.) to experience his new music, regardless of how they felt about his politics at the moment. His creative output is one that could not be ignored. This was Project Wyoming.
"I think it's actually so cool that Kanye brought everyone here to Wyoming," said a driver shuttling guests from one of the half-dozen hotels near Diamond Cross Ranch, where the listening party would actually occur. "He could have done this anywhere, but he chose here." Here was Jackson Hole, Wyoming, population 10,000. A town of mountains, moose, geese, and deer. A town so picturesque that West could and would, on the way to his own listening party, snap a photo and quickly turn it into his cover art.
"This is a hoedown," someone said as the shuttle pulled into the ranch. There, Jonah Hill, Nas, Kid Cudi, and Candace Owens milled around inside the barn, while other guests ate s'mores outside. Teyana Taylor, Fabolous, Damon Dash, and Ty Dolla $ign would all eventually make appearances throughout the complex. And for a few hours there was little to do but walk around; eat off the buffet spread of brisket, chicken wings, ribs, and macaroni and cheese; and take photos of the grazing horses.
There was no direction and no announcements for a majority of the event. People outside chatting, wrapped in blankets, might have no clue that inside the merch table had opened to give away hoodies, T-shirts, and ball caps. Someone at the inside bar for a Hennessy and Coke might not realize that Kanye was out in the field walking amongst the crowd, until they spotted the swirling mass around him. And that's what he did for a majority of the night: just walked.
When the time finally came, it was Chris Rock, not West, who introduced the album. "Welcome to the world premiere to the latest opus from Kanye West entitled Ye," he said on the mic. "I just want to say it's great to be out here in Wyoming. It's beautiful."
"I hope everyone appreciates what's going on, this is not done every day," he went on, naming hip-hop royalty like Pusha T, Big Sean, and 2 Chainz, all in the crowd. "Remember this: rap music, hip-hop music, is the first art form created by free black men, and no black man has taken more advantage of his freedom than Kanye West."
'I bring to you right now, the greatest, the latest, Kanye West."
The latest Kanye West is still unapologetic (from "I Thought About Killing You," the first track on Ye: "I think this is the part where I'm supposed to say something good to compensate so it doesn't come off bad."). He's still dark ("Shit can get menacing, frightening, find help, sometimes, I scare myself," from "Yikes"). And he's still completely, instinctively aware of every prevailing narrative about him: Drugs (recreational and otherwise) run through the entire album, and by extension the state of West's mental health. "That's my bipolar shit, that's my superpower ain't no disability I'm a superhero," he yells on "Yikes."
The album is grounded—as with Kanye albums past, which he revised up to and through their release—in the current moment. "Wouldn't Leave" is a commentary on how fallout from his recent tweetstorms and TMZ appearance has played out in his marriage. "My wife callin screamin say we bout to lose it all, had to calm her down cuz she couldn't breathe, told her she could leave me now but she wouldn't leave," he rhymes. Even the opening track includes a #MeToo reference as a bit of a clapback: "Russell Simmons wanna pray for me too, I'mma pray for him cuz he got #Metoo'd."
The latest Kanye isn't that much of a stretch from the Kanye we know. He's still a seriously troubled creative genius who is at once enormously insecure but also seemingly impervious to dissenters. In "Ghost Town," one of the standout tracks of the album, 070 Shake, one of the few unnamed features on the project, sings: "Nothing hurts anymore, I feel kind of free, I put my hand on the stove to see if I still bleed." It's a sentiment that goes to what seems to be at the heart of Kanye: to feel so invincible that he does something reprehensible to test whether he still bleeds. With Ye, it's clear he doesn't think so.
Related: A Brief History of Kanye West's Weird, Messy, Over the Top Album Releases