Kim Kardashian and Kanye West Celebrate the Fourth Anniversary of Their Own Royal Wedding
TBT to when Kanye and Kim, who wore a custom Givenchy gown, got married in a palace, four years ahead of Meghan Markle.
---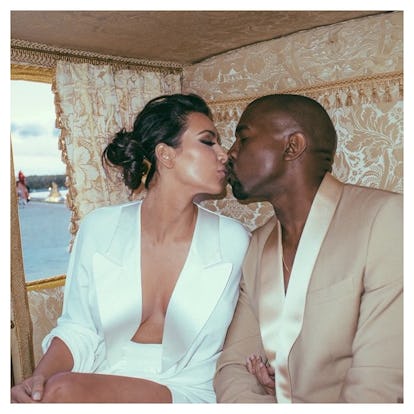 Courtesy of @kimkardashian
Late last week, Kim Kardashian joined her husband Kanye West at his hideaway in Jackson Hole, Wyoming, where he's been at work on his music (and his Twitter) for the past three weeks. She's even been capturing the goats she's encountered on the side of the road. At around 7 a.m. on Thursday, though, Kardashian made a radical departure from that rustic aesthetic when she Instagrammed and tweeted a snapshot of herself and West that dates back to their wedding day exactly four years ago—with, as she put it, "forever to go."
Her caption continued: "Thank you babe for giving me our family and caring so much about us. Thank you for inspiring me on a daily, I'm so lucky. I can't wait for forever… Happy Anniversary." But given its timing, her post isn't just a celebration: It's also a reminder that America had a royal wedding of its own, with its own bride in a custom Givenchy gown at a semi-remote castle, four years before Meghan Markle notably did at her and Prince Harry's long-awaited nuptials this past Saturday.
After they started dating in 2012, West made the first move in making Kimye official when he proposed to Kardashian on her birthday in 2013 at a San Francisco baseball park that he rented out. The next year, the couple got a move on by hosting a casual brunch in a 17th-century château outside of Paris that belongs to the designer Valentino Garavani, as well as a rehearsal dinner for 600 of their closest friends in the equally casual setting of Versailles, which came complete with a surprise private tour and a performance by Lana Del Rey. (For the occasion, Kardashian also wore a very Meghan Markle–style messy bun.)
While their visit to the palace earlier that year sparked rumors that it'd also be their wedding venue, the next day, the couple and their coterie of hundreds then took things back another 100 years by jetting off to the 16th-century Forte di Belvedere in Florence, where there were reportedly marble tables engraved with each guest's name.
Getting back to the present, Kimye now have two more children—Saint, who's two years old, and Chicago, who's still just under six months—in addition to the daughter they had in 2013, North, who'll turn five next month. She already seems to be getting the special treatment: Just yesterday, Kardashian posted a snapshot and an Instagram story of her with dandelions carefully woven throughout her hair, taking in the Wyoming landscape.
As for West? Who knows—he may be preparing another surprise orchestra for his wife, or simply spending the morning sleeping in. In any case, he has yet to comment; it has in fact been what seems like a record three days since he last posted a tweet, which Kardashian might consider an anniversary gift in and of itself.
Related: The Official Ranking of Kardashian Baby Names, from North West to True Thompson
Inside Jackson Hole, the Unassuming Resort Town Where Everyone From Kanye West to Pippa Middleton Hides Out
Travis Scott took a break from recording with Kanye West to hit the slopes in Jackson Hole, Wyoming in March 2018.

Photo by @travisscott.
Kim Kardashian visited Kanye West in Wyoming in March 2018.

Photo by @kimkardashian.
Kim Kardashian and Kanye West took a photo with a fan in Jackson Hole, Wyoming, in March 2018.

Photo by @teamkanyedaily.
The Dream and King Louie posed together at the Jackson Hole airport in March 2018.

Photo by @_king_louie.
Producer Jeff Bhasker, who collaborated with Kanye West on his 2010 album My Beautiful Dark Twisted Fantasy, captioned his photo of the outdoors in "God's living room" in March 2018.

Photo by @jeffbhasker.
Producer Wheezy 5th (a frequent collaborator of Lil Uzi Vert's) posed on a deck in Wyoming in March 2018.

Photo by @wheeyx5.
Pi'erre Bourne set up a studio in his room in Jackson, Wyoming in March 2018.

Photo by @pierrebourne.
Producer Mike Dean, who has worked with everyone from Selena to 2Pac to Kanye West, shared this snap of a recording studio in Wyoming in March 2018.

Photo by @therealmikedean.
Producer Tony Williams was also present for the Kanye West crew production meet-up at the Jackson Hole Mountain Resort in March 2018.

Photo by @twftonywilliams.
Kendall Jenner took a trip to Wyoming to ride horses with her parent, Caitlyn Jenner and her sister, Kylie Jenner in June 2017.

Photo by @kendalljenner.
P!nk brought her entire family to Jackson Hole in March 2017.

Photo by @pink.
Whitney Cummings took a trip to Jackson Hole for Sandra Bullock's birthday at the legendary Cowboy Bar in 2014.

Photo by @whitneycummings.
Chelsea Handler celebrated Sandra Bullock's 50th birthday in Wyoming in 2014.

Photo by @chelseahandler.
Pippa Middleton was spotted out dancing at a country bar in Jackson, Wyoming in November 2014.

Photo by @emily.e.janak.