Tea Time
Valentino Garavani discusses his new book at the home of Giancarlo Giammetti.
---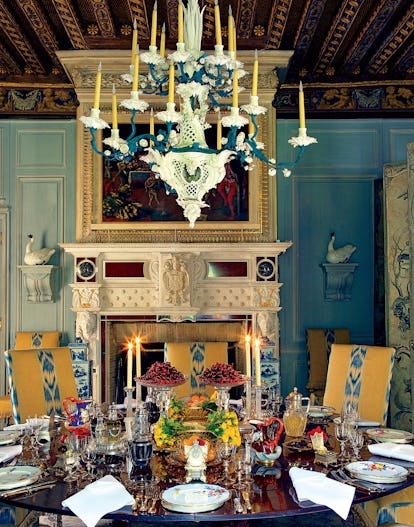 Tea with Mr. Valentino. So read the appointment on my calendar for 4 p.m. this past Tuesday. I should note from the outset that I was not having a tête-à-tête with the maestro. Rather, it was an intimate group of journalists invited to the home of Mr. Valentino's longtime business partner and friend Giancarlo Giammetti to learn about the new book from Assouline Valentino: At the Emperor's Table, out now, which encapsulates Mr. Valentino's entertaining style with a mix of lush photographs of his epic table settings in his various homes combined with accompanying recipes for his favorite dishes. (Andre Leon Talley penned the introduction.) But still, what does one wear to such a gathering?
The answer, of course, was a short, but not too short, Valentino dress. And flat smoking slippers. Arriving at Mr. Giammetti's midtown penthouse apartment, we were greeted by a cadre of young, strapping men in sharp black evening suits with equally spiffy black ties. As they took our coats, we admired the Warhol and Richard Prince paintings in the vestibule. Then we were introduced to Messrs. Giammetti and Valentino before being waved towards a small dining area, its walls covered in dark mica, its windows boasting views of the Freedom Tower.
We were quickly offered tea with lemon slices and other accouterments, coffee, lemon madeleine cookies, an almond cake and a plate of smoked salmon and mozzarella tea sandwiches. "Eat!" intoned Talley as we all stood frozen, hungry but unwilling to be the first to dive in. "You're here, you should profit." Then he glanced at a wall and exclaimed, "Oh god, there's a Rothko! There's always something when you turn around."
Indeed. We were then ushered into the living room (sans food and beverages), where on taupe suede sofas we gathered around Mr. Valentino and Talley like children at a particularly chic story hour. An Alexander Calder mobile dangled nearby. "My table is my amusement—it's like one of my dresses," said Mr. Valentino by way of introduction. The tome showcases just part of his vast collection of objets, tureens and decorative pieces.
Paying witness to a conversation between Mr. Valentino and Talley on the art of entertaining can turn up many unexpected philosophies and charming tales. For example, one learns that Mr. Valentino long ago embarked on a mission to eat healthier. "I started long ago with my cook, just to go in the biologique shop. There are a lot of things that are not good for your system," he said. (Though his PR maven Carlos de Souza happily piped in "On his boat, he does offer you cornflakes if you want them!").
"After a certain age, you just don't eat red meat," added Talley. "So red meat is very devogué for us."
So, too, are bland table settings. "I never like so much the white table cloth," said Mr. Valentino. "I like better the colored ones. China also makes a very big effect." Duly noted.
"Your table cloths are always so perfect!" said Talley. "Who irons them?"
"Two ladies iron the table cloths," replied Mr. Valentino.
"Is there anything that it is taboo to say at one of your tables?" queried one journalist. The answer would be no, though Mr. Valentino is not a fan of yelling. "This is quite American and English. They talk and talk and talk," he said. "And sometimes the butler takes the plate and it's all food because they didn't have time to eat."
"The American couple they always want to be together," he added, of his seating philosophy, in which he divides up couples and always seats the oldest woman or friend to his right. "Not very nice." Oh Americans, always ruining a good meal.
And should you ever be invited to Mr. Valentino's home, please keep in mind, he does not like gifts. "I prefer they come with nothing. I never know where to put it," he said.
"Except chocolate!" said de Souza.
"75% cacao, not the rest," said Mr. Valentino. "Anyway, we can stay here forever."
And we could have. Happily. But Mr. Valentino had a question for us.
"Any of you, are you shocked? You look shocked!" he asked in a moment of rather endearing self-doubt.
"No, they are not shocked, there isn't one person who is bored!" answered Talley. "Some of them even wore their best. Some of them."
We tried, Mr. Valentino, we really did.
Valentino Garavani and Vanessa Lawrence.