Kanye West Ditched Fashion Week to Debut New Yeezy at a Pornhub Awards Show
Kanye West just debuted his latest Yeezy collection at the PornHub awards.
---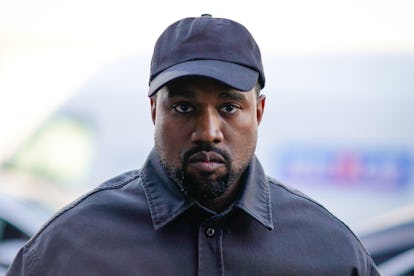 Edward Berthelot/GC Images
Funny to think that it wasn't that long ago that Kanye West's Yeezy shows were one of the most talked about events during New York Fashion Week. Then came the infamous Yeezy Season 4 show back in 2016. That was the one held on Roosevelt Island, where editors were held up in buses without water and delayed for hours during one of the busiest work weeks of their year. Models fainted in the sweltering sun. Several others tripped or took off their shoes on the runway. Suddenly, Yeezy shows weren't quite the hot ticket, at least among the fashion establishment. West staged one more pared-back show at NYFW afterward, but otherwise, the man and his brand have sat out traditional fashion weeks ever since in favor of drops and surprise Internet-facing unveilings (like the time he enlisted a small army of women pretending to be his wife, Kim Kardashian West.
Well, West staged a fashion show, of sorts, for the first time in over a year and a half last night at a destination far, far away from the catwalks of New York Fashion Week's Spring Studios: the first annual PornHub awards in Los Angeles, for which West was cocreative director. Instead of models and It girls, the clothing was instead displayed on numerous notable adult actresses who didn't mind that a theme of freeing the nipple was a recurring motif of the collection. Otherwise, the dresses shown were more or less in tune with previous Yeezy seasons: muted pastel monotones, curve-hugging cuts, and a fair amount of slouchy knee-high boots and PVC heels.
Several of the models posted their looks on Twitter as well (and in the spirit of you keeping your job, we should inform you that thanks to Twitter's relatively laissez-faire attitude toward content regulation, clicking through to an adult model's full profile is probably not the best idea).
Though this may be a fashion line's fullest embrace of the adult industry so far, it is not the first time a porn star has debuted designer wares. Most famously, Karl Lagerfeld cast Italian porn star Moana Pozzi in an early '90s Fendi show, to some degree of controversy at the time. Thierry Mugler also once employed male porn star Jeff Stryker to walk one of his shows alongside none other than Ivana Trump. Vivienne Westwood also once used a gay male porn star in a campaign. So we're not exactly without precedent here.
In fact, the biggest controversy seems to be among some of the adult actresses themselves.
West not only debuted new Yeezy gowns but also unleashed a limited-edition capsule collection commemorating winners of certain categories. The women's likenesses are rendered by Shadi Al-Atallah, the same artist who painted West's wife and her sisters for the recent single cover art for his song "XTCY" (you know, the one where he raps about wanting to "smash" his sister-in-laws).
Turns out, however, that some of the women aren't pleased that Yeezy is profiting off their images and, in some cases, trademarked stage names.
Lena Paul, one of the actresses on the shirts, does seem to indicate that she's not getting a cut of the $75 shirt.
Mia Malkova, another actress on one of the shirts, doesn't seem to mind, however.
Of course, it just goes to show you how we've evolved as a society. Once merely casting a porn actor in a fashion show was considered scandalous. Now we're more worried about sex workers' likenesses and personal brands being economically exploited.