Kanye West's "XTCY" Cover Art Is a Painting of All the Kardashian-Jenner Sisters He "Would Smash"
The song was officially released on Wednesday.
---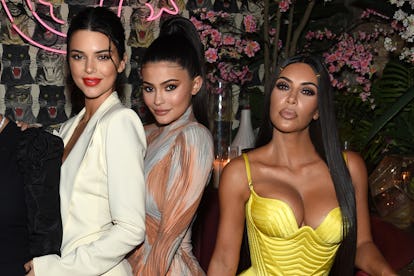 Dimitrios Kambouris/Getty Images
Earlier this month, Kanye West made yet another of his casually shocking statements via the lyrics to his song "XTCY," leaked early—with West's permission—by record producer DJ Clark Kent. West opens the track by rapping, "You got sick thoughts? I got more of 'em/ You got a sister-in-law you would smash? I got four of 'em/ Damn, those is your sisters/ You did somethin' unholy to them pictures/ Damn, you need to be locked up/ Nah, we need a bigger hot tub." Listeners, understandably, took Ye's words to mean that he'd happily "smash" any of wife Kim Kardashian West's famous sisters, and now, he appears to have all but confirmed the speculation.
On Wednesday evening, "XTCY" was officially released to be purchased and streamed beyond Kent's semi-shady WeTransfer link. The accompanying cover art seems to double down on the song's opening premise of "smashing" his sisters-in-law: It's a painted version of an Instagram photo from Kylie Jenner's 21st birthday party earlier this month, depicting Khloé, Kim, Kylie, Kendall, and Kourtney all sitting on a couch and flipping off the camera. Though momager Kris Jenner actually sits to Kourtney's left in the original image, she was excluded from the painting. Mothers-in-law, it seems, are not to be smashed.
It's unclear who, exactly, is the artist behind the painting. The artwork is a pretty faithful adaptation of the inspiring photograph, with extra emphasis placed on capturing the Kardashian-Jenner sisters' shared love of highlighting and contouring every angle of their bodies.
Though none of the sisters have reacted publicly to West's wish to "smash" them, Kris Jenner was tracked down by TMZ shortly after the song's initial leak and asked how she felt about his words. "I love Kanye!" she said. So that's that.
Related: 41 Photos That Document Kanye West's Journey to Becoming a 41-Year-Old Fashion Plate
41 Photos That Document Kanye West's Journey to Becoming a 41-Year-Old Fashion Plate
Kanye West backstage at the Truth Tour, in Baltimore, August 2004.

Frank Micelotta/Getty Images
Kanye West performing at WGCI FM's annual Big Jam concert, in Chicago, December 2004.

Matt Carmichael/Getty Images
Kanye West at the 32nd annual American Music Awards, in Los Angeles, November 2004.

Jon Kopaloff/Getty Images
Kanye West on a visit to MTV's TRL with Raven-Symoné, February 2004.

Theo Wargo/Getty Images
Kanye West at the 2004 Clive Davis pre–Grammy Awards party, in Beverly Hills, February 2004.

L. Busacca/Getty Images
Kanye West at Lifebeat's Hearts and Voices concert, in New York, March 2004.

Johnny Nunez/Getty Images
Kanye West with Rosario Dawson at Hip-Hop Theater Festival's first Hip-Hop Unity Concert, June 2003.

Johnny Nunez/Getty Images
Kanye West on MTV's TRL, in New York, March 2004.

Getty Images
Kanye West at the Paradiso Amsterdam, May 2004.

Johnny Nunez/Getty Images
Britney Spears and Kanye West backstage at the 2004 Billboard Awards, December 2004.

KMazur
Kanye West on The Tonight Show With Jay Leno, April 2004.

NBC/Getty Images
Kanye West at Twista's performance at S.O.B.s, in New York, January 2004.

Johnny Nunez/Getty Images
Kanye West at the 2004 BET Awards, June 2004.

Getty Images
Kanye West, Kevin Liles of Def Jam, and Juelz Santana at the Philadelphia Hip-Hop Summit, in Philadelphia, August 2003.

Johnny Nunez/Getty Images
Kanye West at the video shoot for College Dropout, January 2004.

Johnny Nunez/Getty Images
Kanye West at his album preview party, July 2003.

Johnny Nunez/Getty Images
Kanye West at the 2004 BET Awards, June 2004.

Getty Images
Kanye West at the 2004 Governors Membership Awards luncheon, in Beverly Hills, June 2004.

Amanda Edwards/Getty Images
Kanye West performing with Usher on his Truth Tour, in Los Angeles, September 2004.

Frank Micelotta/Getty Images
Kanye West performing on the first stop of Usher's Truth Tour, in Hampton, Virginia, August 2004.

Frank Micelotta/Getty Images
Kanye West at GQ's Fresh Dressed Awards, October 2004.

Ben Rose/Getty Images
Kanye West at GQ's event honoring Bulgari, in New York, October 2004.

Fernando Leon/Getty Images
Kanye West at the MTV Europe Music Awards, in Rome, November 2004.

Evan Agostini/Getty Images
Kanye West rehearsing for the 32nd-annual American Music Awards, in Los Angeles, November 2004.

Ron Wolfson/Getty Images
Kanye West performing at Madison Square Garden, in New York, November 2004.

Frank Micelotta/Getty Images
Kanye West at the fourth-annual BET Awards, June 2004.

SGranitz/Getty Images
Kanye West at the premiere of Jay-Z's Fade to Black, in New York, November 2004.

Jamie McCarthy/Getty Images
Kanye West backstage at an EA Games party, in Tokyo, December 2004.

Jun Sato/Getty Images
Kanye West after receiving 10 Grammy nominations at the 47th annual Grammy Awards, in Hollywood, December 2004.

Carlo Allegri/Getty Images
Kanye West at an Artist Empowerment Coalition pre-Grammys brunch, in Beverly Hills, February 2005.

Frank Micelotta/Getty Images