Kris Jenner Could Not Care Less About Kanye West Saying He'd "Smash" All of Her Daughters
The momager was the picture of blasé when TMZ chased her down for comment.
---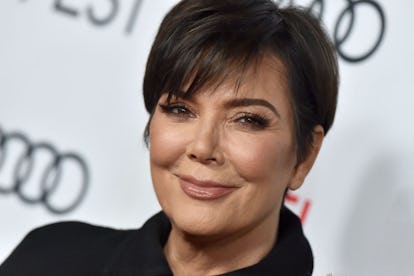 Axelle/Bauer-Griffin/Getty Images
Over the weekend, Kanye West almost out-Kanye'd himself when he dropped a surprise single, "XTCY," in which he repeatedly raps about how he'd be down to "smash" his four sisters-in-law. And on Wednesday, TMZ almost out-TMZ'ed itself by doing the next most awkward thing possible: tracking down the mother of West's wife, Kim Kardashian West, and the four sisters-in-law in question, Kris Jenner, and bombarding her with questions about her thoughts on the whole thing while she was in the process of innocently leaving a restaurant in Beverly Hills with her mother.
"Kris, what did you think when you first heard Kanye's new song about having fantasies about his sisters-in-law?" a reporter asks Jenner as she makes sure her mother is steady while she gets into their car, in an extremely cringe-inducing clip. When the reporter fills the awkward silence with the question of whether it was "just more crazy Kanye talk," though, Jenner does him the courtesy of looking up, laughing, and saying emphatically, "I love Kanye!"
When pushed further—"Do you believe him? Do you think he's actually thinking about them?"—Jenner simply laughs again and responds with the most casual, blasé reminder of who exactly she is: She yells "Hi, Harvey!" in a reference to TMZ's founder, Harvey Levin, who, along with the rest of the media, the queen momager practically keeps in her pocket, before joining her mom in the car and shutting the door.
West's latest, after all, wasn't exactly news: His previous antics made it only a matter of time before he'd go as far as he did with "XTCY," especially after he gave the world fair warning on his last album, Ye, which repeatedly featured the lyric "Sometimes I think really bad things—really, really, really bad things." Not that that stopped TMZ from publishing the all-caps headline "KRIS JENNER: I STILL LOVE KANYE Even Though He Wants to Bang All of My Daughters," as she no doubt knew they would.
Related: Kanye West Raps About "Smashing" His Sisters-in-Law on Surprise New Single "XTCY"