Kanye West's Tweets Are the Real Threat in SNL's A Quiet Place Parody
Monsters lurk in the bushes, waiting for you to weigh in on Kanye West's more controversial statements (like "poopity-scoop").
---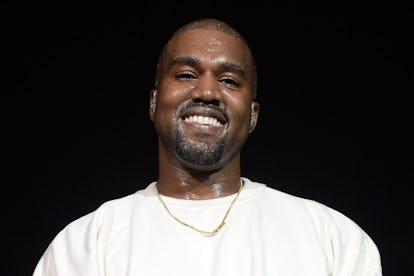 Scott Dudelson/Getty Images
During the Saturday Night Live cold open—which saw the return of Scarlett Johansson as Ivanka Trump, Alec Baldwin as Donald Trump, and Jimmy Fallon as Jared Kushner, and featured Stormy Daniels as herself—Baldwin, as Trump, pondered making Kanye West his new chief strategist. After all, the rapper recently went on Twitter and then on TMZ to air such questionable perspectives as "slavery was a choice" and to, once again, offer his endorsement of Trump—which, according to a recent speech Trump gave to the National Rifle Association, was instrumental in improving the president's approval ratings among black voters. And the "chief strategist" position, which Trump created expressly to incorporate Steve Bannon into his cabinet, is currently vacant.
Kanye West's tweets might be a boon for some (or, really, just for Trump), but for others, they represent a distinct peril. In "A Kanye Place," a sketch from Saturday night's Donald Glover–hosted episode based on the horror film A Quiet Place, the tweets swiftly bring death. The sketch opens with Donald Glover, Aidy Bryant, Cecily Strong, Kenan Thompson, and Beck Bennett (as John Krasinski) making their way through a cornfield illuminated by bare bulbs hanging from a wire. Somewhere in the brush, monsters lurk, ready to scoop up any human who makes more than the barest whisper. Glover taps away at his phone before looking up, wide-eyed, and telling the group, "Kanye just tweeted." Bryant shushes him. "He says he would have voted for Trump," Glover goes on.
"Don't speak unless it's absolutely necessary," Thompson instructs Glover and the rest of the group. (This is also an apt instruction for anyone weighing in on the Kanye West tweets on social media, in think pieces, and so on.) Kanye West tweets, though, are apparently absolutely necessary—for as Glover continues whispering, Thompson reacts with a shout and is promptly dragged away by an unseen monster. The others are taken down in various ways: Strong, when she reacts quite vehemently after learning that West joined Modern Family star Jesse Tyler Ferguson at Chrissy Teigen's baby shower; Bryant, in her quest to determine if West really did say "poopity-scoop" in his new song "Lift Yourself" (he did); Bennett, when he hears West say he believes centuries of slavery were a choice; and, finally, Glover himself, when, listening to "Lift Yourself," he says aloud, "It kind of grows on you." (Does it?)
So the moral is: Sure, West's more controversial tweets are dangerous—but the real danger is that he might get you singing "poopity-scoop" and enjoying it.
Related: A Comprehensive Guide to Everyone Who Has Subtweeted or Called Out Kanye West, From Rep. Maxine Waters to Missy Elliott