Saturday Night Live Hosts an Awards Show for Sexual Misconduct in Hollywood On The Eve of the Oscars
The Grabbies gave prizes in such categories as Handsiest Actor and Best Open Robe.
---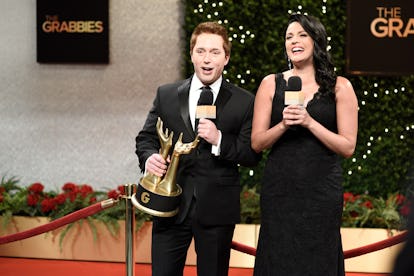 NBC/Getty Images
While everyone else was busy getting their Oscar predictions in order on the eve of the 2018 Academy Awards, the cast of Saturday Night Live was hosting a very different kind of awards show. Saturday night's episode opened on the red carpet of the Grabbies—"celebrating this year's worst behavior in entertainment"—presented by the Academy of Sexual Harassment and Misconduct in Hollywood. (If only the industry's approach to the pervasive issue of sexual misconduct were so coherent.) Cecily Strong, who also bade farewell to her Hope Hicks impression in a sendoff for the outgoing Trump communications director, anchored the sketch as one of the red carpet commentators alongside Beck Bennett (whose character, after being outed for sexual misconduct himself, was replaced midway through the sketch—and then replaced again); together, they staged interviews of each of the nominees for such awards as Best Open Robe, Best Non-Apology, and Handsiest Actor.
In between cringe-worthy remarks—"I showed an intern my penis and said, 'Any ideas?'" says Handiest Actor nominee Tom Sturgeson (Alex Moffatt), "but it's such a tough category this year; the competition is so stiff"—the sketch also offered pointed criticism of, and allusions to, the current conversation surrounding sexual assault and harassment in Hollywood. "First, I'd like to thank guns for pivoting the conversation away from harassment," a Best Open Robe nominee played by Saturday Night Live cast member Pete Davidson tells the two anchors, referencing recent concerns that, perhaps, Hollywood—and awards shows specifically—only have space to focus on one political issue at a time, and the gun control debate in the wake of the Parkland shooting could overpower the #MeToo movement.
Some thinly veiled analogues for other awards shows appeared—like the "Cecil B. Molestin Award," whose recipient, unlike that of the Golden Globes' Cecil B. DeMille Award, is very much not Oprah Winfrey. Naturally, the now-infamous Babe Dot Net, which published one woman's chronicle of a date with Aziz Ansari gone terribly awry, was responsible for outing the red carpet commentators; and at the end of the night, each of the awards show's attendees went home with Massage Envy gift bags. Unfortunately, the references to actors themselves were nowhere near as specific or trenchant. See the full sketch, below.
Related: Natalie Portman Revisited Her Jackie Kennedy Impression For Saturday Night Live