Kanye West's Yeezy Cleats Have Been Banned By the NFL
Kanye West's new Yeezy cleats colorway were deemed far too fashion forward for the National Football League.
---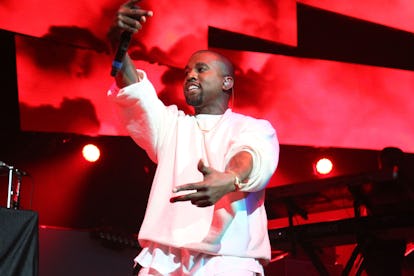 WireImage
It's been a rough couple of weeks for Kanye West as far as fashion go. His Yeezy Season Four show left the fashion world, at best, shaking its head. Then W published an interview in which West expressed his frustration with the fashion establishment by using the plot of children's movies as metaphors.
So, finally, some good news. Sort of. The NFL has deemed Kanye's brand new Yeezy cleats far too fashionable for its fields. Which seems like the kind of controversy that should actually work out for Ye in the end.
When the NFL season kicked off last week, some of the league's best players were spotted rocking more stylish than usual cleats. Turns out Yeezy had personally and somewhat surprisingly gifted Yeezy branded cleats to players like the Denver Broncos' Von Miller and Houston Texans receiver DeAndre Hopkins.
Sure, we might have been a bit more obsessed with other Adidas Original's other big collaboration news of the week (the collection with Alexander Wang), but the mere existence of actual Yeezy cleats were big news in other circles.
On Tuesday, Adidas Originals announced that the shoes would be available to the public and officially known as the Yeezy 350 and Yeezy 750.
Yeah, well, the NFL fined Hopkins for rocking the Yeezy 350. Hopkins has to pony up $6,000. The shoe's black-and-white speckled colorway is a violation of the league's uniform rules. Rules dictate that all players shoes have to have a solid base color.
Hopkins won't wear the shoes again, unless, according to The Houston Chronicle, Yeezy himself wants to pony up the $6,000 per game. Assumedly, Adidas, which aside from its fashion dabblings is one of the biggest athletic suppliers in the world, was well aware of the ins and outs of the NFL dress code beforehand.
While this may seem like another example of "Yeezy can't catch a break," this is probably pretty good for his brand. Who doesn't love a shoe so fashionable that its banned (even if it is by the stiff suits of the NFL)? It only helps that the exact same colorway is availble in non-cleat form.
West's sneaker line has been the biggest unqualified success of his fashion endeavors, though he's not satsified with it.
"So when, when I sell 40,000 sneakers in one minute, does anyone raise their hand and say, 'Hmm, maybe he can actually design something,' he told W.
Maybe it doesn't hurt thought that his cleat line might help him sell a few thousand more.