The Kardashians Will Self-Record Their TV Show in Quarantine
Who better to author their own self-image than a Kardashian?
---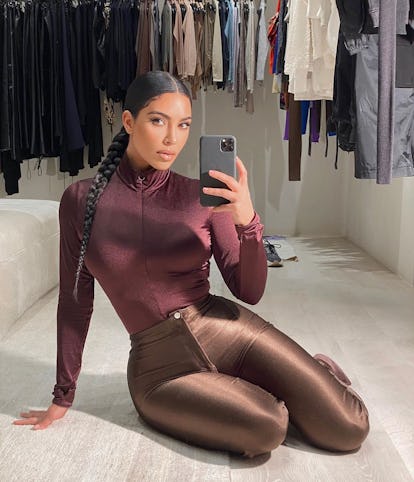 Photo courtesy of @kimkardashian.
If you thought being quarantined away from the coronavirus meant the Kardashians wouldn't be filming season 18 of Keeping up with the Kardashians, then you thought wrong.
During an at-home Tonight Show interview with Jimmy Fallon, Kim Kardashian revealed that just before the family separated into their own homes to practice social distancing, they had been filming the 18th season of KUWTK as if all was normal, because at the time we hadn't entered into our state of mass social distancing.
But as soon as the quarantine went into full effect, each sibling was sent home to distance themselves socially, and production on the E! series halted. In order to follow through with providing a season finale to their loyal viewers, each family member will provide their own self-recorded quarantine content to be spliced together in post-production.
According to Kardashian's interview with Fallon, this means that for the West family, we'll probably see shots of every single fort North and Saint have built around their "minimalist monastery" house, and clips of Kanye watching foreign films all night long (which is apparently his new quarantine routine). For Khloe Kardashian, there will surely be some clips of her daughter True, but don't be surprised if the baby's father, Tristan Thompson (who is allegedly quarantined with Khloe) makes an appearance. Kylie is probably baking up a storm for her daughter, and who knows what Kris and Corey Gamble are getting into.
Apparently, everyone has their iPhones and tripods set up all over their homes to record enough content to fill an episode. And though it might initially sound weird to imagine their different filming styles coming together to create one finale, haven't they always been the authors of their own images this whole time anyway? After all, Kim's authorial debut was a picture book called Selfie.
Kardashian also told Fallon that after she and her sister Kourtney Kardashian got into a physical fight—which was caught on camera and just about broke their mom Kris Jenner's heart, by the way—while filming an episode of KUWTK, they halted production for a week so that Kourtney could have some space. Apparently, she had been showing up to work with a bit of an attitude, not just with her sisters-slash-co-stars, but with the crew as well, according to Kim.
As a result of the recent chaos she's experienced while filming, Kourtney has since decided to "take time off" from filming the show. Whether or not she's recording her own quarantine content for the season 18 finale remains to be seen, but something tells us her 10-year-old son, Mason Disick, might have already beat her to the punch.
Where's the Werner Herzog media studies analysis when you need it?