Meet Kari Faux, the 24-Year-Old Rapper Tapped by Donald Glover and Issa Rae
And she's only getting started. Next year, she'll drop her first full-length album.
---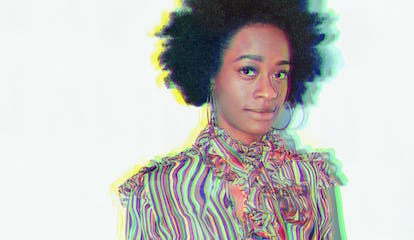 Styled by Danasia Sutton.
The 24-year-old musical artist Kari Faux, who is from Little Rock, Arkansas, describes herself as "The Rap Game Daria," which is a Millennial reference to the sarcastic, very apathetic MTV cartoon character known for keeping it real. Faux drops Daria-isms regularly, like, "My biggest fear is that I'll wake up and this conversation won't be a dream." And one of Faux's most popular hooks is simply: "No small talk."
It's this honest, biting attitude that caught the attention of both Donald Glover and Issa Rae — two rising Hollywood stars whose real life personas and characters on television have humorous relationships to hip-hop. Glover, who goes by Childish Gambino on stage, created and starred in Atlanta this fall, a comedy on FX in which he plays a wry and depressed rap manager named Earnest ('Earn' for short). And Rae did the same for "Insecure" on HBO, where she herself raps Daria-like lines about "broken pussy." It's no surprise that Faux describes writing and making music with Glover and Rae as "so easy."
But unlike her cartoon avatar, however, Faux is giggly and colorful in real life, with a flare for vintage '70s style and skate gear. She grew up listening to Parliament and Southern groups like Lil Flip and the Hot Boys, and then went on to study at the Art Institute in Atlanta. Now, she's recording her second full-length rap album there.Daria may hate world, but Faux is friends with everyone in it.
Glover initially reached out to Faux back in 2014, when he was first exposed to her single "No Small Talk" through a series of Twitter connections. He remixed the song, they stayed in touch, and Glover eventually invited her to come out to Los Angeles to work in his studio-slash-house, which he calls The Factory. It was there that much of Atlanta was birthed, as well as Awaken, My Love, the full-length album he dropped December 2. Faux's vocals are featured on the single titled "Zombies," in which she whispers, "We're eating you for profit / There is no way to stop it."
"Being around him is straight comedy. Period," says Faux of her time in The Factory with Glover and his writing team. "We would just crack jokes and they would become this reoccurring thing. Finally, they'd just be like, 'Let's put this in the show.' Our everyday conversations would turn into the script."
When it came to writing for Rae, who also connected with Faux on Twitter, the scenes in Insecure felt so close to home that Faux nailed the lyrics for "Top Down" in one try after reading the script. The song eventually played in the finale, where Issa and her best friend, Molly, speed down a Los Angeles highway at 4:00 a.m. "Cuz I'm popping, I really got it, ain't got no options," Faux raps over the scene. She can't help but be herself.
After so much success in 2016, Faux is ready to focus on making her own music again. In early December, she released a song with The Internet's Matt Martian titled "Can't Spend the Night." And next year, she'll release a full-length album — her second after Lost En Los Angeles. As her most recent single suggests, Faux has taken with her some of the same musical inspirations that swirled around her at The Factory, namely funk and disco.
To commemorate the highs of this year, the ones to come, and her 25th birthday, Faux plans on getting a tattoo of the Pokémon called Ninetails. "I feel like I've been an Eevee, which is this cute little cat Pokémon," she explains. "But Eeevee eventually evolves into Ninetails, which is this beautiful, fierce fox. I feel like this is the year I come into myself as a woman. I've evolved."
Watch Kari Faux and Donald Glover below.