Karl Lagerfeld Reveals His Favorite Models and Their Pet Names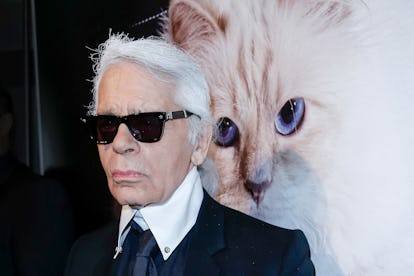 Franziska Krug/Getty Images
It's no secret that Karl Lagerfeld plays favorites. The Chanel creative director is known for tapping the same models and celebrities to anchor fashion shows and head campaigns for years at a time: In recent years, the German designer has turned to Cara Delevingne, Kristen Stewart, and Kaia Gerber to serve as the many faces of Chanel. In a new interview with British Vogue on Tuesday while backstage at the Chanel Fall/Winter 2018 show, Karl revealed that he has a very cute nickname for the members of this elite girl group.
"My favorite girl of the moment is a Dutch girl called Luna," Karl said, referring to Luna Bijl, who walked with the 84-year-old icon to close Tuesday's show. "There are people I call my Choupettes. She and the daughter of Vanessa Paradis, Lily-Rose Depp, they are my Choupettes." The designer also added Delevingne, and Adwoah Aboah to the list. We'll presumably be seeing yet another brand-new addition to the Choupettes soon enough, since Chanel announced on Sunday, shortly before she attended the Oscars as a nominee, Margot Robbie is now a brand ambassador for the 109-year-old French fashion house.
Besides being Karl's pet name for his favorite models, Choupette, of course, is also the name of his much-adored cat. The 6-year-old kitty has two "beloved maids," and more than 109,000 followers on Instagram. In a 2015 interview, Karl told The Cut that Choupette, who had made a cool $3 million the previous year, is "the center of the world." "There is something unforgettable about her, the way she moves, the way she plays. She's an inspiration for elegance. For attitude," he said, adding that parenting Choupette had "perhaps" made him a better, less selfish person. "I think it's grotesque, but what can you do? I believe in the unique. This is not just something to keep me company. It's only great because of the uniqueness of her," he said.
Related: Choupette, Karl Lagerfeld's Cat, Is "Devastated" To Be a Victim of Instagram Hacking
What It's Like to Grow Up on the Chanel Runway, As Illustrated by Hudson Kroenig
With dad Brad Kroenig at the Chanel Spring 2011 runway show during Paris Fashion Week on October 5, 2010 in Paris City.

Getty
Karl Lagerfeld, Kroenig, and Cara Delevingne walk the runway during the Chanel show as part of Paris Fashion Week Haute-Couture Spring/Summer 2014 on January 21, 2014 in Paris, France.

Getty
Kroenig and Nadja Bender walk the runway during the Chanel Metiers d'Art Collection 2014/15 Paris-Salzburg on December 2, 2014 in Salzburg, Austria.

Getty
Lagerfeld, Kroenig, and Delevingne at the end of the Chanel show as part of the Paris Fashion Week Womenswear Spring/Summer 2016 on October 6, 2015 in Paris, France.

Getty
Kroenig walks the runway at the Chanel Cruise Collection 2014/2015 on May 13, 2014 in Dubai, United Arab Emirates.

Getty
During the Haute Couture Spring-Summer 2013 collection shows on January 22, 2013 at the Grand Palais in Paris.

Getty
Kroenig at the end of the 12th Chanel Metiers d'Art show, "Paris-Rome," on December 1, 2015 at the Cinecitta studios in Rome.

Getty
Lagerfeld attends his performance for Chanel at the Prado promenade in Havana, on May 3, 2016 with Kroenig.

Getty
Lagerfeld and Kroenig at the Chanel Collection des Metiers d'Art 2016/17 : Paris Cosmopolite Show at Hotel Ritz on December 6, 2016 in Paris, France.

Getty
Lagerfeld and Kroenig at the Chanel show as part of the Paris Fashion Week Womenswear Fall/Winter 2017/2018 on March 7, 2017 in Paris, France.

Getty
Lagerfeld and Kroenig walk the runway during Chanel Cruise 2017/2018 Collection at Grand Palais on May 3, 2017 in Paris, France.

Getty
Lagerfeld and Kroenig walk the runway during the Chanel show as part of the Paris Fashion Week Womenswear Spring/Summer 2018 on October 3, 2017 in Paris, France.

Antonio de Moraes Barros Filho/Getty Images
Karl Lagerfeld and Hudson Kroenig on the runway at the Chanel Pre-Fall 2018 show in Hamburg, Germany on Wednesday, December 6th. Photo by Cleo Glover for W Magazine.

CLEO GLOVER
Kroenig walks the runway at the end of the Chanel Haute Couture Spring Summer 2018 show as part of Paris Fashion Week on January 23, 2018 in Paris, France.

Bertrand Rindoff Petroff/Getty Images
Kroenig, all grown up, hangs out on the sidelines before rousing himself to join Lagerfeld and this season's Chanel couture bride for the finale of the Chanel Haute Couture Fall Winter 2018 show during Paris Fashion Week, July 2018.

Bertrand Rindoff Petroff/Getty Images