This Karl Lagerfeld and Meryl Streep Feud Is Not Something We Wanted
Karl Lagerfeld claims that Meryl Streep ditched a Chanel couture gown in favor of a designer willing to pay her.
---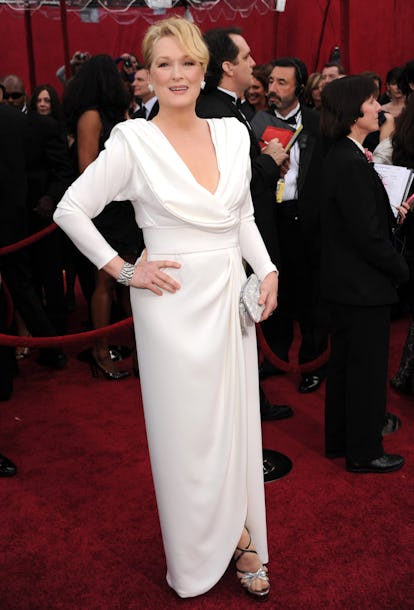 Steve Granitz
Karl Lagerfeld can always be counted on for some off-the-exquisitely-tailored-cuff remarks that casually reveal some juicy fashion insider gossip, but his most recent bout of bluntness cut a little deep. So deep in fact, that he may have cut into Meryl Streep's status in our collective imagination as some sort of benevolent Hollywood demigoddess who can do no wrong.
Lagerfeld claims that Chanel's couture seamstresses were busy at work on an Oscar dress for the nominated actress to wear to Sunday's Academy Awards night when they got the call that, actually, Streep wouldn't need the custom dress. She had found another designer willing to pay her.
"I made a sketch, and we started to make the dress," Lagerfeld told WWD, but then the designer said Chanel received a call from a representative for Streep who said, "Don't continue the dress. We found somebody who will pay us."
"A genius actress, but cheapness also, no?" quipped Kaiser Karl.
The dress in question was a gray number from Chanel's latest couture collection. Streep had requested some customization like a higher neckline, and the couture studio got to work on crafting the dress especially for her. Lagerfeld claims that dress is worth about $105,000, and Chanel would have provided it for free. However, while the house may gift clothing to celebrities, it has a longstanding policy of not actually paying them to wear their clothes.
This is not true of all fashion houses, especially when it comes to highly covered red carpet moments like the Oscars. The subsequent publicity can be more valuable than any traditional advertisement, and many labels are willing to pay for it. At a panel in 2015, celebrity stylist Jessica Paster claimed that some actresses can get up to $250,000 for wearing a single dress. Stylists who make the arrangements often also receive a separate free.
"If it looks awful on you, $100,000 or $250,000 is not worth it, but if it looks gorgeous and this is the dress you were going to pick anyway, why not get paid?" said Paster, according to Fashionista.
It's a separate practice than a house signing an exclusive contract with a particular actress, like Jennifer Lawrence's arrangement with Dior in which she appears in the house's advertisement and exclusively wears Dior on red carpets.
Of course, not all celebrities indulge, and Streep's people claims she's one of them.
A Streep representative reached out to The Hollywood Reporter to claim, "the statement is absolutely false, and that it is against her personal ethics to be paid to wear a gown on the red carpet."
Which does make a certain amount of sense. This is a woman who wore Chris March, a Project Runway fourth place finisher, to the 2010 Oscars.
It is possible as well that both camps are right, and this isn't Streep's fault but perhaps the misstep of someone within her team.
In any event, as much as we love fashion gossip as much as the next person, a Lagerfeld vs. Streep fued is not exactly something we were hoping for.
At least Lagerfeld doesn't seem too bitter about it. He says the dress is still Streep's if she wants it. It was custom fitted for her, after all.
Infamous Hollywood Feuds: