What's Up With Karl Lagerfeld's Teeth?
The veneer is slipping, as they say.
---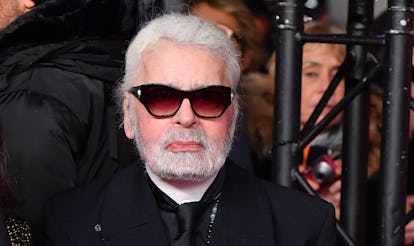 Photo by Stephane Cardinale – Corbis/Corbis via Getty Images
The veneer is slipping, as they say. Karl Lagerfeld, creative director of Fendi and Chanel, was all smiles on Thursday as he attended the ceremonial lighting of the Christmas lights on the Champs-Élysées in Paris, alongside the city's mayor, Anne Hidalgo, and two young children. That smile, however, was less than camera ready. Lagerfeld sported his signature white ponytail and dark sunglasses, but his teeth looked quite different, some of them even missing. It's pretty clear from the pictures that some of his teeth have been filed down to make room for veneers, but those veneers seem to be absent. A representative told The Daily Mail that the fashion icon "is currently undergoing dental treatment, however, he wanted to honor his longstanding commitment to attend the ceremony."
Lagerfeld was tight-lipped for some of the ceremony, but you can see the piano-key smile in pictures here.
Some will argue that an 85-year-old man shouldn't be the subject of mockery, and that Lagerfeld, specifically, is actually in pretty good shape for his age, dental issues and all. And he happens to give as good as he gets. He's called Adele "a little fat"; claimed that Kim Kardashian's life-threatening robbery was her fault; and even dared to say that Meryl Streep, of all people, is cheap. And, in fact, the designer chided male models for having less-than-perfect teeth, in April of this year. According to the Daily Mail, he seemed to imply that some models weren't good-looking enough to be the victims of unwanted sexual advances or getting harassed (he has expressed very little patience with #MeToo): "To be honest, what they really need is a good dentist."
So, tit for tat for tooth, or whatever the expression is.
Related: Every Unbelievable Thing Karl Lagerfeld Said in His Latest Interview, Translated From the French