Flying High
It's a bird! It's a plane! No, it's Kate Bosworth, who shoots for superstardom this summer as Lois Lane in Superman Returns. But can the ingenue next door handle the hype?
---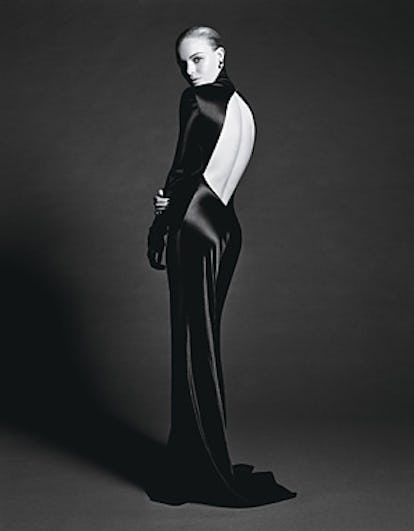 Like many Hollywood stars whose rises to the top have been reduced by the media to a few short anecdotes, Kate Bosworth has nuggets of lore that follow her everywhere she goes. First, there is the physical oddity: She has heterochromia iridium, meaning that her eyes are two different colors—one hazel, one blue. Then there are her Schwab's Pharmacy-tinged beginnings. A horse lover at 13, she scored the role of Scarlett Johansson's best friend in Robert Redford's The Horse Whisperer (the character is killed, naturally, in the film's first scene) after she brought a family Christmas card featuring her photo as her head shot to the audition. Then came her Flashdance moment when she decided, against the wishes of her father back in Cohasset, Massachusetts, to defer her acceptance to Princeton University in favor of going after a part in the surfing confection Blue Crush, which—lucky lady—made her a star. Now we can add another yarn to this already well-knit biography. Bosworth actually tried to persuade director Bryan Singer not to cast her as Lois Lane in this summer's much awaited blockbuster, Superman Returns.
On June 28, Bosworth enters the annals of comic-book and film history as the latest incarnation of the fast-talking, cigarette-smoking, nose-for-a-story journalist. This time around, Lois has a child, who may or may not be the son of the Man of Steel. "Well, that's the million-dollar question," Bosworth says, giggling, as she sits in the lobby of the Mercer Hotel in New York, digging into some French toast. Compact and petite with perfect skin, Bosworth seems softer and less painfully thin than she has in recent photographs.
When I suggest that it's more like the $200 million dollar question—the reported budget for Singer's adaptation, the first Superman film since 1987—Bosworth recoils in mock horror and covers those piercing eyes and glorious cheekbones.
"Don't say that to me!" she exclaims. "It freaks me out!"
Bosworth has a lot riding on Superman Returns, even though she believes her name on the marquee will have little bearing on the film's success. "It won't be because of me," she says. "It'll be because of Superman." But, like Spider-Man did for Kirsten Dunst, Superman has the potential to turn the former lacrosse-playing, bubbly blond girl next door into a worldwide star. Bosworth will undoubtedly be trailed by comics-obsessed dweebs for years to come, adding to the attention already generated by her four-year, on-and-off relationship with British dreamboat Orlando Bloom. The prospect has filled her with dread ever since Kevin Spacey, who plays Lex Luthor in the movie and directed her as Sandra Dee in his 2004 Bobby Darin biopic, Beyond the Sea, proposed her for the role of Lois Lane.
"When I met with Bryan, I was really freaked out because I had never been in anything so big," recalls Bosworth. "I didn't know if I'd be completely giving up my privacy. I sat down with him and I said, 'I think you're going to make an amazing film, and I'm such a huge fan of yours, but I don't really feel like I'm ready for something of this magnitude, so good luck and thank you very much. I appreciate your time.'"
Singer (X-Men, The Usual Suspects) convinced Bosworth to sign on by emphasizing that the characters were more important to his story than the special effects. "That said," says the director, "it's a little strange and overwhelming—the scope of these films, the sets and the rigs and the army of people involved. It's intimidating. But I call Kate the Machine—the Acting Machine. She turns it on, and suddenly she's a working mom and a fiancée with a long-lost love who's Superman. And the moment we're done, she becomes a 23-year-old girl again."
On set in Australia, where she lived on her own for a full year during the shoot, Bosworth says her uncertainty continued. "Up until I had two months in the can, I was waiting to be replaced," she insists. (She had to dangle from the rafters, free-fall and fly in a harness while looking "romantic and idealistic for hours, even when everything starts to go numb.") "When there's so much money involved, and so much pressure, you sort of wonder, When is the real actress supposed to come in and take over?"
It's hard to believe that Bosworth, who has spent nearly a decade in the business, would be so self-doubting, especially opposite newcomer Brandon Routh, who plays Clark Kent and his alter ego. But in contrast to the transparent false modesty that celebrities often use to mask their outsize egos, Bosworth's insecurities seem real, and she confides that they're exacerbated by the interview process. "You're being asked things and you're wondering if you're sounding somewhat eloquent or like a complete idiot," she says. "I almost envy people who say whatever they want. They don't give a s—. They don't have any guards."
Bosworth herself has plenty. At one point she says she loves to be "passionate." About what? "I knew you'd ask that, and all of a sudden I don't know." Later, I ask her where she goes from here, and she begins discussing her flight back to Los Angeles. When I tell her that's obviously not what I'm asking, she says, "Well, it's easier to answer it that way."
According to Spacey, Bosworth is anything but withholding, at least while she's on the job. In Beyond the Sea, he says, "she was completely open, she was trusting, she f—ing delivered. I think she's going to be around for a long time."
If there's a thematic thread in Bosworth's recent crop of films, it's the harsher realities of stardom. In Beyond the Sea her Sandra Dee is all perky onscreen, but, having been sexually abused by her father, she's a box of neuroses. And in the gritty Wonderland Bosworth was cast in her darkest role to date, as Dawn Schiller, the drug-addled girlfriend of the infamous porn star John Holmes who is caught in a murderous, downward spiral. Even in the innocently sardonic comedy Win a Date With Tad Hamilton! Bosworth was depicted as all-smiles supermarket clerk Rosalee Futch, mesmerized by an actor who in real life is not the romantic hero he plays in the movies.
"Hollywood is not a place that's particularly easy to navigate," Bosworth offers. "But I don't think life in general is easy to navigate at 23. And to be in a position where everyone's watching you live your life is even harder."
One perception that distresses her is the idea that her role in Superman Returns proves she has finally "made it" in the industry. "The thought of that is so alien to me," Bosworth says, sipping her mint tea. "Then what? You're Lois Lane, you've made it, where the hell do you go? Or you fail and everyone hates you, so now what?" She still feels she has to work hard to score the roles she wants. "There's never been a part that people have said, 'We want you for it.' It's always been, I want to be involved, and I'm about to fight for it. And I feel that's probably how it will be for a long time." (Even for the role of Lois Lane, Bosworth wasn't necessarily Singer's one and only choice: The director also reportedly considered Claire Danes, Keri Russell and Lost's Evangeline Lilly.)
Bosworth adds that she's tired of playing wide-eyed and wholesome. "To be honest, it's really annoying," she says of the occasionally milquetoast roles she's offered. "I hate it. I don't want to be seen as wholesome. I feel like I'm a good person, but I'm not that."
John Stockwell, the director of Blue Crush, was initially concerned that the actress looked too flawless for the role of Anne Marie Chadwick, who, at one point in the movie, is referred to as Malibu Barbie. "I thought other girls wouldn't be able to access Kate, that she's too unapproachable," Stockwell says. "But my daughter is mixed race and told me, 'I want to look like that.' Every girl wants to be her."
Not so when Bosworth was growing up. She admits without prodding that high school wasn't a particularly easy time for her. "My parents were amazing and wonderful, but there was a lot of pressure to do my best and in every way possible," she says. "I grew up in a small town where everyone wanted to be the same or look the same and was afraid to be different." On the set of The Horse Whisperer, however, "there wasn't that fear. That was very freeing for me as a 15-year-old-girl. The people interacted in such a close-knit, caring way." After finishing the movie, Bosworth, with typical self-effacement, ruled out school plays. "I just felt like I'd probably get crucified, setting myself up to be criticized on a huge scale." Instead, "I played sports. I wasn't very good, actually."
Being in Australia, on her own and "out of my comfort zone," she says, helped her to overcome some of those insecurities. "I learned a lot about myself," she says. "I learned being perfect is complete bulls—. You're going to fail; you're going to succeed. You've got to just live your life and keep doing what you want to do. If you get too caught up, you're really going to f— yourself."
The production also took place while her friends were graduating from college, something that made her particularly reflective. "It's interesting to think I could have gone one way or another," she says. "But I've done so much in that same period." When she visited Princeton after being accepted, she stayed with a student who was studying nuclear physics. "I thought, Oh, my God, what am I doing here? I felt so intimidated. Thinking back on it, I'm kind of glad I didn't go because [Princeton] was too similar to the way I'd grown up my entire life."
Bosworth recently took another step toward growing up: She bought a house in Los Angeles. At the time of our meeting, her best friend from high school, Ary, was about to move in with her and begin a job at PMK/HBH, the public relations firm that represents Bosworth. "When you're away for so long, there's something about wanting to really nurture things at home," Bosworth says. "I've been feeling really domestic lately." While some of her friends are about to marry, Bosworth, who stays mum about her relationship with Bloom, isn't sure she's ready. "It's certainly on the horizon, but I'm not engaged, let's put it that way," she says. "I do know that I'm happily in a relationship, and there's nobody else I want to be with. We're both equally supportive of one another, which I think in any relationship makes things easier and seem less daunting."
There have been reports that Bosworth has been dabbling in Bloom's adopted religion of Buddhism; she remains unspecific when she refers to philosophies she has been studying to figure things out. Whatever they are, however, they seem to be helping. "You have to have confidence. You can't be someone who's so insecure that she's a basket case," Bosworth says. "It's a hard line to walk. That's why I always say that you have to have a strong heart, a clear mind and a tough skin. And that's a lot to try to maintain."
Hair, Christiaan; makeup, Lucia Pieroni for Clé de Peau Beauté; manicure, Sheryl Bailey / Jed Root; fashion assistant, Marina Burini.