Kate Hudson and Goldie Hawn Are Family Vacation Goals in Greece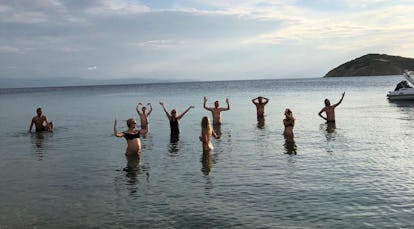 instagram.com/katehudson
If you're looking for your next vacation destination, look no further than Kate Hudson and Goldie Hawn. The mother-daughter duo are currently serving up wander lust from Greece, where they're on a family vacation with Hawn's husband and Hudson's step-father Kurt Russell, Hudson's boyfriend Danny Fujikawa, her children 14-year-old Ryder Robinson and six-year-old Bingham Hawn Bellamy. The crew is also traveling with Hudson's brother Oliver and Russell's son Wyatt and his wife, Search Party's Portia.
They couldn't be having more fun either, by the looks of it. Hudson has been sharing moments from the trip on Instagram, including one where the whole family posed for an adorable picture in the clear waters of Greece. "☀️'s out, belly out," Hudson wrote in the caption, of course referring to her pregnant stomach carrying her first child with Fujikawa. Her baby will be another first for her: Her first daughter as Hudson shared iconically with a gender reveal video.
"If you've wondered why I've been so absent on my social channels it's because I have never been more sick!," she wrote at the time. "[It] was the most sick first trimester of all my children. Boomerangs have made me nauseous, Superzoom is an easy way to have my head in the toilet, food instagrams make me queezy and thinking too much about insta stories made me even more exhausted than I already had been. If you've seen me out and about smiling and pretending like everything is amazing…I was lying! BUT! I have broken through on the other end of that and rediscovering the joys of insta/snap. We have been trying to keep this pregnancy under the radar for as long as possible but I'm a poppin now! And it's too darn challenging to hide, and frankly hiding is more exhausting then just coming out with it! My kids, Danny, myself and the entire family are crazy excited! A little girl on the way ?"
Hudson shouted out her own step-dad on Father's Day, sharing a photo from Greece of Russell and her brother Oliver, with Hawn smiling from the background. "For me…no one tops these dads ?," she wrote. "I know there's a lot of people out there who feel the same way about their family ❤️ As it should be! So happy Father's Day to all the best dads in the world!"
She also posted a tribute to her mother, who she aptly referred to as a "goddess."
Take a look at some other moments from their family vacation below, before looking up your own airfare to Greece and trying to sell your own family on the same idea.