Kate Hudson Announces Pregnancy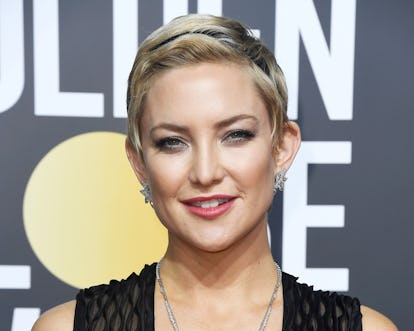 Frazer Harrison/Getty Images
If you've been wondering what Kate Hudson's been up to, wonder no more. On Friday, the actress and Fabletics co-founder announced that she is with child—specifically, a little girl.
Taking to her Instagram, Hudson uploaded a lengthy explanation for her social media silence along with a reveal video of her baby's sex. In the video, she stands in a backyard with her friends and family, who hold up three huge balloons covered in question marks. On the count of three, they stab the balloons with knives, unleashing a torrent of pink confetti and pink balloons.
"SURPRISE!!! ?," she wrote in the caption. "If you've wondered why I've been so absent on my social channels it's because I have never been more sick! [It] was the most sick first trimester of all my children. Boomerangs have made me nauseous, Superzoom is an easy way to have my head in the toilet, food instagrams make me queezy and thinking too much about insta stories made me even more exhausted than I already had been. If you've seen me out and about smiling and pretending like everything is amazing…I was lying! BUT! I have broken through on the other end of that and rediscovering the joys of insta/snap. We have been trying to keep this pregnancy under the radar for as long as possible but I'm a poppin now! And it's too darn challenging to hide, and frankly hiding is more exhausting then just coming out with it! My kids, Danny, myself and the entire family are crazy excited! A little girl on the way ?"
This will be Hudson's first child with her boyfriend, musician Danny Fujikawa. The 38-year-old has two other children, 6-year-old Bingham with ex-fiancé Matt Bellamy, and 14-year-old Ryder, with ex-husband Chris Robinson.
Congratulations, Kate!
Related: Kate Hudson Says She "Kind of Liked" Those Brad Pitt Dating Rumors
Kate Hudson's Adventurous Hairstyles, From Beachy Waves To A Blonde Buzz Cut
A young Kate Hudson poses at the Eighth Annual MTV Movie Awards in 1999, wearing a natural face with tousled curls.

Getty.
Wearing a mauve lip with her shoulder length locks and tousled bangs, Hudson attends the Hollywood Women's Press Club's 60th Annual Golden Apple Awards in 2000.

Getty.
Wearing her natural curls in a tousled up do with a burgundy red lip, Hudson attends the 14th Annual American Comedy Awards in 2000.

Getty.
Radiating at the 2002 Golden Globe Awards, Hudson wears her golden blonde locks in voluminous curls with a hint of blush on the cheeks.

Getty.
Hudson is all smiles at the Raising Helen film premiere in 2004, pairing her wild curls with a mauve lip.

Getty.
Hudson keeps her look minimal and chic with a simple high ponytail and luminous skin at the Sydney premiere of You, Me and Dupree in 2006.

Getty.
At the Orange British Academy Film Awards in 2008, Hudson opts for a simple braided do with side swept bangs.

Getty.
At the Glamour Magazine 2010 Women of the Year Gala, Hudson channels old Hollywood with her sleek S-wave curls with a satin red lip.

Getty.
Wearing an elegant up do with a frosted smoky eye, Hudson arrives at the 67th Annual Golden Globe Awards in 2010.

Getty.
At the amfAR 3rd Annual Inspiration Gala in 2012, Hudson opts for a slicked back, low tousled pony with a golden smokey eye.

Getty.
Wearing her perfectly blown out curls with a stain nude lip, Hudson attends the 70th Annual Golden Globe Awards in 2013.

Getty.
Looking regal at 86th Annual Academy Awards in 2014, Hudson wears her elegant waves with a subtle smokey eye.

Getty.
Hudson keeps her look simple at the 72nd Annual Golden Globe Awards in 2015, wearing a low, middle-parted bun with a natural lip.

Getty.
Debuting her newly chopped bob, Hudson wears her loose waves with a pale pink lip at the 2016 Vanity Fair Oscar Party.

Getty.
Opting for a dramatic up do the a 2017 Costume Institute Gala, Hudson pairs her frosted white locks with a taupe smokey eye.

Kevin Mazur