Kate Middleton Goes Health Goth in Black Athleisure Look at the National Tennis Centre
Even princesses wear Nikes.
---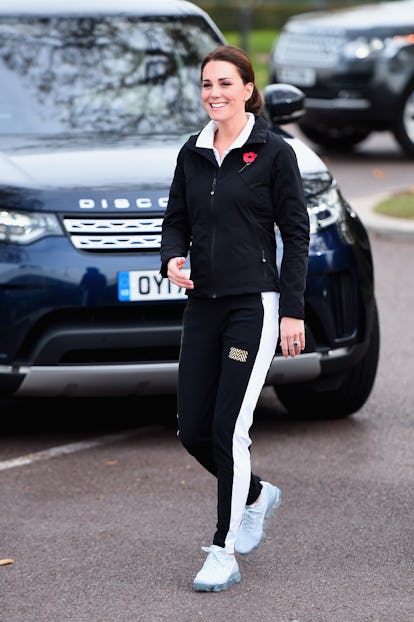 Eamonn M. McCormack/Getty Images
Over the past handful of years, Kate Middleton has made her hyper-polished style her signature, often opting for splashes of color in flattering silhouettes. As a princess, she's learned to play the role well, making the word flawless a go-to adjective for describing her many looks. Today, though, the Dutchess of Cambridge deviated from her usual feminine style in favor of a sporty athleisure look that is one of her most casual to date. The patron of the All England Lawn Tennis and Croquet Club paid a visit to the National Tennis Centre in London while wearing a black track suit consisting of the Tuxedo Track Pant by Monreal London for $345 via Glamour, a white Polo shirt, and Nike Air Vapormax Flyknit sneakers for $190, giving her princess-appropriate spin on the Health Goth micro-trend, four years later. (Three if you take into account the time it took for Health Goth to become a widely reported phenomenon.) Hey, even princesses wear Nikes.
For a primer on health goth, recall that the aesthetic, which is less of a movement than it is a tongue-in-cheek tag for a look like normcore or sea punk, started as a Facebook page created by Portland alt-r&b artists Mike Grabarek and Jeremy Scott who record as Magic Fades. By definition, "if you can even define something that changes regularly, [it] is a hybrid of aesthetics… including elements of biotechnology, sportswear, fetish culture, extreme cleanliness, dystopian advertisements, and rendered environments," as they explained to Complex back in 2014. In other words, the touchstones of it consist of "moisture-wicking fabrics, BioWare, body enhancement tech, prosthetics, shoe dipping, various fashion and performance wear brands, [and] transparent clothing," to name a handful, some of which Middleton wears in her tennis look.
While it seems unlikely that Kate Middleton herself is aware of health goth, it's notable enough that she's trying out a new look, and bringing some modernity to the archaic establishment of the Monarchy. It's also more evidence that a royal generational shift is clearly at work, which Prince Harry and Meghan Markle's relationship has continuously confirmed as well. It's just a matter of time, really, until Prince William puts his own take on a hypebeast.
Related: Kate Middleton Finally Changed Her Hair and It Looks Great
Kate Middleton's Hairstyles Through The Years:
25 Intimate Portraits Of the British Royal Family, From King George VI to Young Prince George
The Royal Family on the balcony at Buckingham Palace after the coronation of King George VI of England. Photo by Hulton-Deutsch Collection/CORBIS/Corbis via Getty Images.

Hulton Deutsch
King George VI with his daughters Princess Elizabeth and Princess Margaret in the grounds of Windsor Castle in Windsor, England on July 08, 1946. Photo by Lisa Sheridan/Studio Lisa/Getty Images.

Lisa Sheridan
Princess Elizabeth working on her studies at a desk in Windsor Castle. Photo by Lisa Sheridan/Studio Lisa/Getty Images.

Lisa Sheridan
Princess Margaret and Antony Armstrong-Jones in the grounds of Royal Lodge on the day they announced their engagement. Photo by Hulton Archive/Getty Images.

Hulton Archive
Princess Margaret walks with her husband Earl of Snowdon on a pontoon in the Bahamas. Photo by DALMAS/AFP/Getty Images.

DALMAS
Queen Elizabeth II with a group of local children during her state visit to Mexico, 1975. Photo by Serge Lemoine/Getty Images.

Serge Lemoine
Queen Elizabeth II and Prince Philip on safari during their state visit to Zambia, 1979. Photo by Serge Lemoine/Getty Images.

Serge Lemoine
Prince Andrew in the 1980's. Photo by Keystone-France/Gamma-Keystone via Getty Images.

Keystone-France
Diana, Princess of Wales with Sarah Ferguson at the Guard's Polo Club, Windsor, 1983. Photo by Georges De Keerle/Getty Images.

Georges De Keerle
Princess Diana with the Duchess of York during a skiing holiday in Klosters, Switzerland, 1988. Photo by James Andanson/Sygma via Getty Images.

James Andanson
Prince Charles and Lady Diana Spencer with Queen Elizabeth II and Prince Philip on the balcony at Buckingham Palace after their marriage ceremony at St Paul's Cathedral, 1981. Photo by MSI/Mirrorpix/Getty Images.

Mirrorpix
Prince Charles and Diana, Princess of Wales together during their honeymoon in Balmoral, Scotland, 1981. Photo by Serge Lemoine/Getty Images.

Serge Lemoine
Princess Diana, Princess of Wales poses in a bikini while on holiday in the South of France. Photo by Anwar Hussein/WireImage.

Anwar Hussein
Sarah Ferguson, Duchess of York inspecting The Guard Of Honour at R.A.F. Gaton in Berlin, Germany, 1989. Photo by Georges De Keerle/Getty Images.

Georges De Keerle
Duke and Duchess of York, Prince Andrew and Sarah Ferguson on a boat during their visit to Venice, Italy in 1989. Photo by Georges De Keerle/Getty Images.

Georges De Keerle
The Princess Of Wales with her two sons, Prince William and Prince Harry on a chairlift during a ski holiday in Lech, Austria. Photo by Tim Graham/Getty Images.

Tim Graham
Prince of Wales on the slopes in Klosters, Switzerland, where he is on a skiing holiday with his sons Princes William and Harry. Photo by Tim Ockenden – PA Images/PA Images via Getty Images.

Tim Ockenden – PA Images
Princess Diana arriving at the Serpentine Gallery, London, in a gown by Christina Stambolian, 1994. Photo by Jayne Fincher/Getty Images.

Princess Diana Archive
The Duchess of York attends a charity premiere of 'A Little Princess' in London, with her daughters Beatrice and Eugenie, 1996. Photo by Dave Benett/Getty Images.

Dave Benett
Kanye West shares a joke with Prince Harry and Prince William at Wembley Arena in London, 2007. Photo by CARL DE SOUZA/AFP/Getty Images.

CARL DE SOUZA
Prince William, Duke of Cambridge and Catherine, Duchess of Cambridge drive from Buckingham Palace in a decorated sports car on April 29, 2011 after their wedding ceremony in London, England. Photo by Jeff J Mitchell/Getty Images.

Jeff J Mitchell
Catherine, Duchess of Cambridge and Prince William, Duke of Cambridge watch a rodeo demonstration at a Government Reception at the BMO Centre on July 7, 2011 in Calgary, Canada. Photo by Chris Jackson/Getty Images.

Chris Jackson
Princess Beatrice and Princess Eugenie attend the 8th annual charity: ball Gala at the Duggal Greenhouse on December 16, 2013 in New York City. Photo by Michael Stewart/WireImage.

Michael Stewart
Catherine, Duchess of Cambride and Prince William, Duke of Cambridge ride in an open-air jeep on safari around the National Park at Kaziranga National Park on April 13, 2016 in Guwahati, India. Photo by Samir Hussein/Pool/WireImage.

Samir Hussein