Kate Middleton Discusses Stigma Around Maternal and Newborn Fatalities
The soon-to-be mom of three visited the Royal College of Obstetricians and Gynaecologists.
---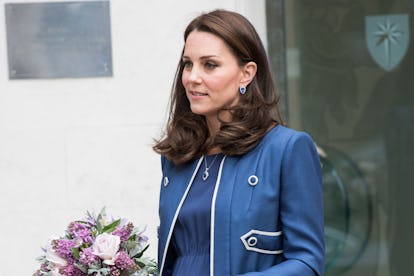 Samir Hussein/WireImage/Getty Images
Kate Middleton is certainly busy these days, as she is currently pregnant with her third child with husband Prince William (the couple is expecting a new bundle of joy for siblings Prince George, 4, and Princess Charlotte, 2, in April.) But in the midst of her third trimester, the duchess of Cambridge took some time to draw attention to the very important work that is being done to reduce maternal and newborn mortality worldwide and launch a new initiative.
Middleton visited the Royal College of Obstetricians and Gynaecologists on Tuesday to learn more about the college's education and training programs for doctors in the field of obstetrics and gynecology, according to Kensington Palace. She also met with specialized nurses and joined a roundtable discussion about "the ways in which the stigma around women's health, in particular maternal mental health, can be challenged."
But Middleton—wearing a blue Jenny Packham overcoat and matching dress as well as blue sapphire and diamond jewelry, according to *People—was not simply there as a student. Ahead of Middleton's visit, Kensington Palace announced that she would become a patron of the college and lead the Nursing Now 2020 campaign, which aims to highlight the important job of nurses. According to Kensington Palace, the initiative is "a global campaign that aims to raise the worldwide profile of nurses and enable them to take a greater role in health policy decision making." The duchess was later presented with a certificate from the president of the college to mark her new patronage.
This isn't the first time Middleton has spoken up for the health rights of mothers and children. She has partnered multiple times with British children's mental health charity Place2Be, and Prince William and Prince Harry have both been outspoken advocates for destigmatization of mental health issues, speaking out against issues like cyberbullying.
While visiting the college, Kate also ran into an old friend, according to People: Professor Jacqueline Dunkley-Bent, the midwife who helped deliver Princess Charlotte. Perhaps Kate found a moment to schedule the midwife for some time in April?
Related: Kate Middleton Makes Solo Royal Outing to Discuss Mental Health Initiatives at a West London School