Kate Middleton and Prince William Held Hands at Princess Eugenie's Wedding
It was a rare show of PDA for the royal couple.
---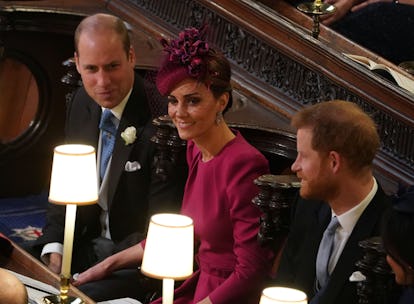 WPA Pool/Getty Images
Princess Eugenie's wedding was a star-studded affair–with guests including royals like Meghan Markle and Queen Elizabeth II, as well as fashion royals such as Kate Moss and Cara Delevingne–but all eyes were still on the original royal couple, Prince William and Kate Middleton. The Duke and Duchess of Cambridge have people abuzz after they were seen holding hands while seated at St. George's Chapel for the wedding service, according to Elle. It was a rare public display of affection for the duo, who are not often seen holding hands in public.
Apparently, there's no actual etiquette or rule that prevents these two from touching one another in public, Beaumont Etiquette's founder and director Myka Meier explained to Elle. "There's no protocol that tells them they can't hug or kiss or touch," she said. "There's no rule book like that. Each senior member of the royal family is trusted to make the judgement calls of what's appropriate and when. It's all about being trusted to make those calls on their own."
But if there's ever a time to be affectionate, it's at a wedding, right? The vows, the music, the romance in the air. Princess Eugenie's nuptials were steeped in the tradition of the monarchy, so why not have Will and Kate add some modernity to the mix?
Eugenie, for her part, did what she could to update the affair, by excluding the word "obey" from her vows. "I Eugenie Victoria Helena take thee Jack Christopher Stamp to my wedded husband, to have and to hold from this day forward, for better, for worse: for richer, for poorer; in sickness and in health; to love and to cherish, till death us do part, according to God's holy law; and thereto I give thee my troth," she recited in front of the 850 guests that were in attendance. Her decision to forgo the word "obey" was a choice first initiated by Princess Diana, when she excluded the word from her vows to Prince Charles, the Evening Standard reports.
It looks like Middleton and Prince William tried to channel a bit of Diana's rebellious spirit on this special occasion, as well.
Related: Donald Trump Unsurprisingly Managed to Break Three "Rules" in the Presence of Queen Elizabeth
Princess Eugenie's Royal Wedding: See What Everyone Wore, From Meghan Markle to Kate Moss
Meghan, Duchess of Cambridge arrives ahead of the wedding of Princess Eugenie of York to Jack Brooksbank at Windsor Castle on October 12, 2018, in Windsor, England.

WPA Pool
Kate Moss and Lila Grace Moss Hack ahead of the wedding of Princess Eugenie of York and Mr. Jack Brooksbank at St. George's Chapel on October 12, 2018, in Windsor, England.

WPA Pool
Demi Moore arrives ahead of the wedding of Princess Eugenie of York and Mr. Jack Brooksbank at St. George's Chapel on October 12, 2018, in Windsor, England.

WPA Pool
Holly Valance arrives ahead of the wedding of Princess Eugenie of York and Mr. Jack Brooksbank at St. George's Chapel on October 12, 2018, in Windsor, England.

WPA Pool
James Blunt and Sofia Wellesley arrive ahead of the wedding of Princess Eugenie of York and Mr. Jack Brooksbank at St. George's Chapel on October 12, 2018, in Windsor, England.

WPA Pool
Emma Joy Kitchener and Julian Fellowes arrive ahead of the wedding of Princess Eugenie of York to Jack Brooksbank at Windsor Castle on October 12, 2018, in Windsor, England.

WPA Pool
Pixie Geldof and George Barnett arrive ahead of the wedding of Princess Eugenie of York to Jack Brooksbank at Windsor Castle on October 12, 2018, in Windsor, England.

WPA Pool
Queen Elizabeth II arrives ahead of the wedding of Princess Eugenie of York and Mr. Jack Brooksbank at St. George's Chapel on October 12, 2018, in Windsor, England.

WPA Pool
Zara Tindall and Mike Tindall arrive ahead of the wedding of Princess Eugenie of York and Mr. Jack Brooksbank at St. George's Chapel on October 12, 2018, in Windsor, England.

WPA Pool
Liv Tyler arrives ahead of the wedding of Princess Eugenie of York to Jack Brooksbank at Windsor Castle on October 12, 2018, in Windsor, England.

WPA Pool
Princess Anne, Princess Royal and husband Timothy Laurence attend the wedding of Princess Eugenie of York to Jack Brooksbank at St. George's Chapel on October 12, 2018, in Windsor, England.

WPA Pool
Holly Branson arrives ahead of the wedding of Princess Eugenie of York to Jack Brooksbank at Windsor Castle on October 12, 2018, in Windsor, England.

WPA Pool
Peter Phillips and Autumn Phillips attend the wedding of Princess Eugenie of York to Jack Brooksbank at St. George's Chapel on October 12, 2018, in Windsor, England.

WPA Pool
Karoline Copping and Jimmy Carr arrive for the wedding of Princess Eugenie of York and Mr. Jack Brooksbank at St. George's Chapel on October 12, 2018, in Windsor, England.

WPA Pool
Tamara Beckwith arrives ahead of the wedding of Princess Eugenie of York and Mr. Jack Brooksbank at St. George's Chapel on October 12, 2018, in Windsor, England.

WPA Pool
Ellie Goulding arrives for the wedding of Princess Eugenie of York to Jack Brooksbank at St. George's Chapel on October 12, 2018, in Windsor, England.

WPA Pool
Chelsy Davy arrives ahead of the wedding of Princess Eugenie of York to Jack Brooksbank at Windsor Castle on October 12, 2018, in Windsor, England.

WPA Pool
Naomi Campbell and Debbie von Bismarck arrive ahead of the wedding of Princess Eugenie of York to Jack Brooksbank at Windsor Castle on October 12, 2018, in Windsor, England.

WPA Pool
Poppy Delevingne arrives ahead of the wedding of Princess Eugenie of York and Mr. Jack Brooksbank at St. George's Chapel on October 12, 2018, in Windsor, England.

WPA Pool
Catherine, Duchess of Cambridge and Prince William, Duke of Cambridge arrive ahead of the wedding of Princess Eugenie of York to Jack Brooksbank at Windsor Castle on October 12, 2018, in Windsor, England.

WPA Pool
James Matthews and wife Pippa Middleton arrive ahead of the wedding of Princess Eugenie of York and Jack Brooksbank at St. George's Chapel on October 12, 2018, in Windsor, England.

WPA Pool
Sarah, Duchess of York and Princess Beatrice arrive ahead of the wedding of Princess Eugenie of York and Jack Brooksbank at St. George's Chapel on October 12, 2018, in Windsor, England.

WPA Pool
Robbie Williams and Ayda Field attend the wedding of Princess Eugenie of York to Jack Brooksbank at St. George's Chapel on October 12, 2018, in Windsor, England.

WPA Pool
Cara Delevingne arrives ahead of the wedding of Princess Eugenie of York and Jack Brooksbank at St. George's Chapel on October 12, 2018, in Windsor, England.

WPA Pool