Are Young Royals Like Kate Middleton Turning Their Backs on Real Fur?
Future queens Kate Middleton and Crown Princess Victoria both opted for faux fur in a joint appearance.
---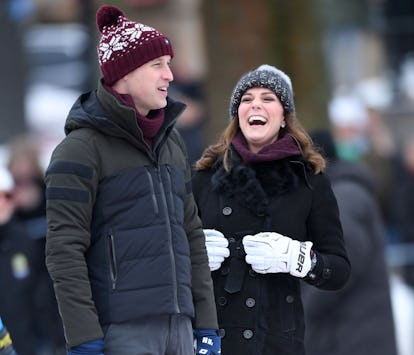 Karwai Tang/Getty Images
Kate Middleton and Prince William are currently on their first-ever trip to Sweden, which they of course began with meeting their hosts and local counterparts, Crown Princess Victoria and Prince Daniel. So far since arriving, they've gotten lunch with the latter's Royal parents, visited Stockholm's Nobel Museum, and even ended up on the ice, where Middleton and her husband faced off in a game of bandy hockey, aka one of the country's most popular sports.
Rather than the game results—since you're undoubtedly wondering, Middleton lost out two to one—or Middleton's baby bump from a pregnancy that's five months along, it has been lapels, cuffs, and pom-poms have somehow dominated the news of their visit. That's because, when Victoria and Kate stepped out together near the museum, onlookers couldn't help but notice that both happened to be wearing variations of green coats accented with fur, predictably causing outrage.
Now, however, it's turned out that Middleton's ensemble was largely fur-free: According to People, she was wearing faux fur cuffs and a faux fur label by the label Troy London—though she was admittedly wearing a "sustainably sourced" Alpaca fur hat. Victoria, was also wearing a coat by the Swedish designer Ida Sjostedt with a faux fur lapel.
The appearance seemed to suggest that the future of monarchies—Victoria will one day be queen, and Kate will one day be consort—is staying on-trend, shifting away from fur just as brands like Gucci have recently, as part of their continued attempts to "to strive to do better for the environment and animals" and be "socially responsible." (Since that decision was announced in October, Michael Kors has followed suit, and activists like Pamela Anderson are doing their part to encourage fashion figures like Naomi Campbell to do the same.)
Perhaps because of the excitement at the prospect of such a change, the hat topped off with a pom-pom that Middleton wore on the ice rink also brought quite a bit of backlash, as it bears a significant resemblance to a hat by Eugenia Kim, whose bobble is made of 100 percent Arctic Fox fur. However, it turns out that there's also a faux fur version of the hat, which seems to be the one that Middleton is wearing; according to the royal correspondent Richard Palmer, Kensington Palace is "adamant" that the hat is topped off with faux fur.
The Palace has yet to release any additional clarifications or statements, but whether or not the two future queens and their fellow royals are transitioning to fur-free, they've definitely succeeded in sending Meghan Markle a message: If she'd like to stay in the people's good graces, she'd better keep things faux.
Related: Gucci Is Going Fur-Free, Starting With Its Spring 2018 Collection
17 of Kate Middleton's Best Hair Moments Over The Years
At the Charities Forum Event in London, Middleton unveils an even shorter version of her tousled lob paired with natural hint of blush on the cheekbones.

Samir Hussein
The Duchess of Cambridge debuted her newly chopped locks in her signature curls as she attends the first round on the opening day of Wimbledon 2017.

Photo by Getty.
Attending the Chelsea Flower Show press day in London in 2016, Middleton kept her hair in a tousled half up do.

Photo by Getty.
Wearing her hair in her signature blown out curls with a playful, braided headband, Middleton visits the Haida Heritage Centre in Canada in 2016.

Photo by Getty.
Attending a Christmas Day church service in King's Lynn, England, in 2015, Middleton wore her hair in a low bun with a soft smoky eye.

Photo by Getty.
Wearing her hair in a tousled high pony, Middleton attended the WW1 commemorative and Flying Day at Omaka Aviation Heritage Centre in New Zealand in 2014.

Photo by Getty.
Visiting the Christchurch City Council Buildings in New Zealand in 2014, Middleton wore her hair in a effortlessly tousled half do with a hint of blush on the cheeks.

Photo by Getty.
Attending the naming ceremony for the new Princess Cruises ship 'Royal Princess' in 2013, Middleton paired her tousled half up do with a chic black hat.

Photo by Getty.
Looking stunning at the official launch party for Team GB and Paralympics GB for the London 2012 Games, Kate Middleton's hairstyle pairs beautifully with her dark smoky eye.

Photo by Getty.
The Duchess of Cambridge wore her hair in natural waves while visiting the Tuvanipupu Island on their Diamond Jubilee tour in 2012.

Photo by Getty.
Arriving at the St. Andrew's School in Berkshire, England, in 2012, Middleton wore her brunette curls with side swept bangs and a nude lip.

Photo by Getty.
The Duchess of Cambridge looked radiant on her wedding day in 2011 wearing her hair in an elegant half up do with a hint of blush on the cheekbones.

Photo by Getty.
Celebrating her royal engagement to Prince William in 2010, Middleton wore her shiny, polished locks in soft curls with luminous skin.

Photo by Getty.
Wearing her brunette curls side-parted with a soft smoky eye, Middleton looked all done up at the wedding of Lady Rose Windsor and George Gilman in 2008.

Photo by Getty.
At the Cheltenham Festival in Gloucestershire in 2007, Middleton kept her look simple, wearing her tousled waves under a black beret.

Photo by Getty.
Attending the wedding of Laura Parker-Bowles and Harry Lope in 2006, Kate Middleton wore her brown hair in soft curls with a natural lip color.

Photo by Getty.
Kate Middleton at the premiere of 'A Street Cat Named Bob' in London, England, November 2016

Getty Images