Pamela Anderson Sent a Friendly Reminder to Naomi Campbell That Animals Were Skinned Alive to Make Her Fur Coat
Looks like the models, who share a history as Playboy cover girls and PETA figureheads, might soon also share some beef.
---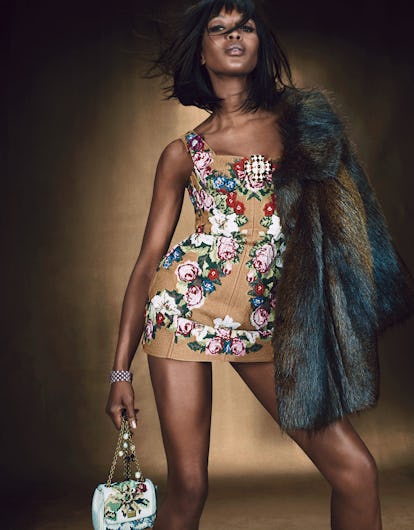 Photo by Emma Summerton, styled by Giovanna Battaglia; W Magazine July 2012.
As a supermodel whose reign has lasted two decades and counting, Naomi Campbell has starred in many campaigns and walked hundreds of runways. The one ad that's surprisingly stuck with her the most, though, is one that dates back to 23 years ago and wasn't even for a fashion brand. In 1994, Campbell stripped down with four of her fellow supers—Kate Moss, Christy Turlington, Cindy Crawford and Elle McPherson—for a PETA ad that read, "We'd rather go naked than wear fur."
Unfortunately for Campbell, who's since called the campaign a "mistake," it's dogged her ever since. She's since been criticized for, say, fronting a 2009 campaign for the noted fur designer Dennis Basso. It was no surprise, then, that Campbell's appearance at party for the new Pirelli Calendar in New York last week, which saw her decked out in an ankle-length fur coat alongside her friend Sean "Diddy" Combs, who toned it down a notch in an oversized snow white mink stole, has caused quite the stir.
The post, along with a few others including Campbell dangling the coat off her arm in the party's Instagram booth, has since become a dumping ground for comments left by animal rights activists, which range from the outraged remarks that definitely do not mince words you might expect from the stereotypical crazed PETA fanatic to kinder comments from fans like, "That fur you are flaunting is symbolic of so much evil. I would love to believe you are not that kind of soul."
Pamela Anderson has now joined the latter camp of those who've attempted to give the super a talking-to—also not exactly a surprise, given that the model-slash-activist-slash committed PETA advocate recently wrote an open letter to Kim Kardashian urging her to "be a hero for animals as well as a great example to all your beautiful followers by swearing off fur."
This time, she took a less public route, and sent Campbell, a fellow former Playboy "cover girl, a message directly. But, evidently not having gotten a response—or seen her words get lost in the avalanche that must be constantly raining down on Campbell's DMs—Anderson has since passed the message on to a reporter at Page Six. "So many animals were anally electrocuted for this coat and sometimes skinned alive. Naomi, I adore you. I wish you wouldn't wear fur," she wrote. "People follow you. You are a fashion icon. This is heartbreaking. Please have a heart and lose the real fur."
Kardashian did not respond publicly, and so far Campbell hasn't either, though that likely won't deter Anderson in her activism. This is, after all, the model who not only takes care to pose in only cruelty-free brands like Stella McCartney in her present-day shoots, but has been so dedicated in sharing her commitment to animal rights that she recently temporarily opened up her own vegan restaurant in the south of France, and has also hand-delivered vegan meals to Julian Assange throughout his forced stint in London's Ecuadorian Embassy.
Exclusive: Pamela Anderson Vamps It Up In Saint Tropez
If Anderson's message gets heard, though, her battle likely won't be nearly as easy as dropping off some Pret a Manger. After PETA dropped Campbell as one of their figureheads, she gave an interview in 2000 that was nearly as angry as the comments she's receiving today. "I made a mistake with PETA. I found them quite violent and I wanted to dissociate myself from them," she said, pointing to what a spokesman for PETA later called "a sick joke made by our campaigns managers a few years ago" that Campbell supported Gianni Versace's murderer.
"My whole career has been a challenge. I don't care what people say, calling me names. I have never got anything easy," Campbell continued, adding, "there is a very fiery side to me"—one that Anderson seems sure to encounter if she points out that in the same interview, Campbell also said she would still "never" wear endangered fur. (That is, unless Campbell really meant it when she said that now that she's [also] an actress, she no longer has any beef.)
Naomi Campbell goes retro for "Fashion A Go-Go" on the cover of W Magazine December 1990.
Photo by Emma Summerton, styled by Giovanna Battaglia; W Magazine July 2012.
"I try not to read the tabloids, and I am not fully aware of what's going on, but I find out that the press is turning this whole thing into a fashion show by commenting on what I was wearing."

Photo by Steven Klein, styled by Treena Lombardo; W Magazine June 2007.
Photo by Willy Vanderperre, styled by Edward Enninful; W Magazine October 2013.
Photo by Michael Thompson.
Community service wasn't going to stop Campbell from looking fabulous in 2007. "What do they expect me to do—walk in looking all drib and drab?" she told W in "The Naomi Diaries." "I've never looked drib and drab in my life."

Photo by Steven Klein, styled by Treena Lombardo; W Magazine June 2007.
And bares all in February 2014 as one of the social stars of "Pillow Tweets."

Photo by Mert Alas and Marcus Piggott, styled by Edward Enninful.
Photo by Emma Summerton, styled by Edward Enninful; W Magazine August 2014.
"Fashion has really changed," Campbell told W in her October 2014 cover story. "It went from being a small group to very global and very corporate.

Photo by Inez Van Lamsweerde and Vinoodh Matadin, styled by Edward Enninful.
"I like a little swag in a girl's walk on the runway. It is called a 'show,' after all." Spoken like a true pro.

Photo by Inez Van Lamsweerde and Vinoodh Matadin, styled by Edward Enninful; W Magazine October 2014.
Related: Pamela Anderson, Uncensored, on Activism, Feminism, Family and Love
Naomi Campbell Goes to Ghana: