With "Rose Petal Pistol," Actress Kate Miller Does It All
Ahead of her new website-slash-art project, Miller discusses collaborations with street artist Bradley Theodore and her love for old Hollywood.
---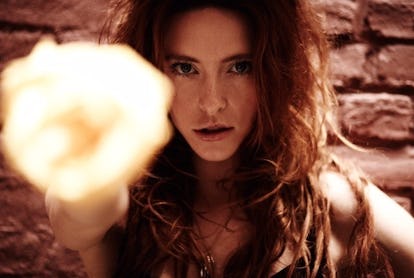 Los Angeles-based actor, dancer, singer, occasional poet, and newly minted conceptual artist Kate Miller is entering a whole new medium: the Internet. With the launch of her new website, Rose Petal Pistol, on Monday, she's found a platform to showcase each of her varied creative pursuits on one central hub. Each part of the neologism (it's also her Instagram handle, @rosepetalpistol, and a sort of spirit animal) corresponds to a different art, showcased on the site: Rose, art; petal, poetry; and pistol, performance. It's an "envelope" or "container," as she describes it, that allows her to control how and where her art is consumed, away from what she perceives to be the limitations of social media. But Rose Petal Pistol, the site, is very Web 2.0 — "I'm sort of taking it back to an old-school approach," she says (only in 2016 could a website be an "old-school approach").
Rose Petal Pistol is "the glue that holds it all together." And there's a lot of content — she's recruited several collaborators, including street artist and longtime friend Bradley Theodore and filmmaker Charlene Bagcal, on projects spanning book-making, filmmaking, gallery installations, and live performances. Miller and Theodore have an art book called Once Broken in the pipeline, as well as a gallery exhibition scheduled for later this summer, while Bagcal directed a short, Lynchian film called Smoke Gets In Your Eyes, after the old jazz standard, that Miller conceptualized. She has a few more collaborations in mind, but she remains tight-lipped on the details until they have been finalized.
Later this summer, she will embark on an international tour with her husband, Silicon Valley actor and stand-up comedian T.J. Miller, who will film an hour-long comedy special for HBO with Kate as his warm-up act. She plans to sing a vaudevillian tribute to "Smoke Gets In Your Eyes" — the film, in which her husband also makes an appearance, had been envisioned as a music video to accompany her performance, though it quickly turned darker and more surrealistic — complete with a bit of comedic play. (The Rose Petal Pistol moniker came from a playful brainstorming session between the pair; she explains that it stuck because it combines the strength and vulnerability she hopes to channel in her work.)
We caught up with Miller last week, before her site launch. She was traveling, visiting her husband on set in Atlanta, and she had just seen a final cut of "Smoke Gets In Your Eyes" the previous day. Here, she talks about her varied inspirations, ranging from the futuristic designs of Iris Van Herpen to the escapism of old Hollywood cinema–and, of course, roses, petals, and pistols.
How are these three disciplines related for you? Well, I think that they all stem from the same core place. My goal is creating work that really addresses the universal concept of human suffering and the human condition. I try to incorporate themes of whimsy, but also very serious themes of heartbreak and rebuilding and vulnerability and joy and love into my painting or my poetry or my performance. There's also a lot of crossover — the work that I'm doing more and more is multimedia. I'm working on this book [with Bradley Theodore], which I hesitate to call a book — it is more art artifact, called Once Broken. There is poetry, so there's definitely writing on the inside like you would imagine in a traditional book, but I'm playing with how people interact with a normal object. I'm self-binding it on the wrong side. You have to sort of struggle to get it open. We intend to showcase it at a gallery opening by the same name — it kind of dips a toe into a happening like they were having back in the '60s art scene, so that's performance. Just in this one work you have art, poetry, and performance combined.
Who are some of your dream collaborators? I am absolutely in love with Sophie Calle, the French conceptual and installation artist. I saw a gallery show of hers, several years ago in New York, called "Say Goodbye To Me," and it was absolutely stunning. She got this letter from her long-term boyfriend that was basically a breakup letter. She was heartbroken and confused about it, so she took this letter and gave it to artists, language interpreters, psychologists, there was a ballerina — women really working at top of their game — opera singers, and said, "Interpret this for me." I just loved what came about — through her handing over this very personal part of her life that she was trying to reconcile, you saw this gorgeous outpouring of art. I love Marina Abramović; she's just a pioneer in talking about how we confront pain and physical limitations. My background is in ballet and modern dance, and I love how she uses the body as a material for what she creates and I think she's brilliant at everything she conceptualizes.
Who are some of your artistic icons? Marina Abramović. Tilda Swinton. Hafiz, the Sufi poet that wrote in the 1300s. Rilke; also a mystical poet. Katharine Hepburn — she's such an icon. Audrey Hepburn, I think, is another good one. Kind of two sides to the same coin in a strange way in my mind.
Why is old Hollywood glamour inspiring to you? I grew up watching old films — my husband and I both did, so lot of times when we're having like a chill evening or just wanting to unwind we'll watch old Marx Brothers films or old silents. During the time that we think of as old Hollywood, movies were made so that people could enter into the world and really lose themselves in it. That's definitely a draw. And I love also old French films. Filmmaker Jacques Tati has such a way of commenting on architecture. There's a film called My Uncle, and the house is ridiculously '60s modern — when guests come over they have to walk on these little stones that are placed throughout the yard in this absurd configuration where they're just zig-zagging back and forth. It becomes more like a dance than just a scene. My background as a dancer really makes me appreciate choreography and environment and the show of it all that is Hollywood.
What about personal style? I'm so, so keen on Iris Van Herpen lately. I discovered her about a year ago. I saw an exhibition of her at the High Museum in Atlanta — it took me away. She's definitely having a moment. I've always really liked designers that are breaking boundaries and incorporating weird bizarre, avant-garde materials or shapes. There's this one dress that's made out of feathered rubber chickens, and it's almost grotesque. There's this kind of beauty in the grotesque. I love Tilda Swinton as a style icon. She's always reinventing herself. She's always kind of otherworldly. David Bowie has always been a huge inspiration in my life. I used to watch Labyrinth, I mean, I'm embarrassed to admit that I probably watched it like once a month for my entire life.
How would you describe your personal style? Always evolving. Right now a bit edgy and modern with romantic undertones.
Going on tour, what do you always have in your suitcase? What are your travel essentials? Silk sleep mask, meditation beads, poetry books, sketch pads, and a little vial of a loved one's ashes.
What are you listening to right now? Coleman Hawkins radio on Pandora.
What's on your summer playlist? Moby's long ambients, Chet Baker, Yma Sumac, XYLO, Leonard Cohen, The Album Leaf, Tortoise, Jane Birkin & Serge Gainsbourg, Henry Mancini, Drehz, and the new Radiohead album.
What are you lusting after right now? A visit to Turrell's Roden Crater.
Do you have any hidden talents that aren't part of the Rose Petal Pistol project? Rolling cigars — I don't smoke, but my great grandfather rolled cigars for a living before he opened his bar. I guess it's just been passed down in my genes!
Watch W's most popular videos here:
Photos: With "Rose Petal Pistol," Actress Kate Miller Does It All
Kate Miller, from the Rose Petal Pistol gallery. Photo by Daryl Henderson.
Kate Miller, from the Rose Petal Pistol gallery. Photo by Mandee Johnson.
Kate Miller, from the Rose Petal Pistol gallery. Photo by Mallory Morrison.
Kate Miller, from the Rose Petal Pistol gallery. Photo by Daryl Henderson.
This interview has been condensed and edited.