Kate Moss Pulled a Marilyn Monroe at Mert Alas's Birthday Party
The supermodel popped out of a giant cake to sing happy birthday to the photographer.
---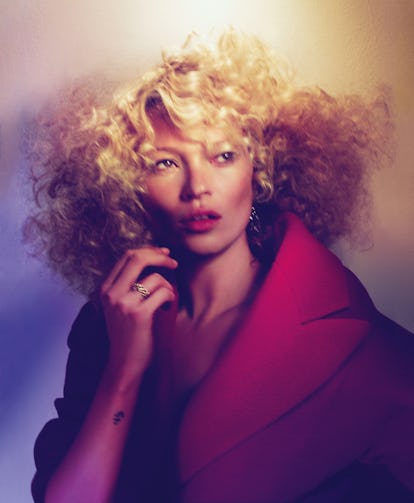 Mert Alas and Marcus Piggott
The legendary Kate Moss certainly has a knack for pulling off a surprise appearance. In honor of photographer Mert Alas's 47th birthday, Kate Moss slinked right out of a giant cardboard cake to celebrate the photographer and perform a song for the crowd. Surfacing right out of a large cake at a birthday party is actually Moss's second big surprise appearance within a month, after the supermodel's triumphant return to the runway for Kim Jones's farewell collection and final Louis Vuitton show in January, during Men's Fashion Week.
After an usually large cake was wheeled out for Alas, the much smaller real cake was removed from its cardboard base and Moss emerged with a microphone in hand. While perched atop the cake, Moss sang her best rendition of "Happy Birthday," giving an airy performance similar to the vocal stylings of Marilyn Monroe when she sang the same tune to President John F. Kennedy in 1962. Moss could barely complete the song without giggling her way through the end, but it seems that the crowd's encouragement and giddy laughter helped her make it through. Thankfully, there is video proof of her sultry, sweet version of the birthday song and documentation of Moss popping out of a giant birthday cake. Not many can successfully pull off a Marilyn Monroe impersonation, but if anyone can do it—and do it well—it's probably Kate Moss.
Even Mert Alas was seemingly at a loss for words at what to do when Moss materialized, as he captioned his photo of the party, "I mean i literally had kate moss came out of my bday cake ?❤️." Really, what else could you possibly say besides that? Other guests at the birthday bash included Lindsay Lohan, Naomi Campbell and Lupita Nyong'o, a guest list as star studded as one might expect for a surprise birthday party that took place in the midst of London Fashion Week.
Related: Go Inside the Best Parties of London Fashion Week with Kate Moss, Cara Delevingne, and Other It Brits