Kate Moss Says She Felt Pressured to Pose Topless Early in Her Career
The model opened up about that and posing topless at such a young age in her latest interview.
---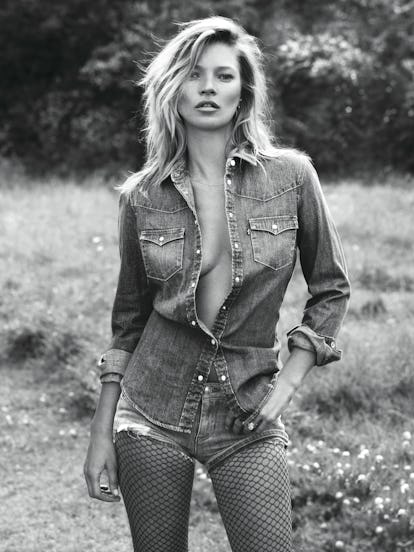 ALAS MERT AND PIGGOTT MARCUS
Kate Moss has now been in the modeling industry for three decades. During that time, a lot has changed, as she reflected in a rare television interview with NBC's Megyn Kelly. For one, Moss says her own perception of how models are treated has shifted.
When Kelly asked Moss if she was pressured into posing topless ever, the 44-year-old model replied, "Yes, there was pressure." "I worked with a woman photographer called Corinne Day, and she always liked me with no top on, and I did not like it at all when I first started," Moss said, referencing the photographer who is credited with launching Moss's career at the age of 15. Coincidentally, Moss's own daughter, Lila Grace Moss Hack, who is also a model, is now 15 years old.
Moss looks at her own daughter's age differently, though. When questioned about advice she'd give younger models, Moss replied, "They don't have to do it if they don't want to do it." "I wouldn't let my daughter do it," she continued. "I look at her now, and she's 15, and to think that I was going topless at her age is crazy."
She also opened up about working with Mario Sorrenti, who captured her iconic Calvin Klein Obsession campaign in 1993 and with whom Moss entered into a romantic relationship. "Mario was my boyfriend, so I was kind of used to it, but I was still always like, 'Can I just put some clothes on?'," she said. "But that was the job, so I kind of just did it." Moss has opened up before about the experience, telling photographer Nick Knight back in 2015 that "I'd wake up in the morning and he'd be taking pictures of me. I was like, 'Fuck off!' I lay like that [naked on a couch] for 10 days. He would not stop taking pictures of that. But he's Italian, you know? He was like, 'Lay down, I'll tell you when we've got it!' We probably had it in the first roll. They rented us a house, just me and him and loads of film, in this deserted little shack on the beach."
Another thing that's changed for Moss over the years is her infamous 2009 quote, "Nothing tastes as good as skinny feels." "My friend used to say it," she said. "Because you know, we were all living together, and you know, we'd go for the biscuits and go, 'Oh, nothing tastes as g—.' It's a little jingle." These days, though, Moss appreciates the fact that beauty ideals for models have become more diverse—though there's still a lot of progress that needs to be made. "There's so much more diversity now," she said. "I think it's right. There's so many different sizes and colors and heights. Why would you just be a one-size model and being represented for all of these people? So yes. For sure, it's better."
Related: Kate Moss Just Discovered the Gym and Juicing, Still Hesitant about Skin and Hair Care