Lila Grace Moss Hack, Kate Moss's 14-Year-Old Daughter, Is the Supermodel's New Fashion Week Pal—and Toughest Critic
"She never says anything nice about me," Moss has said about her teenage daughter, who's now sitting front row with her at London Fashion Week.
---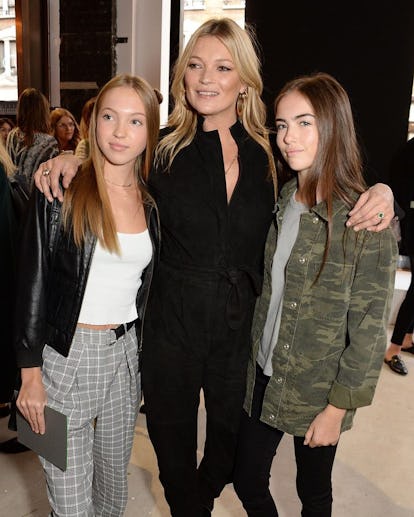 Courtesy of @backstagebombshell
It's not every day that two 13-year-old girls get to interview a supermodel for a magazine's cover story, but that's exactly what happened last year when Dazed celebrated its 25th issue by tapping two of Gigi Hadid's biggest fans to ask the supermodel the important questions—like what her all-time favorite cereal is, and if she prefers her water to be fizzy or still.
Of course, these weren't just any budding journalists: Though barely out of their tween years, the two best friends both had real supermodel experience, given that one of them, Lila Grace Moss Hack, happens to be the daughter of none other Kate Moss. (The fact that her dad is Jefferson Hack, the cofounder of Dazed & Confused and Dazed Media, certainly didn't hurt her or her bestie's chances at landing the gig either.)
Even at that point, though, Moss Hack in fact had some modeling experience of her own. She'd already landed a cover of Italian Vogue, which made it no surprise when the then unabashedly brace-faced teen again went in front the camera earlier this year to become a face of the U.K. hair brand the Braid Bar. The shoot, it turned out, also served to prove that the teen was quickly growing up: This time around, Moss Hack was pictured without her mom, and even dealt with the adult issue of being called out for cultural appropriation by wearing cornrows.
But Moss Hack, who's just a few weeks away from turning 15 and finally brace-free, has never looked more grown up than when she showed up to her first-ever fashion show, Topshop, at London Fashion Week on Sunday. Lottie Moss, Moss's half-sister, may not have managed to snag a spot next to the super, but Moss Hack, who was outfitted in a leather jacket—a look she's been rocking for years—and Rihanna's Fenty Puma creepers, could be found casually sitting front row next to her mom, as well as British Vogue editor in chief Edward Enninful and even her Hadid co-interviewer and fellow Braid Bar campaign star, Stella Jones, who's the daughter of the British musician Mick Jones.
What Naomi is to Kate, Stella definitely seems to be to Lila Grace: The pair even coordinated in jackets, silky straight hair, and ankle-grazing pants. Not that Moss Hack seems to be lacking in friends other than her bestie: Her Instagram may be strictly private, but that hasn't stopped her from gaining followers like Harry Styles and Cara Delevingne.
Even the fact that Moss Hack is now hanging with her mom seems to suggest that the teen is making an effort to open her circles. "She thinks me and her mum are deeply uncool," Hack told the Sunday Times of his daughter's thoughts on him and her mom last year.
Less than a week later, Moss echoed Hack's sentiments: "Mum, you look ridiculous, take that off. It's disgusting," was the impression she did of her daughter for the Telegraph, adding that the teen often gives her fashion advice—and admitting "she is usually right."
And while compliments may be hard to come by—"when she goes, 'Mum, you look really pretty', I'm like, 'Ah,' because she never says anything nice about me"—that hasn't seemed to stop Moss from loving her daughter any less. She's saved up her "crotch length mini dresses" of yore for Moss Hack, and has even taught her her runway secrets, including the "the turn from the Nineties when we actually did modeling, not like now."
"She's really good," Moss added of her daughter's runway walk, giving her the ultimate seal of approval, especially since she now has a fully up-and-running modeling agency herself; the first model she signed, Elfie Reigate, was among those to walk Topshop. It looks like pretty soon, Moss Hack will be right up there with her on the runway, too.
Related: Kate Moss is Proudly Naked at 43 and Going Strong as Fashion's Reigning Muse
Kate Moss on How Photographers "Always Ask" Her to Take Her Clothes Off: