Kate Upton Says Guess' Paul Marciano Repeatedly Sexually Harassed Her, Called Her a "Fat Pig" and Fired Her
The model went into painful detail elaborating on her #MeToo tweet, alleging years-long abuse while she was working with Guess.
---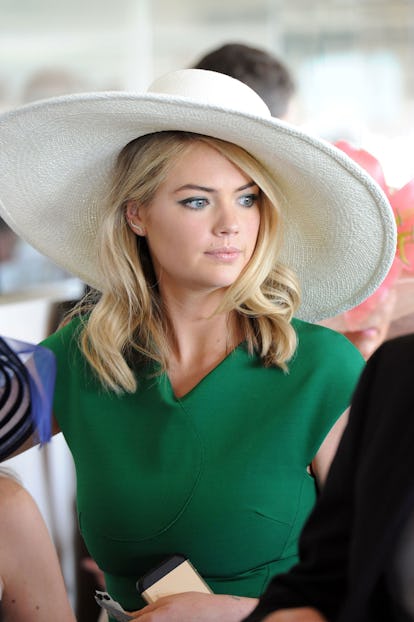 Getty Images
On January 31, model Kate Upton shared a tweet that suggested improper conduct by Guess cofounder, Paul Marciano. But that was just the beginning. On Wednesday, February 7, Upton gave a interview to Time that went into specific details about the alleged harassment and assault she experienced while working with Marciano.
According to Upton, Marciano began harassing her when she was just 18 and working on her first professional modeling campaign, which was for Guess' lingerie. She said he requested a meeting with her the day after the shoot, adding, "as soon as I walked in with photographer Yu Tsai, Paul came straight up to me, forcibly grabbed my breasts and started feeling them—playing with them actually. After I pushed him away, he said, 'I'm making sure they're real.'"
Though Upton told Time she did, "everything I could physically do to avoid his touch throughout the meeting," she said Marciano continued to touch her in a "very dominating and aggressive way," by grabbing her thighs, pulling her closer to him, smelling her, and touching her neck and her breasts. Upton said she texted Tsai to tell him to stay before Marciano told him to leave the pair alone, but even in front of Tsai, Upton said Marciano continued his "constant grabbing." Their unequal power dynamics, of course, presented an obstacle for Upton: "When he forcibly grabbed the back of my head so that I could not move and started kissing my face and my neck, I remember not wanting to say 'Get off of me' because I didn't want to open my mouth to say anything because I didn't want him to be able to put his tongue in my mouth. I had two options: do everything I could to wiggle away and avoid his pursuit, or punch the CEO of Guess. So I decided to just wiggle away," Upton said to Time.
"I Will Not Be Silent": Hollywood's Biggest Names Pledge to Speak Their Minds:
Still, Upton says Marciano continued to pursue her: He "insisted" on walking her to her hotel room, though Tsai "thankfully" did it instead. It was only a month later, though, when Upton was shooting her next Guess campaign, that the model encountered a similar scenario—Marciano reportedly came to her hotel lobby and called her so much that she turned off the phone and locked her door.
The next morning, Upton found out she'd been fired from the shoot; according to her agency, someone had called to say she would not be needed because she had "gotten fat," never mind that no one from Guess had seen her and Guess continued to work with her as a model after that. Moving forward, Upton said she ensured Tsai was by her side whenever she was with Marciano, though things only continued to get worse: "Paul's texting increased, telling me how excited he was to see me, that he wanted me to change in front of him so he could see my naked body getting into his clothes. He asked if I thought of him when I was posing sexy on set," she said, adding that she felt like she had to keep up communication with him because he'd only confirm for a shoot a few days beforehand.
Tsai ended up being fired by Guess, and Upton was fired from the brand for a second time. Later, at what Upton believes was the insistence of the photographer Ellen von Unwerth, Upton appeared in a Guess jeans campaign. When Marciano tried to have dinner with Upton alone, the model says von Unwerth stepped in. She told Time, "I felt like she saved me by pulling me away from him and jokingly walking me to the elevator, saying, 'Well if I'm not going, Kate's not going.'" (A representative for von Unwerth told Time that the photographer supported Upton, though did not recall that particular incident.) According to Upton, though the incident made Marciano "extremely upset," leading to him calling her "disgusting," telling the crew she was drinking on set, and ultimately firing her by saying, "Get that fat pig off my set." The shoot ended up being Upton's last with Guess, even though they offered her a raise after her breakthrough Sports Illustrated cover—to the point that Upton actually accepted their offer. (At least, before Marciano's texts reportedly started up again, including one telling her she wasn't allowed to bring her boyfriend, at which point Upton said she simply "walked away.")
In a statement to W, Marciano said that Upton's "accusations are absolutely false," adding that he has "never been alone with Kate Upton" and that the idea that he groped her the first time he met her and "in front of dozens of people in a busy hotel lobby is preposterous." He didn't mention the meeting that Upton described as their first real encounter, but he speak to his conduct with Upton overall: "I have never touched her inappropriately. Nor would I ever refer to a Guess model in such a derogatory manner."
Marciano, who said that he "fully support[s] the #MeToo movement," also added that he's "devoted [his] entire career to building a fashion company and brand that have a long and proud record of empowering women"—a statement that others might not so readily agree with. He also said that he's pledged his full support and cooperation to Guess with "a fair and impartial investigation," which he has "complete trust and confidence … will prove that the accusations against me are untruthful."
Unfortunately for Marciano, though, Time reports that Tsai said he "witnessed the harassment Upton describes and corroborated details of her allegations." It's increasingly looking like Upton's newly empowered stance, which seems to be echoing throughout the modeling industry, might ultimately be more dangerous for Marciano and others who, as Upton put it, use their power to make women feel "insecure and powerless"—and whom she's not going to let intimidate her anymore. "These men think they are untouchable," Upton added, "but times are changing."
Related: Karlie Kloss Was Called Both 'Too Fat' and 'Too Skinny' in One Day by Casting Agents