Kate Upton Is Pregnant With Her First Child
The model and her baseball player husband are expecting their first child.
---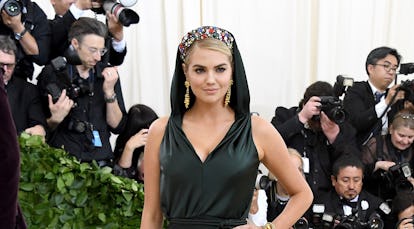 Photo by Noam Galai/Getty Images for New York Magazine
Baby fever just continues to strike in Hollywood: 26-year-old model Kate Upton is pregnant! She and her husband, the 35-year-old Houston Astros pitcher Justin Verlander, are expecting their first child together.
Upton announced the news with a simple Instagram picture of herself in a red pantsuit and sunglasses on a balcony overlooking the water, posted with the caption "#PregnantinMiami @justinverlander ?❤️." She also tagged her husband right on her baby bump—which, cute. Verlander has yet to publicly comment on the announcement, but we're pretty sure he also knows about the baby.
According to E News, Upton "is currently in Miami to mentor models taking part in Sports Illustrated Swimsuit's #SISwimSearch event."
In addition to her modeling, Upton is the face of the ubiquitous Game of War app ads. Motherhood should come easily to a woman used to saving the world (or whatever it is you do in that game).
Upton and Verlander have been married since last November, when they wed in a lavish ceremony in Tuscany. It was only days after the Astros won the World Series for the first time in the franchise's history. Sweet November, indeed. She (finally!) posted photos from the event on Instagram in March:
Back in May, Upton told People that Verlander was "her perfect partner." Congratulations to the pair.
Related: Kate Upton Says Guess' Paul Marciano Repeatedly Sexually Harassed Her, Called Her a "Fat Pig," and Fired Her
How to Have a Dream Memorial Day Getaway, As Illustrated by Selena Gomez and Kate Moss
Kate Moss photographed by Inez and Vinoodh for W Magazine, February 2006.

Inez Van Lamsweerde and Vinoodh Matadin
Liya Kebede, photographed by Mikael Jansson for W Magazine, June/July 2013.

Mikael Jansson
Jessica Biel photographed by Mikael Jansson for W Magazine, April 2012.

Mikael Jansson
Selena Gomez photographed by Steven Klein for W Magazine, March 2016.

Steven Klein
Joan Smalls photographed by Mikael Jansson for W Magazine, June 2013.

Photo by Mikael Jansson, styled by Edward Enninful
Kirsten Dunst photographed by Juergen Teller for W Magazine, April 2014.

Juergen Teller
Madonna photographed by Steven Klein for W Magazine, March 2009.

Steven Klein
Amilna Estevão photographed by Easton and Roso for W Magazine, June 2017.

Easton and Roso
Kate Moss photographed by Inez and Vinoodh for W Magazine, February 2006.

Inez Van Lamsweerde and Vinoodh Matadin
Photograph by David Turner for W Magazine, 1992.

David Turner
Selena Gomez photographed by Steven Klein for W Magazine, March 2016.

Steven Klein
Cameron Diaz photographed by Mert and Marcus for W Magazine, December 2006.

Mert Alas and Marcus Piggott
Lady Jean Campbell photographed by Venetia Scott for W Magazine, June 2016.

Venetia Scott
Photograph by Ben Hoffmann for W Magazine, September 2006.

Ben Hoffmann
Anna Ewers photographed by Venetia Scott for W Magazine, May 2017.

VENETIA SCOTT
Photograph by Emma Summerton for W Magazine, April 2012.

Summerton Emma
Amilna Estevão photographed by Easton and Roso for W Magazine, June 2017.

Easton and Roso
Photograph by Willy Vanderperre for W Magazine, June 2011.

Willy Vanderperre
Lara Stone photographed by Inez and Vinoodh for W Magazine, May 2009.

Inez Van Lamsweerde and Vinoodh Matadin
Photograph by Sharif Hamza for W Magazine, November 2011.

Sharif Hamza