The Pro-Woody Allen Movement Loses a Key Member of Its Ranks
"It's like, what the f–k was I doing working with Woody Allen and Roman Polanski?"
---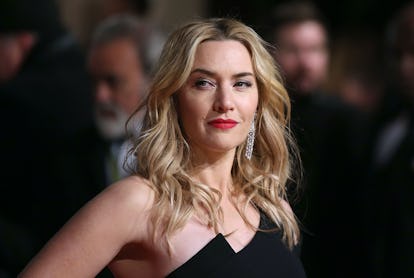 Getty Images
Kate Winslet uses the F word no less than 18 times in her new Vanity Fair cover story, when discussing everything from how men treated the real-life woman she'll soon portray in Ammonite ("completely fucking outrageous") to her text messages with Emma Thompson ("Winslet, where the fuck are you?"). They pepper the entire interview, but there's one area in which they're particularly concentrated: Winslet's response to a question about whether the #MeToo movement was what influenced her new perspective on portrayals of sexual relationships.
It was actually costarring alongside Saiorse Ronan in Ammonite, an upcoming lesbian period drama, that made Winslet reflect on the impact of heterosexual norms. But the subject of #MeToo prompted Winslet to look back on another aspect of her career. "It's like, what the fuck was I doing working with Woody Allen and Roman Polanski?," she asked. "It's unbelievable to me now how those men were held in such high regard, so widely in the film industry and for as long as they were. It's fucking disgraceful."
Such remarks have been par for the course since the #MeToo movement upended Allen's status and reputation, which went untarnished for decades after his daughter, Dylan Farrow, accused him of sexual assault. Still, Winslet's stand apart. It's been close to three years since the tidal wave of celebrities turning their backs on Allen—Greta Gerwig, Timothée Chalamet, Rebecca Hall, Rachel Brosnahan, Natalie Portman, Mira Sorvino, and Ellen Page among them. It seems like even Allen himself would admit that Winslet is late to the party: "[Denouncing me] became the fashionable thing to do, like everybody suddenly eating kale," he told The Guardian earlier this year.
Winslet's work with Polanski came in the 2011 film Carnage well before the #MeToo movement, but working with the director has been a controversial decision amongst actors ever since he fled America in 1978 amidst legal proceeding stemming from charges including "unlawful sexual intercourse with a minor."
Winslet isn't just late to the party; she also arguably helped make the party late. In seizing any opportunity to work with Allen, established actors like Winslet perpetuated his status, making him palatable to younger and lesser-known industry peers. Before the #MeToo movement interrupted its distribution, the 84-year-old director had been in post-production on a film with Chalamet, Elle Fanning, and Selena Gomez.
Of course, Winslet wasn't alone in ignoring Farrow's many, many open letters and interviews over the years. But when presented with the opportunity, well into the #MeToo movement, Winslet stood by her defense of the "incredible director," as she had then recently described both Allen and Polanski. "He understands the female characters he creates exceptionally well," Winslet said of Allen in late 2017, after starring in his film Wonder Wheel. Apparently joking, she added, "I think on some level Woody is a woman."
But all that's just another reason why Winslet's comments to Vanity Fair stand apart. The actor, it seems, is now genuinely remorseful, and perhaps even genuinely attempting to make amends. "I have to take responsibility for the fact that I worked with them both," Winslet said. "I can't turn back the clock. I'm grappling with those regrets but what do we have if we aren't able to just be fucking truthful about all of it?"
If former collaborators like Scarlett Johansson, Diane Keaton, and Kristen Stewart are having similar doubts, they have yet to show it. But if Winslet emboldens them, her reversal may prove more "better late than never" than "too little too late." After all, up until a matter of hours before Vanity Fair published their cover story, things had been going perfectly normal for Allen. Earlier on Thursday, he dropped the trailer for his 51st movie, starring Gina Gershon, Louis Garrel, and Christoph Waltz, incidentally Winslet's co-star in the Polanski film.