Katie Couric Will Co-Host the Winter Olympics on NBC in Place of Matt Lauer
The former Today personality will be co-hosting the Opening Ceremony of the Winter Olympics on NBC.
---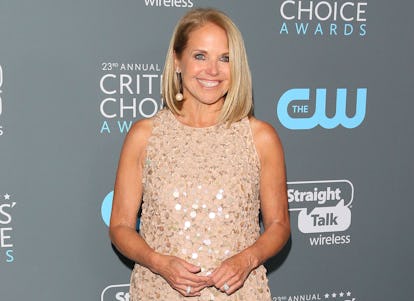 Photo credit should read JEAN-BAPTISTE LACROIX/AFP/Getty Images
In the wake of Matt Lauer's suddenly firing from NBC for sexual misconduct allegations, his former co-anchor Katie Couric has been tapped to take over at least one of his former duties: co-hosting the Winter Olympic Games on NBC. Today, it was revealed that Couric will be partnering with Mike Tirico for the Opening Ceremony in PyeongChang, South Korea this Friday, February 9, Deadline reports.
It's notable that NBC decided to rehire Couric in place of Lauer, who allegedly used his position of power at the Sochi Winter Olympics in 2014 to prey upon a staffer, which directly led to Lauer's firing. "This happened so quickly," an NBC insider told Page Six back in November. "She didn't go to the media, she made a complaint to NBC's human resources, and her evidence was so compelling that Matt was fired on Tuesday night. The victim says she has evidence that this has also happened to other women, but so far we don't have evidence of that."
Couric, who will be guiding her co-host Tirico through his first time anchoring the Opening Ceremony, issued a statement to Deadline, saying, "During my years at NBC, I loved covering the Olympics and showcasing the hard work, dedication and perseverance of athletes from around the world. The Opening Ceremony will be a chance for South Korea to share its culture and customs and for the international community to celebrate this unparalleled display of athletic achievement and sportsmanship. There's nothing quite like it. I'm also looking forward to working with Mike, who brings a wealth of knowledge and passion to everything he does."
Just last week, Couric broke her silence about Lauer's firing, saying, "I had no idea this was going on during my tenure or after I left…I think I speak for many of my former colleagues when I say this was not the Matt we knew. Matt was a kind and generous colleague who treated me with respect… The whole thing has been very painful for me. The accounts I've read and heard have been disturbing, distressing and disorienting and it's completely unacceptable that any woman at the Today show experienced this kind of treatment."
Couric left Today in 2006, and had not returned to NBC since. Though, after recently ending her partnership with Yahoo!, the famed anchor remains a free agent.
Related: Katie Couric Speaks Out About Matt Lauer For First Time Since Firing: "It's Still Very Upsetting"