Katie Couric Speaks Out About Matt Lauer For First Time Since Firing: "It's Still Very Upsetting"
Couric says she had no idea about Lauer's problematic behavior.
---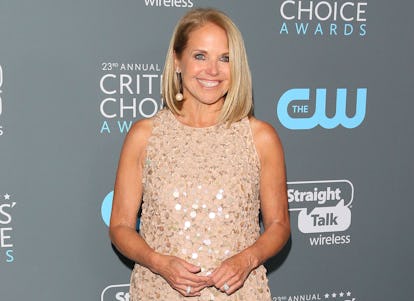 Photo credit should read JEAN-BAPTISTE LACROIX/AFP/Getty Images
In her first interview on the topic since her former Today show co-host Matt Lauer was fired for inappropriate sexual behavior, Katie Couric opened up about reconciling the fun and respectful co-worker she knew with the harasser he was later exposed as. Now an anchor at Yahoo! News, Couric told People that when she was at NBC with Lauer, "I had no idea this was going on during my tenure or after I left…I think I speak for many of my former colleagues when I say this was not the Matt we knew. Matt was a kind and generous colleague who treated me with respect."
Couric seems to have been completely blindsided by the revelations about Lauer. "In fact, a joke I once made on late-night television was just that, because it was completely contrary to our brother-sister relationship," she continued, alluding to her appearance on Watch What Happens Live a few years ago when she joked that Lauer liked to pinch her on the butt.
Having worked closely with Lauer for over a decade, Couric was understandably pained to learn that he wasn't always the good guy he presented himself as. "The whole thing has been very painful for me," she said. "The accounts I've read and heard have been disturbing, distressing and disorienting and it's completely unacceptable that any woman at the Today show experienced this kind of treatment." She added that "It's still very upsetting," and that she "really admire[s] the way Savannah [Guthrie] and Hoda [Kotb] and the entire Today show staff have handled a very difficult situation."
Related: Ann Curry Does Not Gloat, Addresses the Matt Lauer Downfall with Total Grace
Ashley Graham and a Powerful Band of Mighty Aphrodites Take the Best Fashions of the Season, and Make Them Their Own
Pologeorgis coat; Dior belted dress; Alexander McQueen necklace; Gucci rings and shoes. Dior belted dress; Gucci hand piece; Roger Vivier pumps.

Photographs by Patrick Demarchelier, Styled by Katie Grand
Photographs by Patrick Demarchelier, Styled by Katie Grand
Photographs by Patrick Demarchelier, Styled by Katie Grand
Missoni dress; Fendi belt; Roger Vivier pumps.

Photographs by Patrick Demarchelier, Styled by Katie Grand
Photographs by Patrick Demarchelier, Styled by Katie Grand
Photographs by Patrick Demarchelier, Styled by Katie Grand
Alberta Ferretti dress; De Beers necklace; Cartier watch; Fabrizio Viti shoes.

Photographs by Patrick Demarchelier, Styled by Katie Grand
Giorgio Armani dress; Gaspar Gloves gloves; Miu Miu earrings and shoes.

Photographs by Patrick Demarchelier, Styled by Katie Grand
Photographs by Patrick Demarchelier, Styled by Katie Grand
Christopher Kane dress; Georges Morand gloves; Marc Jacobs mules.

Photographs by Patrick Demarchelier, Styled by Katie Grand
Photographs by Patrick Demarchelier, Styled by Katie Grand
From left: Hermès shirt; Gucci pants; vintage scarf from Early Halloween, New York. Marc Jacobs top, skirt, and mules.

Photographs by Patrick Demarchelier, Styled by Katie Grand
Photographs by Patrick Demarchelier, Styled by Katie Grand; Hair by Akki at Art Partner; makeup by Diane Kendal for Marc Jacobs Beauty at Julian Watson Agency; manicure by Yuko Tsuchihashi for Granje at Susan Price NYC. Models: Riley Ticotin at Wilhelmina Models, Faith Lynch and Ashley Graham at IMG Models; Faretta Radic at the Society Management; Callie Dixon at Women/360; Imaan Hammam, Kesewa Aboah, and Ellen Rosa at DNA Model Management; Vie Chidiac at Women Management; Jasmine Daniels at Elite Model Management; Jocelyn Corona at Muse Model Management; Rubina Dyan at the Lions. Retouching by Dtouch New York; Digital technician: Evan Lee; Photography Assistants: Rob Massman, Ryan Page; Fashion Assistants: Oliver Volquardsen, Len Burton, Erika Golny, Amanda Black, Sarah Perillo