Katie Ermilio Loves Sofia Coppola's Off-Duty Style
The fashion designer shares a page from her style notes.
---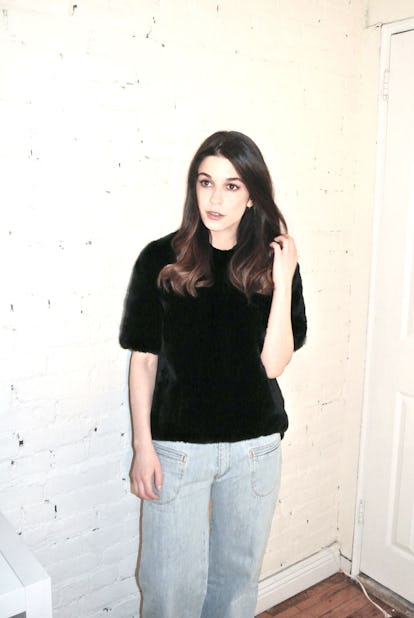 At only 29 years old, fashion designer Katie Ermilio has already made a name for herself in the industry with her eponymous line of chic, wearable women's wear — not to mention her enviable personal style. Here, she shares her go-to shopping destinations, beauty products, and more.
Define your style in three words: Minimal, classic, streamlined
Daily uniform: I live in jeans, sneakers, and, in the winter, an oversized sweater.
Greatest hits: My butter yellow Céline envelope pouch, it makes every outfit I wear look instantly pulled-together. And the racing green rabbit coat from my Fall 2014 collection, it even makes me look forward to winter.
Preferred footwear: Mostly sneakers, a lot of Golden Goose classics, and Chanel Ballet Flats.
Finishing touches: Dr. Perricone's No Mascara Mascara.
Nighttime look: My nighttime routine is an elevated version of my daytime look. I use earrings and pair of heels to dress-up Levis and a knit. If the occasion calls for a dress, my go-to is the pink striped sport sheath from my Fall 2014 collection.
Best recent discovery: Black tea lattes made with earl grey.
Favorite store: Cafiero Select, on the corner of 2nd Ave. and 2nd Street. Everything in the store is both gorgeous and extremely thoughtful, the best combination.
Style pet peeve: Shoes you can't walk in.
Style icons: Kate Bosworth and Sofia Coppola for their red carpet and off-duty style, and Grace Kelly as an icon.
Last purchase: A bag of coffee at La Colombe and chicken soup at Fred's at Barneys New York.
Lusting after: A vintage Rolex Datejust watch from The Keystone.
Favorite haunts: Lovely Day and The Smile. My boyfriend and I eat at one most nights of the week.
What's always in your bag: A Metrocard.
Must-have for 2015: I'm heading to Hong Kong in the New Year, so I'm in need of a Mansur Gavriel mini backpack.
New Year's Resolution: To enjoy the moment.
Photos: Katie Ermilio Loves Sofia Coppola's Off-Duty Style
Katie Ermilio. Courtesy of the designer.
Ermilio in a pair of her favorite sneakers. Courtesy of the designer.
Katie Ermilio with her boyfriend and favorite Celine clutch. Courtesy of the designer.
A snapshot from the designer's trip to Montana. Courtesy of @katieermilio on Instagram.