Katy Perry Looks Unrecognizable In New "Hey Hey Hey" Music Video
It's Marie Antoinette meets Joan of Arc. Literally.
---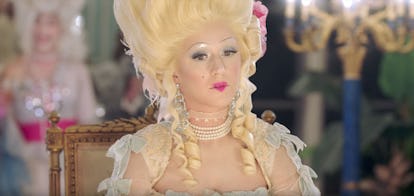 Katy Perry looks almost unrecognizable in her Marie Antoinette-inspired music video for "Hey Hey Hey", the fourth single off her newest album Witness. On Tuesday, the pop star spent the day teasing stills from the video, one of which is a close up shot of Perry disguised in her full getup—powdery skin, razor thin eyebrows, a beauty mark and bold lashes, donning a sky-high wig, pearl choker and 18th century-like, white and blue gown.
With the location marked as Place de la Révolution, Perry also shared a video preview of some shots on her Instagram:"katy-claus is coming down ur chimney tomorrow with a visual gift ok."
Looks like Christmas came early for Perry fans, or fans of loose historical celebrity cosplay for that mater.
As with many of her videos, production value is high and the concept is, well, all right. It begins with a shot of a golden gate—with the letters "KP" of course—that lets us into Perry's fantasy world. It's a Versailles-influenced realm that includes smartphones and in which she plays two roles, one heavily inspired by the last Queen of France, it seems, and the other, a character named Joan—heroine of France, Joan of Arc no doubt—in a short, black bob, and because it's Perry Land, rainbow armor. As the queen, she spends her time repulsed by her husband, fantasizing about her alter ego, Joan. And in the end, in Henry VIII type fashion, the queen's head gets chopped off by the man himself, except, Perry appears again as a revengeful Joan, picking up the living head, sword in hand.
The song, which is co-written by Sia, is the fourth single from the record, which, while debuting at number one in the Billboard 200 Chart, has received mixed reviews since its release in June. Perry shot the music video with director Issac Rentz in Beverly Hills. Now, she's currently in the middle of her international Witness tour, which began in September and ends in August of 2018. We'll soon, however, be seeing her on TV, when she'll serve as a judge on ABC's renewed American Idol in March with Lionel Richie and Luke Bryan. Should be interesting.
Related: Katy Perry's 'Swish, Swish' Video: A Guide to All the Memes and References