Katy Perry Performed at One Love Manchester in a Dress Made Out of Photos of the Victims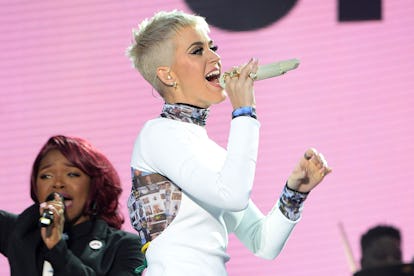 Kevin Mazur/One Love Manchester/Getty Images
Sunday's One Love Manchester was filled to the brim with powerful moments. But Katy Perry—just one of the many artists who performed at the benefit concert spearheaded by Ariana Grande to honor the victims of the attack carried out by the suicide bomber at Grande's concert in the city last month—was responsible for one particularly subtle and beautiful tribute.
Perry took the stage in a white minidress and a long furry coat to perform her hits "Part of Me" and "Roar." But during her set, she eventually removed the coat to reveal a special detail on her outfit: The garment was made out of photos of the 22 concertgoers who tragically lost their lives in the bombing. The colorful pictures could be glimpsed on the dress's turtleneck collar, the cuffs of the sleeves, and on back of the dress in the shape of a heart.
Some 45,000 were present to witness the moment. The benefit concert was sold out just six minutes after tickets went on sale last Thursday for Grande's show at the Emirates Old Trafford stadium. Tickets cost 40 pounds (about $52) but were free for those who were at Grande's May 22 concert that ended with a suicide bomber detonating an explosive and left 23 dead and dozens more injured.
According to BuzzFeed, Perry told the massive assembled crowd, "It's not easy to always choose love, is it? Especially in moments like these. It can be the most difficult thing to do. But love conquers fear and love conquers hate. And that love that you choose will give you strength."
See Katy's tribute to the victims of the attack in the photos below:
RELATED: Ariana Grande and Her Fans' Reactions to Manchester Tragedy Should Not Be Policed
"Women's Rights Are Human Rights": 62 Fashion Insiders Speak Out in a Powerful Video for International Women's Day: