Katy Perry and Robert Pattinson: A Short History of Their Decade-Long Friendship
They love karaoke and galas. What can we say?
---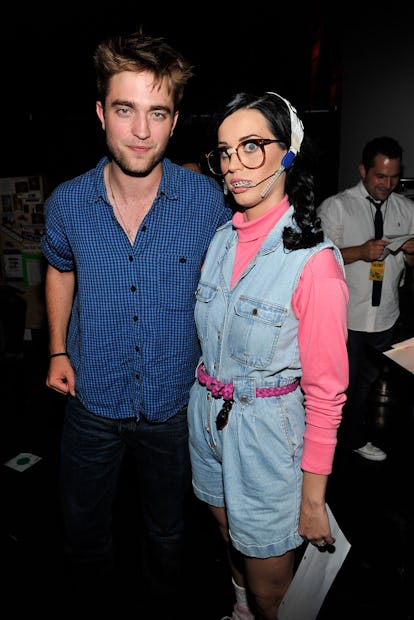 Kevin Mazur/TCA 2010
Katy Perry is an unabashed practitioner of crowd-pleasing Top 40 pop. Robert Pattinson prefers to spend his time these days making gritty art-house movies with French auteurs. She's a candy-colored, Moschino-loving kind of girl. He prefers to keep it dark and chic in his Dior Homme. By celebrity standards, she's an open book about her personal life, not even flinching when asked to rank her ex-lovers. He prefers to keep his relationships, both past and present, pretty private. What we're saying is that Perry and Pattinson might not appear to have much in common other than the fact that they're famous people of similar ages whose last names start with "P," but as it turns out, the two appear to have one of the tightest and most enduring friendships in all of Hollywood.
Indeed, when Perry collected the Courage Award at last night's amFAR Los Angeles gala, Pattinson was there at her table to support her, alongside other Perry intimates like designer Jeremy Scott and, of course, her current beau, Orlando Bloom. As has happened through the years, some outlets jumped to conclusions and claimed that the run-in between Bloom and Pattinson was awkward under the assumption that Pattinson had dated Perry in the past. As it turns out, the pair has never been romantically linked. They're just really, really good friends. In case you weren't aware, here's a rundown of their relationship.
A Mutual Friend in Westworld's Elsie
The first time Perry and Pattinson were ever spotted in each other's company was way back in 2009. It was simpler times. Perry was with (but not yet married to) Russell Brand. Pattinson was still just a few months into his relationship with Twilight costar Kristen Stewart. Meanwhile, Andrew Garfield (an old friend of Pattinson's) was dating actress Shannon Woodward (whom, yes, you may know best as fan favorite Elsie on HBO's Westworld). According to a Radar online report at the time, Perry and Pattinson were both in attendance at Woodward's karaoke-themed Dimples Supper Club in Burbank, California. In a twist, however, an employee claimed the pair had been there together a year before, also to do karaoke. Of course, Radar isn't always the most accurate source of information, but karaoke does seem to be a mainstay of their relationship. In fact, years later, video of one of their karaoke sessions landed on the Internet.
For the record, both Perry and Pattinson still seem to have remained close friends with Woodward as well.
Geek and Chic
Whatever the case, the first time the pair was photographed together was backstage at the 2010 Teen Choice awards (Perry was cohosting alongside various Glee cast members). Perry was, for whatever reason, in full geek regalia from her "Last Friday Night (T.G.I.F.)" music video. Pattinson won four awards that night: actor from a summer movie, from a drama movie, and best kiss and best chemistry with Stewart.
Various Unfounded Dating Rumors
Of course, as we all know by now, neither Perry's relationship with Brand nor Pattinson's with Stewart was meant to last, but their friendship prevailed. The public maintenance of that friendship led to several unfounded rumors throughout the years that the two were using each other as rebounds. "Robert Pattinson and Katy Perry are both experiencing relationship troubles, and a recent claim suggests the two may be leaning on one another in their time of need," wrote Hollywood Life in 2012. "They were 'all over each other,'" a source told Radar in 2014. That's just a small sampling of the various headlines over the years, but each and every time since then their reps have claimed that the two are merely just longtime friends who happen to hang out and support each other at various events a lot.
Friends Even When They're in Relationships
Perry and Pattinson's various romantic partners may come and go, but their friendship remains. Underscoring the fact that their friendship is just platonic, the pair aren't afraid to introduce each other to their new beaus and hang out in public. Take this shot of the pair at a 2015 gala together alongside Pattinson's then-girlfriend FKA Twigs.
About Last Night
While the pair were both single earlier this year, perhaps predictably, they were once again romantically linked together (many of those stories conveniently leave out their friendship history), but once again, it appears that all is good and platonic in their friendship. Despite rumors of awkwardness between Pattinson and Bloom, the pair were actually photographed buddying up. "Perry has been friends with the Twilight star for years, and their relationship has always been platonic. Pattinson isn't the singer's 'ex' and there's zero 'awkwardness' between him and Bloom," claims Gossip Cop. Can't we just let two stars who happen to be of the opposite sex enjoy an occasional karaoke night or gala together without writing relationship fanfic about it? After nearly a decade, it should be more than clear that pair are indeed just close friends.
Related: Katy Perry and Orlando Bloom Hit Red Carpet for First Time Since Reconciling