Taylor Swift and Katy Perry Bury the Hatchet With Cookies
They've made up over baked goods.
---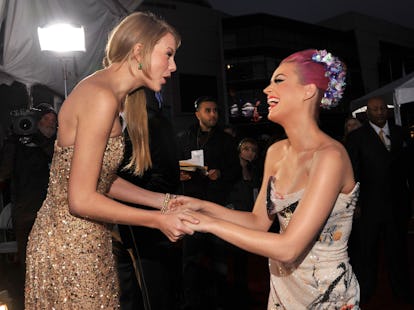 Photo by Lester Cohen/AMA2011/WireImage
Katy Perry and Taylor Swift, longtime enemies, commenced peace negotiations a little over a year ago—there was even rumor of some sort of musical collaboration. But as of Tuesday night, the feud would appear to be officially over. Perry and Swift have ended their longtime war, cementing a new alliance with a plate of chocolate chip cookies.
Perry posted an image of the cookies to her Instagram account; she tagged the location "Let's Be Friends," and the plate had squiggles of frosting reading "Peace at Last" (unclear if it's the gross gel kind of frosting that's easier to write with, or regular, delicious frosting). The caption? "Feels good @taylorswift." Such progress!
The stars began to warm to each other last May, when Perry mailed Swift a literal olive branch. Swift posted the package to her Instagram stories, including a card. The text was mostly obscured, but eagle-eyed fans could make out some of it, which read, "Hey old friend, I've been doing some reflecting on past miscommunications and hurt feelings between us…"
The cookies seem to have cemented the end of said "miscommunications." Baked goods are a wonder (though it seems unlikely that either singer actually consumed them).
The Swift/Perry feud has felt endless. It all started in 2014, when Perry allegedly "stole" Swift's backup dancers for a tour. It escalated over the years: Swift released "Bad Blood," a Perry dis track; Perry followed up with the release of "Swish Swish;" Swift made her entire back catalog available on Spotify the very same day that Perry dropped her album Witness. They've made allusions to each other in the press; they've both been linked to John Mayer. The hatred seemed as though it would never cease.
But they're friendly again! Who knows what the future holds! If Perry and Swift can get over themselves, perhaps the U.S. and North Korea can get friendly, or maybe Beyoncé can call that lady she glared at at the NBA finals. The possibilities are endless.
Related: Katy Perry's "Swish, Swish": A Breakdown of the Song's Many References and Influences (and Taylor Swift Digs)
Katy Perry's Kitschiest, Candy-Covered, Firework-Spouting Costumes
Fresh on the scene, Katy Perry performs at the opening of a Las Vegas hotel in 2008 in a Vegas-themed ensemble.

Getty
Katy Perry performed at the 2008 MTV Europe Music Awards dressed up like a football player.

Getty
Perry performed at another 2008 concert, ending her set by jumping into a giant cake.

Getty
Perry entered the stage at a 2008 Jingle Ball via a giant banana and dressed like Mrs. Claus.

Getty
Perry performed on the Today show in 2009 wearing a mini-dress embroidered with some large dice.

Getty
The following year, in 2010, she returned in a candy-coated getup.

Getty
At the holiday-themed Jingle Ball, Perry turned herself into a snowman.

Getty
For the 2010 Victoria's Secret Fashion Show, Perry opted for a bright yellow latex dress.

Getty
At the 51st Annual GRAMMY Awards, Perry once again entered the stage via a giant banana.

Getty
Perry flew high above the crowd for the 2012 Billboard Music Awards.

GETTY
Perry got into the movie spirit for the premiere of her film Katy Perry: Part Of Me.

Getty
Perry closed out the 2013 MTV Video Music Awards in a boxer's ring in Brooklyn.

Getty
For the 2010 MTV Movie Awards, Perry enlisted Snoop Dogg to live out a beach paradise.

Getty
Perry jumped rope onstage during the iHeartRadio Music Festival at the MGM Grand Garden Arena on September 20, 2013.

Getty
At the Pepsi Super Bowl XLIX Halftime Show in 2015, Perry soared through the sky on a shooting star.

Getty
Perry's 2014 Grammy Awards performance was quite literally lit, with a dark magic themed set.

Getty
Perry became a maypole at the MTV EMA's in 2013.

Getty
Feeling feline on the opening night of her Prismatic World Tour at Odyssey Arena on May 7, 2014.

Getty
On the same tour, the singer also embraced a flower child persona.

Getty
And channeled Cleopatra, complete with a giant golden horse.

Getty
What would a Katy Perry performance be without some fireworks?

Getty
Katy Perry peforms onstage at YouTube #Brandcast presented by Google at Javits Center North on May 4, 2017 in New York City.

Getty
Katy Perry performs at 102.7 KIIS FM's 2017 Wango Tango at StubHub Center on May 13, 2017 in Carson, California.

Getty
Katy Perry performs "Swish Swish" in Studio 8H on May 20, 2017.

Getty
Katy Perry performs on the Pyramid stage on day 3 of the Glastonbury Festival 2017 at Worthy Farm, Pilton on June 24, 2017 in Glastonbury, England.

Getty