Taylor Swift, Like the Rest of Us, Was Reportedly 'Truly Happily Surprised' By Katy Perry's Olive Branch
She found it to be very "impressive."
---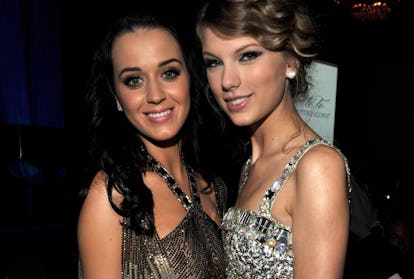 Kevin Mazur/WireImage
It's 2018 and Kanye West is a fan of president Donald Trump and Grimes is dating Elon Musk. Literally, anything is possible. So when Taylor Swift received an actual olive branch — physically and metaphorically — from Katy Perry it may have been one of the least surprising things to happen this year. Nonetheless, it caught Taylor Swift — a woman so calculating she waited one whole year to respond to Kim Kardashian's feud receipts — completely off-guard.
According to a source close to the singer, the Reputation-obsessed singer "was truly happily surprised and very impressed that Katy reached out." The source told People, "It was a great start to Taylor's tour."
As for why Swift decided to post the picture, the source explained: "That Taylor posted Katy's letter wasn't mean-spirited. She wanted her fans to know what is going on." Indeed, after the package from Perry arrived, Swift shared it on her Instagram stories, saying, "I just got to my dressing room and found this actual olive branch. This means so much to me." The photo she shared didn't show the whole note but those with eagle eyes can discern that it at least reads "Hey old friend, I've being doing some reflecting on our miscommunications and though feelings between us."
Perry also seemingly posted about the experience on social media, albeit without any specifics. The singer, who also told Swift she wanted to "clear the air" and was "deeply sorry," tweeted about new beginnings shortly after Swift posted the note. "Isn't it so wonderful that with every new day there is a new opportunity to see things differently and live more gracefully? ♥️," she wondered.
This wasn't the first time Perry expressed remorse for their long-running feud, which some have speculated began back in 2013 when Perry hired dancers from Swift mid-tour, as The New York Times notes. Over the summer, Perry told Arianna Huffington, as People notes, "I am ready to let it go. I forgive her and I'm sorry for anything I ever did, and I hope the same from her … I love her, and I want the best for her. And I think she's a fantastic songwriter." As one of Swift's clones said to her in the "Look What You Made Me Do" video, "You can't possibly be that surprised all the time."