Taylor Swift LWYMMD Video Director Accuses Beyoncé of Plagiarism
The latest turn in a story full of them.
---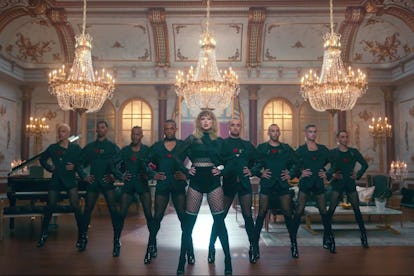 Taylor Swift
Ever since Taylor Swift released her "Look What You Made Me Do" comeback single and video, the conversations surrounding her have focused less on her music than everything else. First there were the Easter eggs hidden throughout the video waiting to be picked apart. Then, there were the controversies, from the questionable $10 million diamond-filled bath tub scene that elicited comparisons to Kim Kardashian's Paris robbery to the militant choreographed scene that felt uncomfortably similar to Beyoncé's "Formation" video and Super Bowl routine, where she and her dancers wore outfits nearly identical to the one Swift sported. Over a week after its release, the video has gotten no less controversial—the latest headline-making item being a member of Taylor Swift's team accusing Beyoncé of plagiarism.
"Look What You Made Me Do" director Joseph Kahn has responded to accusations that Swift copied Beyoncé by alleging the opposite. "It's not 'Formation' at all," he told the Los Angeles Times in a recent interview. "They try to say she's wearing a black crop top and Beyoncé wore a black crop top. But they don't realize in 2015 in 'Bad Blood,' Taylor Swift was wearing a black crop top. I really do think, by the way, that Beyoncé copied 'Bad Blood.'"
This isn't the first time Kahn has addressed plagiarism claims, though his latest reply is the most aggressive. Previously, when teasers of the video circulated before the whole project debuted at the 2017 Video Music Awards, Kahn took a more diplomatic approach. "I've worked with Beyoncé a few times. She's an amazing person. The #LWYMMDvideo is not in her art space. Love and respect to Bey," he wrote on Twitter. "Also there's something to that "formation" shot I painted out and you haven't seen yet. Stay tuned Sunday :)#LWYMMDvideo#SneakyAsian."
Kahn may have been kidding, though, in his latest response, as he suggested after his Los Angeles Times article was picked apart. "Article where I said Beyoncé copied Bad Blood tank tops. Seriously, do you think I give a fuck about tank tops lol," he tweeted linking to the piece, before adding, "The most controversial thing about BODIED so far is that I made a joke about tank tops."
His latest tweet, though, may be the most revealing as when some asked him, "you were just trolling right?" he replied, "Yes. The world is full of stupid motherfuckers."
Beyoncé has yet to reply.