Katy Perry Crashes Wedding in St. Louis
The pop singer was an unexpected guest at a St. Louis reception.
---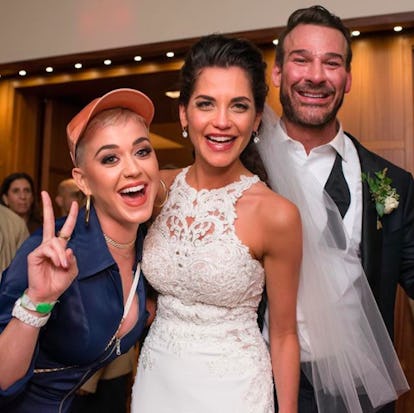 instagram.com/raypropstudios
Stray guests are every bride's nightmare but one went out of her way to accommodate a straggler over the past weekend. It helps that it happened to be Katy Perry, of course. The pop artist found herself at the same hotel as a wedding this past weekend and decided to take a peek inside. Perry wandered downstairs from her room at the Four Seasons hotel in St. Louis to find the reception of bride Hayley Rosenblum and groom Blonie Dudney, while taking a break from her current tour. She jokingly posed for a photo on Snapchat in front of a sign bearing their names before she was spotted by the rest of the wedding guests.
"Wedding crashers, oops," she captioned her Snapchat. Perry then made her way inside the ballroom where she took selfies with the bride and groom, ensuring that their wedding was truly one to remember. "We were just looking for an after-party," she wrote on Snapchat, along with the shrugging emoji, in a video of the pandemonium that ensued after she was widely recognized. Still, Perry stuck around for dancing, even going as far as encroaching on the bride and groom's dancing to Justin Timberlake's 2006 hit "SexyBack." She also took photos with the wedding party, which you can see below in a compilation video of Snapchats from the evening.
"Do you mind if we crash your wedding?" reads the caption of a photo of the bride and groom alongside Perry, captured by their wedding photographer Ray Prop Studios.
As unusual as it may seem for a celebrity to crash a wedding, this isn't the first time it's happened in recent memory. In fact, celebrity wedding crashers have become somewhat of a trend with everyone from Serena Williams to Taylor Swift, Justin Bieber, and Snoop Dogg having done so in the past. Not to mention, Stella Maxwell and Kristen Stewart crashed a wedding this past July, as People notes, who drank with the wedding party. Plus, Stewart's former co-star and previous boyfriend Robert Pattinson attended a stranger's wedding in Northern Ireland a couple of years ago upon invitation from the wedding party who spotted the actor at the venue's hotel bar.
Related: Kristen Stewart and Stella Maxwell Crashed a Wedding, as One Does
Katy Perry Confesses to Crying to Some of Her Own Songs: