The Greatest Showman's Keala Settle Shares Her Favorite Oscars Performances
The Oscar nominated singer will also perform "This Is Me" from The Greatest Showman at the 2018 Academy Awards.
---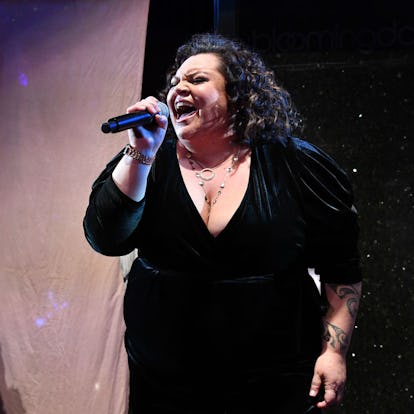 Dia Dipasupil/Getty Images
Keala Settle has recently gained recognition for playing Lettie Lutz, the bearded lady in the circus musical The Greatest Showman, but she's dominated the musical theater scene both on Broadway and off for years. In 2013, Settle received her first nomination for a Tony Award for Best Featured Actress in a Musical, and after originating the role of Becky in Waitress, she's now preparing to take on a new stage at the 90th Academy Awards.
At the Oscars, Settle will give what is sure to be a powerhouse performance of "This Is Me," the standout track from The Greatest Showman that is nominated for Best Original Song and recently took home the Golden Globe in the same category. When she found out that "This Is Me" would be placed in the ring to compete with cinematic songs sung by Miguel, Andra Day, Sufjan Stevens and Mary J. Blige, Settle was shocked to discover just a couple weeks later that she would also perform on the same stage as some of her idols.
"These are peers that you never thought could be your peers that will be sitting in front of you and are just there to enjoy one another and the fruits of their labors," Settle declared. "To walk on that stage or be in the presence of those around you that have done such incredible work—Oprah Winfrey, Meryl Streep and Jennifer Lawrence, the list goes on of all these incredible human beings that I've had the opportunity to meet throughout this whole awards season."
During the ceremony she will likely spend a good chunk of her time in preparation for her highly anticipated showstopper, but Settle says she will also be racing to get back to her seat so that she can enjoy the show just like everyone else. "I'm hoping I can catch as much of it as I can because I don't want to forget a moment like this," she said.
As a longtime viewer and fan of the Oscars, Settle is well aware of the influence and impact of seeing a favorite musician perform a song from a nominated film at the Academy Awards. Here, Settle gives the rundown on her all time favorite Oscars performances, and talks about which performances she's most excited to watch during this year's ceremony (when she's not waiting backstage to perform herself).
"Streets of Philadelphia" by Bruce Springsteen
"I remember watching for the first time in 1994, because I'm such a huge fan of Tom Hanks. I remember the movie Philadelphia coming out and the song 'Streets of Philadelphia' and for the first time seeing Bruce Springsteen, an actual rock and roll guy, performing on this totally classy stage and owning it. And giving that song every bit of respect and integrity that was required of it, and that was given to it when it was first created. I was in awe of it."
"When You Believe" by Whitney Houston and Mariah Carey
"I remember hoping or praying that I would someday see Mariah Carey or Whitney Houston on the Oscars stage, and then all of the sudden I did! They were both there! I never knew if I would see them do that again. To see them singing 'When You Believe' so many years later, these two divas who everybody was like, 'Oh, they don't like each other they're not gonna do it.' Bullcrap! When you get together to sing a song, the song is what matters. Especially if you are able to sing a song that has so much meaning like those two songs do. It's incredible to see the whole world of the Grammys, rock and roll, and R&B combined with film, and making it more of an elevated art form than it already is. I love it. And to be a part of it is a no brainer, it's unbelievable! I still can't believe it, I truly can't. [Laughs.]"
"Stand Up For Something" by Andra Day feat. Common
"I can't wait to finally see Andra Day perform with Common. I haven't had a chance to see her perform 'Stand Up For Something' yet. I'm a huge fan of hers!"
"Mighty River" by Mary J. Blige
"The number one that I can't wait to watch is Mary J. Blige. She is one of my biggest idols! She has come through so much in her life, both publicly and privately. To be where she is now and stand there, and be the woman that she is without shame or any fear and with such humility, it's a privilege for me to see that and live in that light. She's an incredible icon! Beyond a performer, beyond an actress, beyond a singer. She's come through a lot and I am in awe of her and who she is. There's just so much of her life that she's lived to the fullest, all the good and all the bad of it, and has come out on the other end. She's an idol to me in that way. I look up to her so much and can't wait to see her perform!"
"This Is Me" by Keala Settle and The Greatest Showman Ensemble
"I think it's really easy to get wrapped up in the Hollywood part of the Oscars, and for me this week is a reminder of what it actually means to perform at the Oscars and where the story came from in the first place. First of all, I can't believe I'm doing it! At all. Totally didn't think I was going to be, so that was a shocker, a really good shocker. Even if I never do anything again, it's one of those moments that you never think could happen to you so you don't even really dream about it or think about it. Then, when it does become a reality, you start to take in the beauty of everything that is happening around it. The people that are involved, and how much the composers and the lyricists are grateful to you and how much you are grateful to them for creating such a song because they're the ones that are nominated for it. I'm just a vehicle that was able to sing it. There's a lot of gratitude that goes around this week, especially when it comes to Justin [Paul] and Benj [Pasek] and everyone else involved."
Related: Hugh Jackman Has a Way with Wild Animals on Instagram