Hugh Jackman Has a Way with Wild Animals on Instagram
Rare beast or domesticated pet, Hugh Jackman has probably captured it on Instagram.
---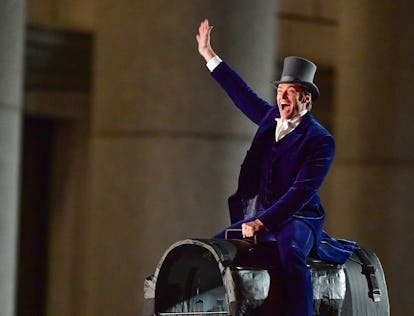 James Devaney/GC Images/Getty Images
Hugh Jackman is so active on Instagram that digging deep into The Greatest Showman's past via Instagram can reveal quite a bit about the Hollywood hunk. For starters, Hugh Jackman loves a good selfie, and he also loves a good avocado toast without shame (seriously, if you scroll back far enough, you'll find that Hugh Jackman does not care at all that sharing photos of avocado toast has been a signifier of content that could be described as basic since at least 2015). You'll also find that Jackman is one with nature—and it makes sense considering he's spent the last 17 years inhabiting a character that is part wolf in the X-Men franchise.
For all of the show-offy power moves, humblebrags concerning his famous friends and cheat day meals, and daredevil stunts that Jackman loves to share on social media, it turns out the greatest showman on his Instagram is, after all, this koala that recently went nose to nose with Wolverine at a zoo in Victoria, Australia.
This is probably the best thing about Jackman's Instagram: his love for animals of all kinds. Rare creatures, household pets—you name it and it has been spotted by Hugh Jackman and posted to his Instagram. Koalas make an appearance now and then (he once witnessed a set of twin newborn koala bears clinging on to their mother's back and made sure to snap a video for his 15 million followers), but Hugh Jackman also has two pups—one named Dali, the other named Allegra—that have been making cameos on his Instagram for the last couple years.
He also snags a picture of the occasional fish that he's caught.
Marine mammals make an appearance, too.
Additionally, there's some love for the birds.
From the rare Tasmanian devil to a kookaburra, Hugh Jackman has made it his mission to capture the wildlife he sees and share it with us all on Instagram. If you follow him on social media you don't even have to go to the zoo. Like a modern day Francis of Assisi, let Hugh Jackman's way with the wild be an inspiration to us all.
Related: Elon Musk's Instagram Is More Humble Than You Might Assume of a Billionaire CEO