An Intimate Conversation With Kelly Rowland
With her new docu-series Chasing Destiny premiering tonight, the pop artist talks rejection, Paris Fashion Week, and the secret to surviving Destiny's Child. "They're really honest with me," she says.
---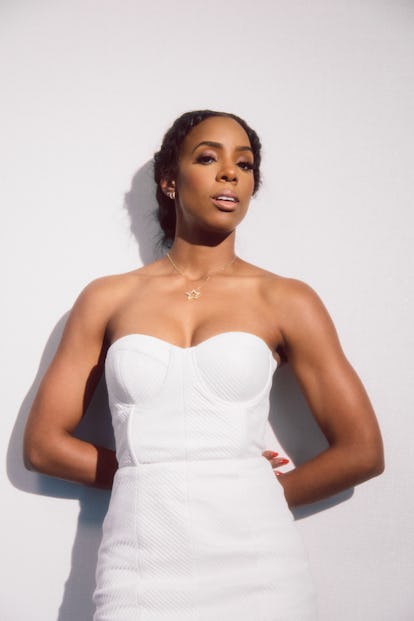 It has become a common device for the overworked to hear the 21st century adage, "You Have as Many Hours in a Day as Beyonce." Well, the same might be said of another Destiny's Child alumnus, Kelly Rowland. A Grammy Award-winning solo artist working on her fifth studio album, Rowland is also an actress (she most recently starred as Lucious Lyon's mother Leah Walker on the current season of Empire), a Paris Fashion Week front row fixture, a mother (to her toddler son Titan), and an aspiring beauty entrepreneur (she is working on a makeup and skincare line). But the focus of the 35 year-old Rowland's attentions of late has been her docu-series Chasing Destiny, which premieres on BET tonight. The 10 episodes follow Rowland and her co-host, famed choreographer and director Frank Gatson, as they look to create the next great musical girl group from a talent pool of 15 young women, culled from an extensive, nation-wide search. The winners will receive a record deal.
What was the genesis of Chasing Destiny? After Destiny's Child wrapped the last tour [in 2006], I remember saying, "I want to do a girl group of my own." And I never really got the time to dedicate myself fully to it. I didn't want to be one of those artists who has artists, and you don't really pay attention to them because you're so busy being an artist. Of course, the time finally came, and I knew I wanted [choreographer and director] Frank Gatson [Jr.] on board with me, who has worked with every girl group under the sun. He gets it. And I feel like he has a knack for pulling out talent, pulling greatness out of people. And I didn't want a reality show; I didn't want a "making the band"; I didn't want those things that other networks thought that it would be. I was like, "No, I just need a lot of money to have the cameras rolling."
Why didn't you want a reality show? Because it's been done. And I feel like you suck all the real, true artist development out of it. And with myself and Frank and the team I have really pulling your performing skills out, I feel like we poured that back in. And the ladies we have seen or selected, they understood it. Some of them got a bit frustrated a bit—with us, with themselves. And it's just been a really cool learning lesson for them and for us, as well.
It must have been an insane process to create the initial group from all the women you auditioned. That process was long. Looking at girls, literally looking at them on social media, clicking one person to another, to another, to another, to get to someone else, to see that someone else has another person who knows how to sing … it is literally the black hole of music. We were finding people there. We were finding people through word of mouth. We were finding people who were already in the industry. We were finding people who were maybe on a label and dropped. We were finding people who were on a label, and the label never did anything with them. And we just went through everything, every process there was. to find great girls. And we found some. We found several. But it's a long process.
You said from the outset you always wanted to create a girl group. Why was that so important to you? Because I knew we were going to take a hiatus from [Destiny's Child], and we were all focused on our own projects. And I was just like, "Each generation should be better than the last." That's truly what I feel. I knew that I would have the girls' support no matter what. And I do have their support in this whole venture. The girls are excited for me.
Do they give you feedback, Michelle [Williams] and Beyoncé? Absolutely! It's good feedback and I'm happy they're really honest with me, because they feel the same way I do: each generation should be better than the last. So they feel like Frank is a great person to have on board, and I have my experience and knowledge behind it. So they're like, "This is gonna be great." That's a good feeling.
We've seen the power of girl groups in pop culture. Why do you think it's so important to have girl groups? I think it affects culture in a way that it affects young women, their self-esteem, the way they view themselves. It's a way for them to see their beauty. They see young girls from the Spice Girls and they say, "Ooh, I look like her," or, "I have style like her," or, "My ears are pierced like her." It just helps with the culture of young women.
Was Chasing Destiny the first time you had to deliver major rejections to young women? How was that? Yeah. So we had the auditions and then we had basically [a point] where we knew we were going to keep certain girls. So we would have this great music playing—like "Love On Top"—and everybody would be dancing. We just wanted to gracefully let the ladies who weren't going to stay or go on to the next round leave. We told them in their ear so no one would know. People have pride and you have to respect that. And we wanted to let it be not so harsh, like you would usually see on shows. So one of the cameras followed one of the girls out and she goes "Mom! Mom!" Her mom is like, "Did you make it, baby?" And she's like "No!" And there were all these darn cameras there. And she says, "No, I didn't. But mom, it was such a great experience!" That made me and Frank tear up. Because you felt like you did what you were supposed to do. And then another girl, she didn't make it, but was like, "I felt like I was at school. And I felt like I got something that was bigger than music for me." That's our purpose, you know what I mean? Of course we want to put together a great girl group, but when you can help other women and they give you stuff back, it's all around great, man!
What for you are the key components that make a girl group successful? One would be knowing your own contribution to the group. Because then you won't feel the need to be like, "I want hair color like her," or, "I'm so mad I don't have such and such like her." When you know what you're contributing, you're secure within that as a team player. You should want to really kill it every single time because the more amazing you are, the more amazing your other group member is, the more dynamic of a group and a force y'all are. So just the work ethic is important. And wanting to absolutely kill the competition.
And chemistry between the members of a group seems to be really crucial. How do you judge that? It's really hard. Especially because we're having girls come in who are so used to singing by themselves. And the chemistry is so important. It's one of things we look for—right up there, of course, with vocal ability. There's girls who came in who were show stoppers with their voices, and it broke my heart to have to tell them, "You know what? I don't know if this is going to work." Because they're so used to working by themselves and they couldn't work in a group setting. But it broke my heart. It just made me sick to my stomach because I was like, "But her voice sounds like this! Why don't we form a group around her?" And Frank's like "No!" So you know, we just had a goal. And we had to keep holding each other up, myself and Frank, because there would be a moment where we kind of like let some of our values bend a little, and then we'd have to say to each other, "No, that's not what we want! We have to stay focused on what we want."
How do you think being part of a girl group shaped you as a solo artist? It was hard at first because I was so used to bodies next to me, voices next to me, traveling with my girls next to me. But I think in the long run it made me stronger because you have to work 10 times harder. People expect so much of you, because they're like, "Oh, you were a force in a group; you better be a force now." So you just have to work 10 times harder.
You were all over Paris Fashion Week, front row at shows and attending parties. Was that you first time really "doing" Paris Fashion Week? I did it [for the first time] right after I had [my son] Titan last year, but I felt like I was just completely out of place! Because everybody was just so dressed to the nines and I was just trying to get my body intact. Meanwhile, I'm watching all these models and I'm like, "Aww, hell!" But that said, I had a blast. Each time I go to Paris Fashion Week I'm always inspired in some sort of way. And last year, it did inspire me creatively. Because I'd just had my son, putting all of my energy into my family life that I kind of forgot about the creative part, it kind of got pushed to the background for a second. It was so vivid and so amazing that I was fed creatively while I was there. This time, I just had a blast. Myself and my assistant Ashley, we took so many pictures, we ate everything, we went to parties and hung out with everybody. It was great.
Did you have a favorite show? I really loved the Galliano show and I loved Haider Ackerman's show and the Akris show. I love Haider Ackerman. I own a lot of his pieces in my closet, so it was really cool to meet him and put the brain with the clothes.
Do you feel like your style has evolved a lot in the past few years? Absolutely. I think when you first enter the industry, you kind of see what fits. People are kind of seeing what fits on you and if it's going to work, or if you're able to carry it off. You know, I was young. In Destiny's Child, our little midriffs were out, we had rhinestones on everything, army fatigue on everything. We were new. And fashion was something that was really new. You could admire it, but you were always taught or told that it was very snooty. So it made me feel really weird; I remember the first time Donatella [Versace] was like, "Come to my house for lunch." Or Mr. Armani was like, "Come over," and he wanted to give you free clothes. It was like, "Oh, they're really nice." You know what I mean? So it's really nice when it happens organically. And I like that, when you have a natural vibe with somebody.
And now you're obviously much more comfortable in the fashion world. Absolutely. I don't shop or dress for anybody except myself. And if I'm having a really shitty day, I like to really be dressed to the nines because I feel like it pulls me out of my funk. I dress according to my mood.
Do you ever look back at your moments from Destiny's Child and have any fashion regrets? One that sticks out, ugh, were these little yellow dresses with feathers at the bottom of it. We look like little chicks on Easter. I remember it didn't even have anything to do with Destiny's Child, but in middle school, I think it was, I remember going through this whole Clueless phase. And it was Clueless goes all wrong. I thought I was Dionne! And it just went all wrong. I had a There's Something About Mary moment, a Clueless moment, and I was like, "Just chill on movies, Kel."
What's your moment now? My moment now is I just dress according to how I feel. I'm a moody dresser. But I love, love, love, my shoes. I love to tower over everybody. If it really pushes me to be uncomfortable, I'm okay if it looks damn good. But I just like to be comfortable. Like Alaia—I love Mr. Alaia. I remember just last year when I went to his house for dinner. He had these shoes, of course the ones that are sold out everywhere. And I asked him, "How come you don't bring those shoes back?" And he has his translator tell the story and he's like, "Oh those shoes, I'm going to make some more. It doesn't matter. I'll make some more!" I love how free he is, how he doesn't give a f–k.
You also have a beauty line in the works. I'm going to do makeup and skincare. But myself and my partner [makeup artist] Sheika Daley, we're starting with lashes. We're really pushing to try in the next couple of months to have it out. We're really excited about it. It's called For All Created Equal. It's actually broken down into the word "FACE."
The name sounds like there's also a level of inclusivity in terms of every skin tone. Was that part of the inspiration? We felt like we didn't want to single anybody out. We wanted to make makeup for everybody. There was a story that came out around fashion week about a specific model who said she went and sat in this makeup artist's chair and they felt like they didn't need to learn how to do her skin color. And she took offense. And I would have taken offense, too. Because you just want to look beautiful when you go down the catwalk. So we want everybody to feel amazing, everybody to feel beautiful.
There's an ongoing conversation in fashion about the lack of diversity on the runways. Was that something that stood out to you in Paris? I didn't feel like it stood out, honestly. I think we were at the Akris show, I swear to you hand-on-bible, I had tears well up in my eye because I saw all these beautiful models come down the runway from different backgrounds. I saw an Indian girl with her beautiful waves, but styled very well; a beautiful Asian girl coming down, and they did the makeup this really cool way so it accented her eyes and her hair was bone straight; and there was an African girl, beautiful cheekbones and an Afro. I had never seen that. I was just so happy.
And you're working on an album now. I think I'd seen somewhere that you've recorded 45 tracks? Forty-five tracks plus two different sounding records at that. I just need to finish! Like I said, I've been dedicating my time to Chasing Destiny. I didn't want to cheat myself or the project at all. So I can't spread myself so thin to where I have nothing left to give. Once [Chasing Destiny is] moving and I have a team to make sure the [girl] group is formed …
And you're acting, too! You most recently starred as Lucious Lyon's mother on Empire. I actually just got an offer to do something else, which I would really, really like to do. I just don't know if I have the time. I would totally clone myself, but I don't know what the back end of that is. I'm not sure science is ready for that. I would love to do more acting gigs, because when I did Empire it was so much fun.
I didn't recognize you at first. That's what I love! And that's what [Empire co-creator] Lee [Daniels] wanted. I remember I went to the makeup trailer and they put makeup on me and he was like, "Take that shit off! Take it off!" and I was like "No, no, why do we have to take the makeup off?" And he was like "I don't want anybody to recognize you. I want them to really appreciate you in this role." And I respected it. So he didn't let me wear any makeup when I did Empire.
You mentioned earlier you're constantly in touch with Michelle and Beyoncé. What are your thoughts on "Formation," were you surprised by the negative reaction to it? You know what? I don't know if I was surprised so much as I feel like everybody has their own opinion. My grandma always says, "Opinions are like assholes and everybody's got one." The truth is people are going to speak on it whether they like it or not. And some people will speak because they just want to be attached to you in some way, because they might need some publicity of their own. So I just feel like she is a person who has freedom of speech along with everybody else. She was speaking her mind and she felt a certain way in a place that she wanted to express. That's what artists do. No one should stop you from that, I don't care who they are.
Kelly Rowland Style Evolution: From Destiny's Child to Today
Short a member, the Destiny's Child ladies started to up their game in 2000, appearing in sparkly floor-length gowns in lieu of their usual costumes. Kelly Rowland, Beyonce Knowles, and Michelle Williams at the VH1 Fashion Awards in New York, New York, October 2000. Photo by Getty Images.
Rowland, Beyonce, and Michelle Williams still couldn't resist coordinating outfits circa 2002. Beyonce Knowles, Kelly Rowland and Michelle Williams at the 44th annual Grammy Awards in Los Angeles, California, February 2002. Photo by VInce Bucci/Getty Images.
Rowland stepped out on her own the following year in a sleek peach-colored gown. Kelly Rowland at the 45th annual Grammy Awards in Los Angeles, California, February 2002. Photo by SGranitz/WireImage.
At the Grammys three years later, Rowland showed off a longer hair style paired with a more daring silhouette. Kelly Rowland at the 48th annual Grammy Awards in Los Angeles, California, February 2006. Photo by SGrantiz/WireImage for The Recording Academy.
In Donna Karan, Rowland went short and vivid for a red carpet appearance — her looks started to tend towards the bright and bold, albeit a bit more reserved than the Destiny's Child days. Kelly Rowland at the world premiere of Sex and the City in London, England, May 2008. Photo by Getty Images.
Rowland goes salmon pink with Naomi Campbell-esque bangs; her evolving hair styles reflect her changing tastes nearly as much as her choice of wardrobe. Kelly Rowland at the Cosmopolitan Ultimate Women Awards in London, England, November 2011. Photo by Brian Rasic/Getty Images.
Shorter hair, shorter hem: Rowland experiments with embellishments in a body-con Marchesa Notte dress. Kelly Rowland at the BET Awards in Los Angeles, California, June 2011. Photo by Getty Images.
After a series of vividly colorful looks, Rowland took a more reserved route in Alberta Ferretti. Kelly Rowland at the 54th annual Grammy Awards in Los Angeles, California, February 2012. Photo by Getty Images.
When she began judging X-Factor, Rowland stepped up her couture game — here, in a chic but conservative Lanvin minidress. Kelly Rowland in Los Angeles, California, July 2013. Photo by Getty Images.
Rowland's recent looks have tended towards single colors — often black or white — with striking embellishments; here, she wears Alexandre Vauthier. Kelly Rowland at the Grammy Museum in Los Angeles, California, November 2013. Photo by Getty Images.
And even in muted colors, she still finds room for a bold pattern — here, in Ashish. Kelly Rowland in Atlanta, Georgia, April 2015. Photo by Prince Williams/WireImage.
Of course, there's always room for a pop of color — especially when it comes to Lanvin. Kelly Rowland at the American Ballet Theater Spring Gala in New York, New York, May 2014. Photo by Getty Images.
In recent years, the singer has also become a prominent front row-er at Paris fashion Week. She wore a flowing Chloé top and skirt with paparazzi-proof shades to the designer's Fall 2015 presentation. Kelly Rowland at Paris Fashion Week Fall 2015 in Paris, France, March 2015. Photo by Kirstin Sinclair/Getty Images.
During fashion week, where she's become something of a front row staple, she can be spotted in the likes of Balmain, here. Kelly Rowland at Paris Fashion Week Fall 2016 in Paris, France, March 206. Photo by Getty Images.
Such striking details might occasionally include feathers in abundance à la this Lever Couture look. Kelly Rowland at the BET Awards in Los Angeles, California, June 2015. Photo by Getty Images.
Because understated colors leave space for statements elsewhere — Rowland's recent Brandon Maxwell jumpsuit offers proof positive that 20 years into her sartorial experiments, she's still game for a daring move. Kelly Rowland at BET's Black Girls Rock! Honors in New York, New York, April 2016. Photo by Getty Images.
Produced by Biel Parklee.