Exclusive: Kendall and Kylie Jenner's New Bags For Fall
An early look at the new bags from the latest Kendall + Kylie collection, including charms that look like Kylie's Italian greyhounds.
---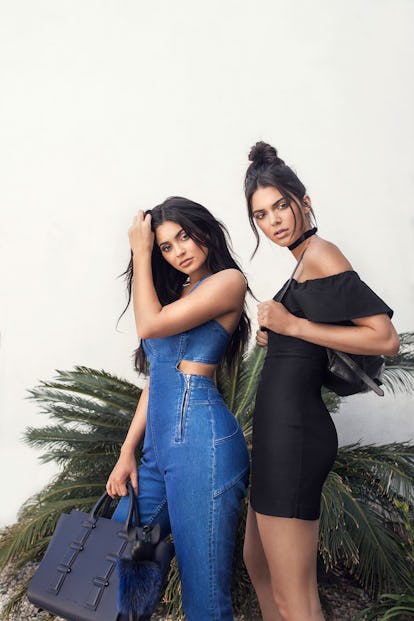 When you're Kendall and Kylie Jenner, if you want anything from a dark lipstick shade to a furry handbag, you can just make your own. And this season, not only are the sisters putting their names on accessories, but Kylie also requested that her dogs names be included as well.
Featured in the Kendall + Kylie fall 2016 collection are 18 new styles, two of which are fuzzy pom-pom charms named after Norman and Bambi, Kylie's miniature Italian greyhounds. "Bambi looked like a little deer and she's the color of Bambi the cartoon," Kylie told W. "And Norman gave me these creepy looks, which reminded me of Norman Bates." Of course, the dogs have their own Instagram account with 400,000 followers.
For Kendall, bags are no joke. "Some bags are such a statement piece, they can really alter an entire look," she said when asked about how she plans her looks in the morning. And while the sisters haven't had the need for good luck charms thus far, Kendall "for sure" believes in karma. "I think the energy you put into the world definitely comes back to you in different ways."
For now, Kendall and Kylie are focusing on putting out handbags into the world, which you can buy at Saks Fifth Avenue starting today and Bloomingdales, Holt Renfrew, Neiman Marcus, Revolve, and Shopbop later in August. Like with anything the Jenners touch, however, you'll have to be #blessed to get your hands on one.
Watch all the episodes of "The Myth of Orpheus and Eurydice," a four-part film series by Gia Coppola, here. Produced for Gucci by W magazine.
Photos: Exclusive: Kendall and Kylie Jenner's New Bags For Fall
Kylie and Kendall Jenner. Courtesy photo.
Bambi and Norman charms in cobalt, grey, and plum, $95.
Holly bag in black, white, and red plum, $350.
Baxter bag in black and cement grey, $195.
Baxter bag in navy and red, $195.
Azuba bag in black and red plum, $250.
Eton bag in black and cement grey, $75.
Bobino bag in black and red plum, $295.
Brook mini bag in black, ivory/black, and steel blue, $295.