Kendall Jenner and Bella Hadid Stepped Out in Paris With a Rihanna-Inspired Accessory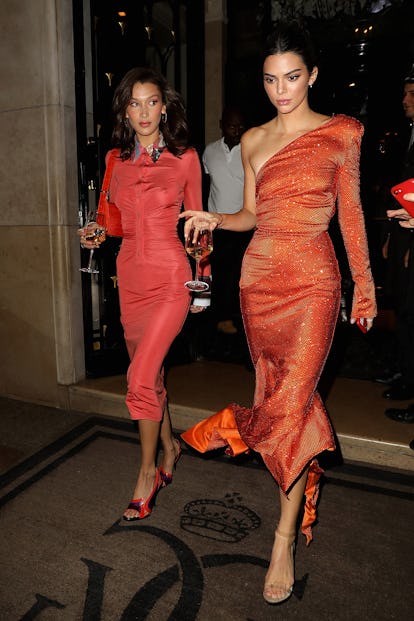 Getty
Bella Hadid and Kendall Jenner seem to do everything together, from walking the runway to traveling the world, and even showing up to Paris Fashion Week parties in complementary ensembles.
On Wednesday night, the two supermodels headed from the George V Hotel to the American Embassy for a YouTube cocktail party. Of course, the two best friends opted for matching gowns (as these pals are often wont to do), but that's not the only element of the outfit that the pair coordinated as they left to attend the party. Hadid and Jenner each walked out with a trendy accessory in hand—they brought a to-go cup full of wine (technically just a regular glass of wine, but brought outside of whatever location at which the drink was poured) as they exited the hotel and headed to the embassy. Thankfully, drinking in public is actually legal in France.
However, Hadid and Jenner are not the first or only celebrities to embark upon the journey from hotel to private car to private party with an unfinished glass of vino. The wine-on-the-go trend was pioneered by none other than Rihanna, as one Twitter user noticed over two years ago, and the pop icon has since made a habit of leaving restaurants with a wine glass in her hand. Whether she's leaving the club, the hotel, or a restaurant, it doesn't matter—Rihanna likely has a wine glass in hand as she exits the premises. This summer, she even cheekily explained that the reason she brings her unfinished glass of wine with her whenever she leaves a restaurant is because she is the one who brought that glass to the restaurant in the first place.
Leave it to Rihanna to establish a trend so chic, two of the biggest supermodels brought it to Paris Fashion Week.
Related: Kendall Jenner and Kylie Jenner Both Posted Images Wearing Yeezy Boost 350s