Kendall Jenner Might Be Single Again, and Sports Fans Are Weirdly Excited About It
And sports fans are weirdly excited about it.
---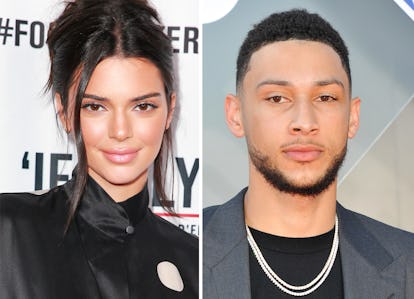 Kendall Jenner, the Kardashians' resident queen of letting a relationship undramatically fizzle out, has, according to the tabloids at least, let another relationship undramatically fizzle out. The selective model had gone relatively strong with Philadelphia 76ers player Ben Simmons all summer. They reportedly rented a mansion together, attended Kylie Jenner's birthday party together, and even got through Jenner's surprise (and very public) make-out session with Anwar Hadid together, but they won't be going into the fall together. At least that's how it seems.
Us Weekly reports that while the pair are "still talking a little bit," they're kind of fine with shifting it back into neutral due to scheduling conflicts (in Jenner's case, fashion month kicks off next week, while in Simmons' case, the NBA season is right around the corner).
"Kendall is so busy and has so much going on and doesn't want to wait around for anyone," the tabloid's source says. "She knows there's always a hot new fling waiting around the corner for her."
Well, how lucky for her, and how interesting there hasn't been an official Kardashian camp pushback on the rumor (even though, as we know, Jenner infamously likes to keep her relationships far lower key than many of her siblings. She's not one to clapback at relationship misinformation in the comments section).
Still, despite the Kardashian-Jenner death grip on the celebrity industrial tabloid machine, we were kind of surprise to see the rumor pop up in one surprising place: the sports press. "Whew! Simmons avoids 1 dreaded curse before next season," read the social headline for a story on NBC Sports (the actual headline, as it appears over the story is, "Sixers fans can breathe a sigh of relief after reported Ben Simmons-Kendall Jenner breakup").
The article is referring to the misogyny-loaded notion of the "Kardashian curse," the idea that after an athlete dates one of the Kardashian-Jenner sisters, their career takes a turn for the worse. It's not the first time sports fans have tried to blame a man's failings on the woman he dates (Dallas Cowboys fans were particularly ugly towards Jessica Simpson when she was dating their then-quarterback Tony Romo), and it, sadly, probably won't be the last. People think fans of reality TV shows are ridiculous, but sports fans have a tendency to get all sorts of ugly and illogical.
Whatever the case, we think Simmons' career will be fine, and if it isn't he'll have himself to blame. He's a former first pick in the NBA draft and reigning Rookie of the Year. The fact he hung out with Kendall Jenner a whole lot for one summer probably isn't going to have any effect one way or another on his playing career.
Related: Kylie Jenner Explains Why the "Kardashian Curse" Doesn't Bother Her