Kylie Jenner Explains Why the "Kardashian Curse" Doesn't Bother Her
Everything we learned from Kylie Jenner and Travis Scott's GQ cover interview.
---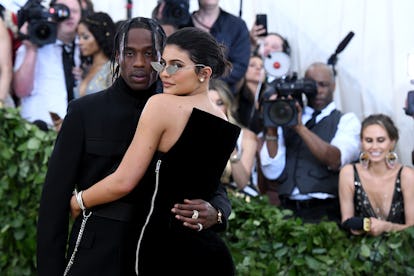 Photo courtesy of Getty Images.
Kylie Jenner is on a roll. After covering Forbes, the "self-made" almost-billionaire beauty mogul opened up about remaining unperturbed by the so-called "Kardashian curse," her social media sphere of influence, and how she met her boyfriend, Travis Scott, in their first joint cover interview, with GQ. Here's everything we learned.
Kylie Jenner Is Totally Unfazed by the Kardashian Kurse
One could say that the alleged Kardashian curse—or the theory that all men who become romantically involved with a member of the Kardashian family fizzle out—has affected Lamar Odom, Kris Humphries, or any number of boyfriends the Kardashian-Jenners have cycled through over the years. The family is well aware of this hypothesis too—in a Season 12 episode of Keeping Up With the Kardashians, Scott Disick attempts to rid himself of any negative curse energy by seeing a spiritual medium and freeing a live rooster.
"They come and can't handle it…. But it's not just men—it's friends, it's people who come and just don't know how to handle it. It's the negative," Jenner admitted when asked about the curse in her interview with GQ. "There's a lot of people who love us, but there's also a huge handful of people who don't like us," she went on, nonplussed by the drama of it all. Travis Scott also insisted that he is not at all worried about the rumors, and that he doesn't read much criticism online concerning him or the Kardashians, but when he does read gossip, he gets antsy about it, and Jenner has to reassure him that it will all disappear in a matter of days. "I don't be looking at s–t. Kylie actually likes me for me," Scott told the magazine.
Kylie Jenner and Travis Scott Spent Their Second Date On Tour
Other tidbits discovered in this cover interview include the fact that Jenner and Scott met while the rapper was performing at Coachella. According to GQ, the couple liked each other so much that instead of a normal second date, Jenner just joined him on tour, and a year later the couple shares a daughter, Stormi. "I really jumped on the bus. And then we rode off into the sunset. I did the whole tour with him," Jenner explained. "My whole family knows that I do whatever I'm going to do. I've been that way my whole life. I don't really answer to anybody. I live on my own, and so I just rode off into the sunset," she said. "We had a lot of downtime. It was organic. And we would just go to these random cities. We got to not be who we really were… We weren't going out as 'Kylie and Trav.' We would just be in Cleveland, walking the street for hours. We would go on walks, and no one would bother us," Jenner said. There really is no love like tour love.
Travis Scott Isn't Very Good at Basketball
Travis Scott invited the interviewer and some friends to play at Nike's midtown basketball courts, and despite playing with extreme intensity, apparently the rapper wasn't particularly great. But just because you're not good at basketball doesn't mean ball can't be life. "I love basketball," Scott told GQ, before exhibiting extremely chill behavior like admitting that the only mistakes he's made in his career so far include wearing snapbacks and allowing photos to be taken of him before he grew his braids out.
Kylie Jenner Got Into Makeup to "Feel Better"
Jenner's recent decision to remove her lip fillers was not discussed in the interview, but her motive for starting Kylie Cosmetics was laid out. "The reason I got into makeup is it's all about making yourself feel better," Jenner told GQ, before explaining that she has plans to open up Kylie Cosmetics stores across the globe. "I really want to create an experience," she said.
Kylie Jenner Didn't Realize She Was So Powerful
Jenner's ironclad grip on social media is a major reason why she has been able to sell the insanely large quantities of Kylie Cosmetics products that she has sold over the past two years. The mogul claims, in this interview, not to have been aware of her power when she effectively almost destroyed Snapchat, after announcing on Snapchat that she was bored with the app's latest design update. But the interviewer challenges that she must have been aware of her power, and still is: She began her GQ cover photo shoot by telling the team, "People are going to turn it into a meme. Let's move to something else," when she saw a photo of herself she didn't like, so she must know the level of influence she has on social media.
Related: Kylie Jenner Criticized for 5-Month-Old Daughter Stormi's Pierced Ears