Why Kylie Jenner Is About to Be the "Youngest Self-Made Billionaire Ever"
The Lip Kit mogul is the latest Kardashian to land a Forbes cover, and she's coming for the top spot on the billionaires list.
---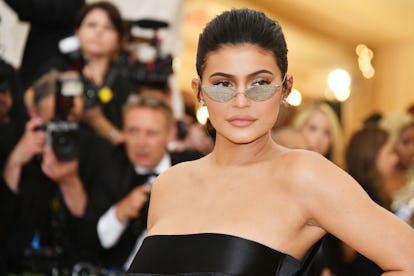 Dia Dipasupil/Getty Images
Kylie Jenner is many things—a mother, a reality television turned social media superstar, and now an almost-billionaire. The youngest member of the Kardashian collective could also end up becoming the "youngest self-made billionaire ever," according to her new cover story with Forbes.
Forbes estimates that the Lip Kit mogul is worth around $900 million, which means that at just 20 years old, Jenner is on track to become the "youngest self-made billionaire ever," regardless of gender. For comparison's sake, Forbes reports that Mark Zuckerberg became a billionaire at age 23 and Evan Spiegel hit the billionaire mark at some point in his early 20s with Snapchat. Even when Jenner turns 21 in August, she'll still be on her way to becoming the youngest of the crew, all thanks to Kylie Cosmetics, Keeping Up With the Kardashians cash, and product endorsements with Puma and PacSun.
How did she get to near-billionaire status? By managing a team of 12—five part-time, and seven full-time—employees, taking advantage of marketing her cosmetics line to her 110 million followers on Instagram, and forking over the majority of the business odds and ends to Kris Jenner, for a 10 percent cut of the profit.
Not only is Jenner following in the footsteps of the maven who raised her by capitalizing on her social media fame to become a self-made billionaire, she also appears to have adopted the sharp sense of style and uniform that comes with the Kris Jenner way of presenting oneself to the world, as she can be seen with her slicked-back hair, practical low-bun, and all-black power suit in her photoshoot with Forbes. You know how the old saying goes—like momager, like daughter.
Jenner also received the ultimate stamp of approval from another Forbes billionaire list member and former cover star—her sister Kim Kardashian tweeted her support and put out the word on Instagram Stories. If that doesn't indicate that it is finally time to take the history-making media magnate seriously, then what does? It really is Kylie Jenner's world, and we're all living in it.
Related: Kylie Jenner Explained Her Decision to Remove Her Lip Fillers