Kylie Jenner Explained Her Decision to Remove Her Lip Fillers
"She looks like the old Kylie here"
---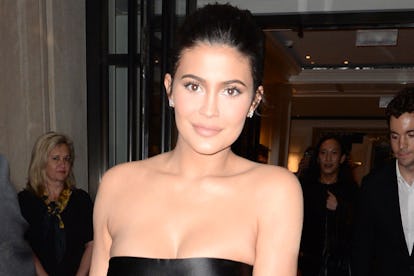 Andrew Toth/Getty Images
Kylie Jenner has valiantly returned to her natural state, lip-wise. After an eagle-eyed fan commented on Jenner's Instagram photo of the reality-television star posing with her friend Anastasia Karanikolaou that "she looks like the old Kylie here idk why," the lip kit mogul responded directly to the comment, noting that she "got rid of all my filler," accompanied by a few shock-faced emojis.
This honest admission is big step for Jenner, who, after years of keeping quiet about them, admitted to the cameras in a 2015 episode of Keeping Up With the Kardashians that she had indeed plumped up her lips with fillers, due to a long-standing insecurity about how small they were in their natural state.
Then, in May 2018, Jenner was interviewed by her sister Kim Kardashian for the Evening Standard. The topic of Jenner's lip kits came up, and the soon-to-be 21-year-old answered honestly. "I was insecure about my lips, and lipstick is what helped me feel confident," she said, explaining how Kylie Cosmetics—her makeup brand known for selling out lip kits in a matter of minutes—was born from her insecurities. "I feel like people could see that it's authentic to me, and it was organic, and it just worked!" Jenner told Kardashian.
Though she may be feeling more comfortable with her natural lips now, Jenner recently admitted that those insecurities almost got the best of her when her daughter Stormi Webster was born, but that doesn't mean she hasn't kept up a sense of humor about it. In a YouTube Q&A video with her best friend, Jordyn Woods, Jenner joked that the baby got her "perfect" lips from her father, Travis Scott. "The one thing I was insecure about, she has," Jenner admitted. "She has the most perfect lips in the whole entire world. She didn't get those from me. Thank her dad for those!"
Related: Kylie Jenner, Aspiring "Hot Young Mom," Is Here to Dispel Any Myths Around Her Pregnancy